Together with high profits of trillions dong in the first half of this year, domestic commercial banks reportedly recruited thousands of employees in the period to boost development.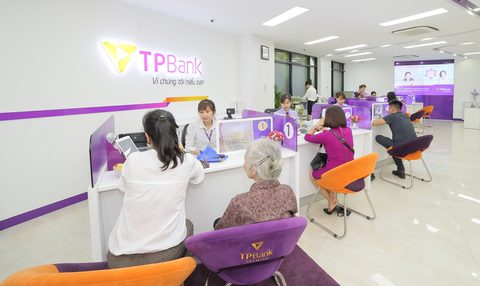 Customers and cashiers at a TPBank's office. 
Statistics on labour from financial statements of VPBank showed that the bank recruited 1,482 employees in H1, raising its total to 10,191 personnel by the end of the second quarter.
Though having a large number of employees after the merge with SouthernBank, Sacombank still recruited 650 new positions in the second quarter and 865 employees in H1. Regardless of subsidiaries, the personnel number at Sacombank by the end of the second quarter reached 16,893 people.
TPBank's financial report also showed that at the end of Q2, this bank had more than 4,100 employees, an increase of nearly 1,000 people compared to a year ago.
In the first six months of the year, Vietcombank also hired 190 personnel to total 15,354. VIB, ACB and MBBank also increased the number by 376, 186 and 111, respectively.
Most of the positions that bankers recruited for in the first half of this year were personal customer specialists, corporate customer specialists, consultants, transactors and debtors.
Some other banks, in spite of not publicising financial statements, have also announced that they intend to recruit a large number of staff in H1. Nam A Bank, for example, announced they would recruit 500 people for various positions from senior level to management level working in the head office and business units across the country in order to realise the goal of network expansion and business development.
Apart from the official staff, banks also hired a larger number of talented students as interns who would be an important source for banks to select official employees.
In the second half of this year, banks have continuously increased their requirement for different positions.
Vietcombank now wants to recruit 404 staff members for 94 branches nationwide while VietinBank have also announced plans to recruit 77 people for its branches in Ha Noi, HCM City and Da Nang in the third quarter of this year.
Meanwhile, after changing many of the key positions recently, Sacombank will recruit nearly 1,000 people for its different division in the rest months of the year. Nam A Bank also needs to find 500 qualified candidates for its offices nationwide. 
VNS