The investment flow into Phu Quoc Island off Kien Giang Province has stayed strong, with nine projects worth around VND2.6 trillion approved in the first half of this year, said the Management Board of the Phu Quoc Economic Zone.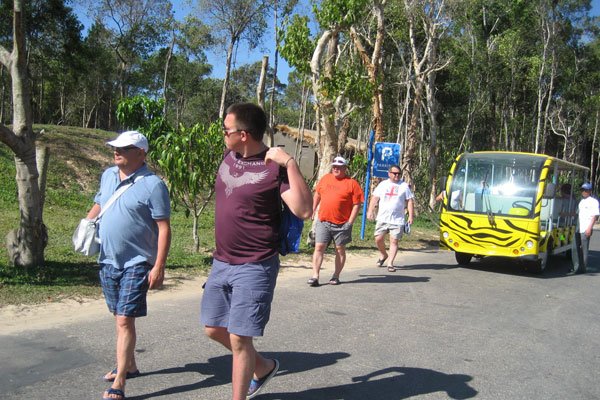 International tourists visit Vinpearl Safari Phu Quoc
Apart from these nine projects, which cover 64.38 hectares in the island district, the board proposed the provincial government of Kien Giang to give approval in principle to 16 other projects which need 476 hectares of land.
The board also suggested the provincial government scrap two projects occupying 28.7 hectares of land, and adjust 21 investment registration certificates.
With the updated figures, Kien Giang had approved 197 projects capitalized at VND218 trillion (US$9.6 billion) on Phu Quoc Island as of June this year, according to a report on first-half socio-economic performance of a working group in charge of studying mechanisms and policies for development of the island.
There are 265 valid projects covering more than 10,500 hectares as of now, of which foreign investors have 26 projects worth US$290 million while domestic investors have 197 projects worth VND218 trillion that have either obtained investment certificates or approved in principle.
Thirty-one projects which have been up and running cover over 2,000 hectares and have combined capital of around VND49.5 trillion. Besides, 24 other projects which need more than 1,700 hectares and roughly VND46 trillion are under progress now.
The report says nearly 988,000 tourists visited the island in the six-month period, up a staggering 44.1% compared to the same period last year, and this met 54.2% of the full-year target. Notably, 198,820 international visitors came to the island, up 77.7%.
In regard to agriculture, local farmers harvested 1,245 tons of pepper, up 2.05% year-on-year. In addition, the total output of seafood in the period totaled more than 99,500 tons (up 27.4% year-on-year), 49.6% of the full-year target. As a result, local farmers earned an estimated VND1.77 trillion.
Meanwhile, the value of industrial production was estimated at around VND2.58 trillion, increasing 12.2% year-on-year and fulfilling 61.1% of the full-year target.
The working group of Phu Quoc has been working with the provincial government to finalize a proposal for the special administrative and economic zone on Phu Quoc Island.
The group has been working with the Ministry of Planning and Investment, related agencies, and Kien Giang Province to draft the Law on Special Administrative and Economic Units which will be submitted to the Prime Minister for consideration and the National Assembly for approval in the upcoming meeting.
SGT