Viet Nam has become known for its remarkable feat in becoming an agricultural powerhouse in a relatively short time, but it seems that the benefits accrued to farmers are not commensurate with the country's comparative advantages and efforts.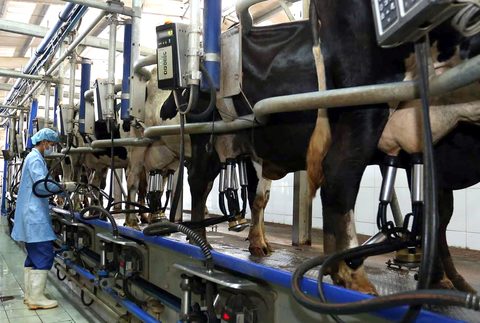 Ba Vi Hightech dairy farm in Ba Vi District, Ha Noi. 
Far reaching agricultural reforms over the past 30 years have provided farmers with 'catalysts' and motives to produce and earn their living in a market-driven, open economy, becoming self-reliant in the process.
These reforms have enabled significant achievements in export, food security and poverty reduction. However, recent studies have shown that agricultural growth has been slowing down and that added value created in the sector as well as benefits to farmers do not match the efforts made.
About 24 million workers, i.e. 25 per cent of the country's population or about 45 per cent of the country's labour force, are engaged in agricultural production, but the sector has only contributed roughly 17 per cent of the nation's gross domestic product (GDP) and this has been decreasing for many years now.
The number of agricultural businesses makes up less than 1 per cent of total businesses in Viet Nam (4,000 out of 420,000 businesses nationwide). Loans provided to agricultural businesses also account for just 10 per cent of total outstanding loans in the banking system. These figures show agriculture has become significantly less attractive for investment.
While the gap between the current status of agricultural production and the new requirements for development is huge, the Vietnamese Government is facing the pressure to reform the sector towards sustainable development accompanied by greater benefits to farmers.
In other words, we need a strong push, even a new revolution, in agricultural production. We need institutional reforms and big changes in the way business is done. Enterprises (with farmers) have to take centre stage and embark on hi-tech agriculture. Only then can agricultural production be connected strongly to all stakeholders, all stages of the value chain, and attach comparative advantages to economies of scale and market, ensure product quality and thereby creating high added value.
In March this year, the Government issued Resolution 30/NQ-CP which raised the credit package for hi-tech agriculture from VND60 trillion to VND100 trillion (US$4.4 billion), unprecedented in the history of the agriculture sector.
This is nearly half as much the stimulus package the Government launched to curb the economic recession in 2009, worth $9 billion.
After the Government's decision, five to six banks have committed to disbursing a total of VND120 trillion for hi-tech farming, with Agribank ready to lend VND50 trillion. Other big lenders include Vietcombank, Vietinbank and LienVietPostBank. About VND30-40 trillion have been disbursed so far.
In recent years, many businesses, including large corporations and financial institutions (banks and investment funds), have been investing in hi-tech agriculture, including VinGroup, Vinamilk, Hoa Phát Group and Masan Group.
It is worth noting that hi-tech agriculture must be based on market signals, reflecting both new demands and requirements that are appealing to businesses and investors.
Hi-tech agriculture is the cornerstone to satisfy new demand of consumers for 'green,' standardised and helpful products. Not only products, but the production process must be 'green' and meet recognised quality criteria and standards. These are important factors in penetrating both local and international markets, where the middle class is growing rapidly. Hi-tech agriculture is also the solution to minimising negative impacts and adapting better to climate change.
Policy challenges
The role of the State in reforming the agriculture sector is not small: eliminating institutional barriers, overcoming 'market failures', minimising business risks (often high in agriculture) and limiting unfair distribution of benefits.
The most important thing is how to execute this role appropriately and effectively. Below are some points that need attention.
One is the risk of herd investing which may lead to impractical and unsustainable investment in hi-tech agriculture. Businesses may take advantage of this 'movement' to abuse policy and distort the market (which should be an effective mechanism). Farmers may not fully benefit from supportive policies. Therefore, the Government should avoid imposition of policy.
Second is the compliance of domestic policy with the country's commitments to international trade accords, in areas such as State support for research and development (R&D), information dissemination, trade promotion, training and infrastructure development. The important thing is to ensure transparency and enhance the voice of farming businesses.
Third is the credit support policy for hi-tech agriculture. This is a crucial issue with two big concerns; the definition of hi-tech agriculture and how to build an effective and practical credit policy.
According to the Ministry of Agriculture and Rural Development (MARD)'s Department of Science, Technology and Environment, hi-tech agriculture signifies application of new technologies in production, including automation, mechanisation, IT, new materials technology, biotechnology, livestock breeds that provide high yield and quality, and sustainable development on the basis of organic farming.
At present, only 26 enterprises in the sector have been recognised by MARD as hi-tech businesses.
To have an effective credit policy, it is necessary to recognise that hi-tech agriculture contains certain risks and uncertainties, especially in the 'experimental' stage.
Therefore, credit support (through lower interest rates) should be considered a risk-sharing mechanism.
Along with enhancing policy capacity and autonomy of the State Bank of Viet Nam (SBV), improving monetary policy and ensuring soundness of the commercial banking system, credit support should come from the State budget.
At the first stage, we can use monetary instruments of the SBV.
It is also necessary to perfect an insurance mechanism for agricultural production. We already have regulations on this issue but the implementation has not been extensive and effective. This will be one of the key factors in businesses and farmers sharing risks.
Fourth is the model of agricultural production in general and hi-tech agriculture in particular. Given the variety of the models, they must meet three basic requirements: economies of scale (thereby better absorbing capital and technology); linkage to value chains; and ensuring bargaining power of farmers.
In fact, there are models of farms, contracts with companies (training for farmers to produce while the company executes marketing and distribution), new co-operatives with farmers contributing capital.
Hi-tech agriculture is thus a big topic which is not just a matter of profits and losses, but restructuring of the sector as a whole. Therefore, there is a need for in-depth studies on 'market and business leadership', 'State support' and 'stakeholders' interests, particularly that of farmers. Besides this, the quality of agricultural growth and sustainable development of the rural sector have to be considered. 
VNS
* Vo Tri Thanh is a senior economist at the Central Institute for Economic Management (CIEM) and a member of the National Financial and Monetary Policy Advisory Council. A doctorate holder in economics from the Australian National University, Thanh mainly undertakes research and provides consultation on issues related to macroeconomic policies, trade liberalisation and international economic integration. Other areas of interest include institutional reforms and financial systems. He authors Viet Nam News's new column, "Analyst's Pick", which will run on the first Tuesday of every month.