Despite the increasing number of outlets, the market share of mobile retailer The gioi Di dong, which belongs to Mobile World Investment Corporation (MWG), has stayed unchanged at 42 per cent, thus, MWG has to find ways to solve its growth problems.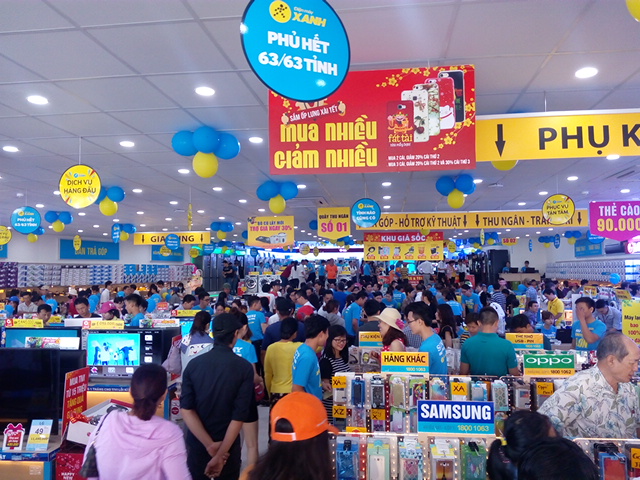 According to newswire VnExpress, MWG's business report for the first half of 2017 revealed that the company's revenue and after-tax profit were more than VND31.2 trillion ($1.4 billion) and VND1 trillion ($44 million), respectively, producing a growth of 59 and 28 per cent compared to the same period last year.
Of the total, the revenue from online sales was nearly VND2.6 trillion ($114.4 million), nearly double of the corresponding period last year.
This result indicates that MWG has achieved nearly half of its annual targets of VND63.3 trillion ($2.8 billion) of revenue and VND2.2 trillion ($96.8 million) of consolidated after-tax profit. These targets were approved by its shareholders in early 2017.
MWG has opened 272 outlets in the first half, with Dien may XANH stores accounting for over a half. Currently, there are 1,527 MWG stores all over Vietnam.
According to Ho Chi Minh City Securities Corporation (HSC), MWG's chain of The gioi Di dong stores is showing signs of saturation. Although these stores contributed the largest portion of MWG's revenue, growth rate is slowing down. Its market share remained unchanged at 42 per cent, while it used to rise by 1-2 per cent in each quarter.
This slowing down may be the result of the boom in The gioi Di Dong stores in various prime locations across Vietnam. The store-opening rate is higher than the general growth rate of the whole market, which forces The gioi Di dong stores to compete with each other, leading to the unchanged market share.
Regarding Dien may XANH outlets, MWG keeps its expansion plans. In the first half of 2017, its revenue growth nearly reached the target of 12 per cent compared to the same period last year. This chain has much room to develop in tier-2 cities in Vietnam and MWG may gain more market share through its chain of small retail stores.
Solving the growth problem
Also in the first six months of 2017, MWG's Bach hoa XANH reported an impressive growth rate of 15 per cent and its number of new stores increased by more than 300 per cent compared to the same period last year. Recently, MWG has signed a preferential purchasing agreement with Hoang Anh Gia Lai JSC for fruits. It is expected that in August 2017, passion fruits and bananas will appear in Bach hoa XANH stores.
HSC said that the biggest long-term challenge for Bach hoa XANH is to shift from purchasing from distributors to self-providing to increase profit ratios.
At the annual shareholders' meeting in early 2017, Nguyen Duc Tai, chairman of MWG, said that the Bach hoa XANH chain is quite small, so to quickly increase market share, MWG may have to conduct some merger and acquisition (M&A) deals. Previously, each Bach hoa XANH outlet used to employ a staff of 12-14, but now there are only 6-7 staff at each unit to cut administration expenses.
"From now to 2018, MWG will implement the expansion plan of the Bach hoa XANH chain. We have not earned profit from this business, but we expect that it will bear ample fruit in 2019. We will try to increase MWG's gross profit to 16-18 per cent by the end of this year," Tai said.
Viet Dragon Securities Corporation (VDSC) forecasted that in the future, Bach hoa XANH stores will be the main business of MWG and the corporation will look for new chances to develop this chain. There is still much room for enterprises to flourish in the retail sector, especially those owning convenience stores. The investment into the Bach hoa XANH chain promises to be a breakthrough of MWG in the far future.
Besides, e-commerce website vuivui.com shows a lot of promise in the long-term. However, according to Le Thi Nu, analyst at KIS Vietnam Securities Corporation, e-commerce enterprises in Vietnam are suffering losses, thus, without any significant difference, vuivui.com needs a lot more time to develop despite the high expectations MWG places on this e-commerce website.
However, due to the intense competition with many other chains in the same industry, it may be more difficult for the Bach hoa XANH chain to grow as big as its pioneers The goi Di dong and Dien May Xanh.
Room to develop in the mobile phone and consumer electronics market is narrowing, and this puts a heavy burden on enterprises, including MWG. Accordingly, MWG is looking for new fields to invest in to ensure its development and, at the same time, reinforce the company's existing strengths. 
Besides the grocery store chain Bach hoa XANH, recently, Tai said that MWG may invest in a chain of drug stores.
He said that instead of spending two or three years exploring this market, MWG may implement some M&A deals with enterprises that own 10-15 drug stores. MWG expects to purchase 20-40 per cent stakes of other pharmaceutical retailers, then will gradually increase its holdings to 60 per cent. MWG expects to invest about VND500 billion ($22 million) in this industry.
VIR