The Vietnam Cashew Association (VINACAS) has asked Government authorities to tackle obstacles in customs declaration procedure.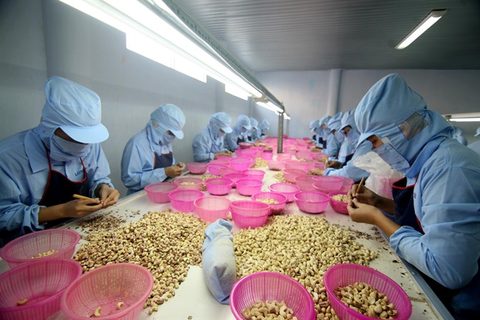 Workers of the Long Viet Co Ltd in the southern province of Phu Yen's Tuy Hoa City process cashew nuts for export. 
A new regulation is causing hundreds of raw cashew material containers to pile up at the city's ports.
According to the association, many enterprises importing cashew materials for processing and re-export are facing the risk of demurrage/storage charge hike due to the Prime Minister's Decision No 15/2017/QD-TTg on May 12 and the General Department of Vietnam Customs' Document No 4824/TCHQ-GSQL.
Under these documents, raw material importers must make customs declaration in the localities where their factories are based, such as Dong Nai or Binh Phuoc.
However, plant quarantine must still be carried out at HCM City's Customs Department.
The city's plant quarantine agency is not allowed to take samples for examination right after the goods arrive at HCM ports; instead it has to wait until procedures of goods declaration at the localities are completed.
Therefore, to comply with the new regulation, each batch of goods has to be transported from HCM City to other cities/provinces for customs declaration, then back to HCM City for plant quarantine, and finally return to factories in the cities/provinces for production.
Ta Quang Huyen, director of the Hoang Son I Co Ltd which is headquartered in the southern province of Binh Phuoc, said previously, both works of customs declaration and plant quarantine were conducted on arrival at HCM City's Customs Department, which helped save time and money for enterprises.
The new regulation, however, increased customs declaration time by 10 times, along with a hike in demurrage/storage charges. Further, transport costs of businesses increased because most cashew processing factories are situated in the southern provinces of Dong Nai and Binh Phuoc, Huyen said.
Huyen's company currently has 100 containers of cashew material, equivalent to 1,500 tonnes, stuck at the port. He estimated the storage cost for the consignment would amount to VND50 million (US$2,200) per day, adding that the company would likely fail to deliver its products to customers on time.
Do Tat Thang, director of HCM City-based DaKao Agricultural Produce Export and Production Co Ltd, said Document 4824 took effect from the moment it was issued, thus enterprises did not have time to adjust production plans.
He said the new requirement dis not help increase local budgets even when the goods were declared at local customs divisions because temporarily imported products for re-export are not subject to taxes. Thus it was a time-consuming procedure for the local staff, he added.
The company currently has to pay VND100 million for storage of 200 containers of cashew material at the port.
Accordingly, VINACAS general secretary Dang Hoang Giang said the association on July 15 sought Government authorities' permission for cashew enterprises to have flexibility in choosing the place where they could do customs declaration, depending on the business situation on the ground.
The request was sent to the Ministry of Finance, Ministry of Agriculture and Rural Development, Ministry of Industry and Trade, and the General Department of Vietnam Customs, Giang said.
VINACAS chairman Nguyen Duc Thanh said latest information on the nutritional value of cashew nuts was meanwhile, publicised by the International Nut and Dried Fruit Council, which would be the foundation to raise the added value of cashew products.
Therefore, authorities need to simplify administrative procedures to facilitate the development of the Vietnamese cashew sector, Thanh stressed. 
VNS