V
ietNamNet Bridge - Vietnamese are wasting many good agricultural products as they sell them as raw materials instead of processing them for added value.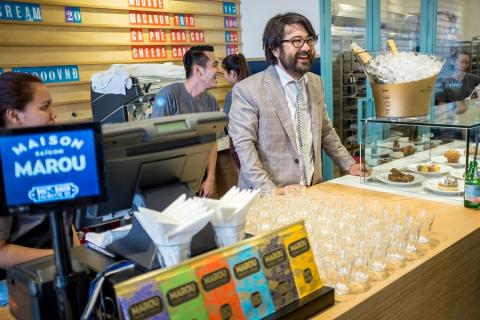 Nguyen Minh Chau, former director of the Southern Southern Fruit Institute, said he was  excited about the news that chocolate products made in Vietnam have been recognized as one of the best in the world, competing with those from Belgium, Switzerland and Germany.
The chocolate products are made from cocoa grown in Vietnam. He said this shows that Vietnam has great potential in natural resources, labor force, and conditions to develop business.
Vietnamese are wasting many good agricultural products as they sell them as raw materials instead of processing them for added value. 
However, it is not Vietnamese, but French and Japanese nationals who created the brand for the high-quality chocolate products.
"What Vietnam lacks are business ideas and post-harvesting processing technology," Chau said. Vietnam has been wasting its high-quality agricultural products, depending on fresh fruits and raw exports, he added.
Binh Thuan and Ninh Thuan are two famous grapefruit granaries of Vietnam. However, they still cannot develop any strong wine brand. 
Hung Yen province is famous for longan, while Bac Giang is famous for litchis. However, Vietnamese still eat dried canned litchis made in Thailand.
The same thing is happening with cocoa. Vietnam has a suitable climate to grow cocoa and conditions to develop cocoa-growing areas, but it doesn't have post-harvesting processing technology. Therefore, it cannot make money from the resources.
At the workshops and official conferences held by MARD, experts pointed out that while exporting raw materials, Vietnam has been heavily relying on China, while Vietnam can earn little money in the value chain.
Vietnam has Loc Troi rice and Dole bananas bearing Vietnamese brands exported to the world market. However, the number of these products remains modest. 
With bountiful crops, prices usually fall in bumper years. Farmers have asked for help as dragon fruit and watermelon remain unsold. In rural areas, watermelons are used to feed cows.
According to Nguyen Thi Phuoc, general director of Vietcomreal, the company has bought 25 tons of pumpkin from Dak Lak province and given to donation catering units in a move to help Dak Lak farmers, who have had low sales. Vissan bought pork from farmers at prices higher than market prices to rescue farmers who have incurred big losses. 
However, the actions cannot save farmers in the long term.
In 2007, the pomelo price in Mekong Delta dropped dramatically from VND10,000 per kilo to VND1,000 per kilo. Doan Van Khanh, a farmer in Tien Giang province, then decided make cosmetics products from pomelo. He now has 26 products made of pomelo available in the market.
RELATED NEWS
Vietnam has to sell fruits cheaply because of poor processing
Vegetable and fruit exports face tough competition from imports
Mai Nam