Three foreign investors and six Vietnamese companies will build urban railway lines in Hanoi as the city revs up its public transport system, Chairman of the Hanoi People's Committee, Mr. Nguyen Duc Chung, has said.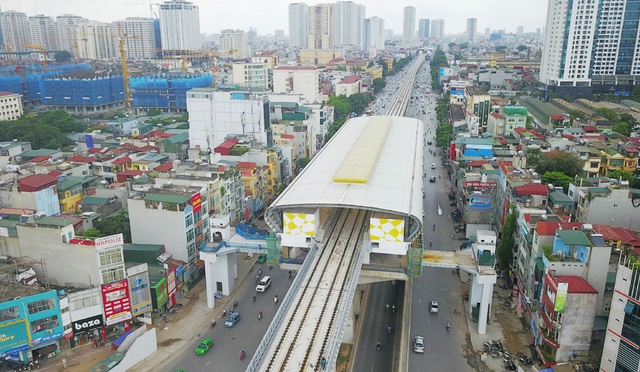 The People's Committee will create optimal conditions for the investors so that projects will be completed quickly and help ease traffic congestion, Mr. Chung told a recent meeting with voters, though he did not reveal the names of the investors.
It was reported earlier this month that the city would allow two foreign companies - Russia's Mosmetrostroy and South Korea's Lotte Group - to join the railway projects. Five Vietnamese companies will also be involved: Vingroup, Xuan Thanh Group, Lung Lo 5, Tan Hoang Minh, and a consortium of Licogi and MIK Group Vietnam.
The construction of the railway lines is part of the city's plans to enhance its public transport network and limit personal vehicles in the central business district by 2030. According to the city's master plan for 2030 and vision to 2050, Hanoi will have ten urban railway lines with a combined length of 417.8 km.
The city will need over $40 billion for their construction, including $7.5 billion in 2017-2020, $7.6 billion in 2021-2015, $3.5 billion in 2026-2030, and $21.3 billion after 2031. All will be built under the private-public partnership (PPP) model, in which investors can use land to develop urban infrastructure and shopping centers.
Hanoi earlier submitted plans to auction 6,000 ha of land to build ten urban railway lines from now to 2030. By the time the railway network is completed, there will be residential quarters on both sides of the route. Urban areas and shopping centers will be set up within a radius of 500 meters around railway stations.
Ms. Do Thi Thu Hang from real estate consultants Savills, said there is no available land in the districts of Cau Giay, Thanh Xuan, Tay Ho, and Dong Da, while potential land plots in the outlying districts of Hoai Duc, Quoc Oai, Dong Anh, Thach That, Ha Dong, and Long Bien are up for grabs.
According to a report from CBRE Vietnam, urban railway networks bring a number of benefits, in particular improving the ability of the population to access employment, shopping, and recreation activities. The experience of other countries also suggests that one of the most significant impacts of urban railways is on property values. Rail development brings many noticeable changes to areas around train stations: land prices surge, real estate developments boom, and retailers and offices relocate.
"In theory, a home located near a public mass transit system should command a higher rent or sales price than one that is further away, because good public transport allows those living nearby to more easily travel to and from destinations that are important to them," said CBRE Vietnam's Managing Director, Mr. Marc Townsend, adding that this has been well proven in other countries, where the premium for home prices in locations close to public transport ranges from 6 per cent to 45 per cent.
VN Economic Times