The regulations related to aviation transport business licensing shall not be loosened for investors wishing to join the field.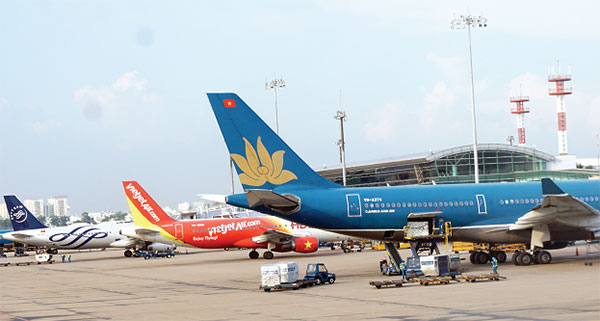 The government's cautious approach to aviation business licensing was clearly evidenced by the recently-enacted Document No.309/TB-VPCP of the Government Office.
Deputy Prime Minister Trinh Dinh Dung noted in the document that as aviation is a conditional business which requires enormous capital investments and is also a field with direct impact on national security, external activities, and transport safety, bolstering investment efficiency and ensuring healthy and sustainable business performance, the licensing process must be prudent.
"This is to ensure utmost safety and aviation security in all contingencies," Dung stressed.
At a recent meeting on the issue, two investors—Skyviet Aviation JSC and Tan Cang JSC—submitted applications to the Ministry of Transport (MoT) seeking licences for aviation transport services provision.
In the case of Tan Cang JSC, which applied for a licence on general aviation services, Dung assigned MoT to take into account feedback from relevant agencies and guide the investor in completing the necessary procedures for submission to the prime minister's consideration.
In January 2017, MoT submitted the company's proposal to the prime minister for consideration.
With the chartered capital of VND100 billion ($4.5 million), Tan Cang JSC plans to use two aircrafts for general aviation services, such as air taxi and geological survey flights.
In April 2017, the government announced that the proposal of Vietstar Aviation Company Limited (Vietstar Air) to seek aviation transport business licence will be considered only after the building of a passenger terminal and hangar for aircraft parking is completed, pursuant to Tan Son Nhat International Airport's revised planning. 
MoT is now perfecting the airport's revised planning. In case the scheme was approved by the government in this year's third quarter, it would need two to three years to complete the building of the passenger terminal and parking space for 85 aircrafts.
In respect to a recent proposal on aviation transport business provision from Bamboo Airways (under privately-held major property developer FLC Group), industry experts said that it needs more time for the company to provide complete application documents.
Bamboo Airways said that it has basically met all requirements and parent company FLC stated its subsidiary has sufficient capital sources to be licensed in the aviation transport.
VIR