Vietnam's agriculture sector needs to end the practice of small-scale production and reorganize it on a larger scale towards high-tech agriculture, the "Reorganizing Agricultural Production" seminar, held prior to the second Vietnam Private Sector Forum (VPSF) at the end of this month, heard.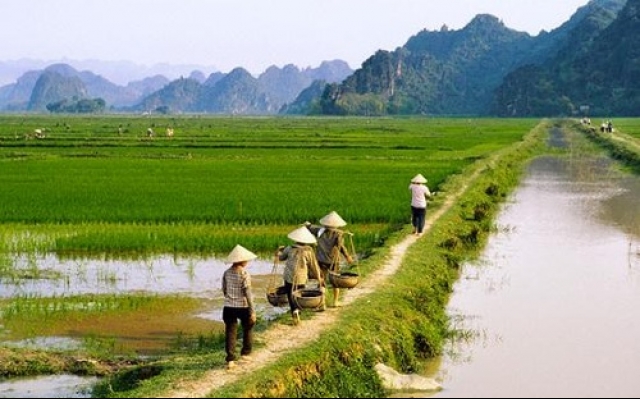 Mr. Tran Manh Bao, Chairman of VPSF's Agriculture Working Group and the Thai Binh Seed Company, told the seminar that Vietnam's agricultural production needs to be reorganized with a greater focus on businesses rather than farmers.
"Agricultural production in Vietnam is still very fragmented," he said. "For businesses like us, if we want to have 100 ha of land for agricultural production, we must sign deals with 1,000 households, which creates obstacles in the production process."
What businesses need is support in administrative procedures on land, taxes, and technology. "Investment in agriculture is risky, so tax policies should be improved," he said.
One of the most important issues relates to markets, according to Mr. Nguyen Khac Hai, CEO of the PAN Group. Domestic enterprises have little knowledge about foreign markets, so the government should introduce mechanisms for cooperation and exchanges of experience.
Mr. Nguyen Hoang Anh, General Director of the Central Fisheries Investment Company, said that, to reorganize production, there must be clear plans for agricultural development. There should also be a clear set of criteria in each agricultural sector and appropriate mechanisms and policies for each field.
"In my 20 years in the fisheries industry, I have found that business support policies are far different in reality," he said. "The policy mechanism for application is also incorrect." Reorganizing agricultural production and developing a set of criteria for high-tech agriculture development is important, he emphasized.
The second VPSF is to take place in Hanoi at the end of this month and will be chaired by Prime Minister Nguyen Xuan Phuc and attended by leaders from the government, departments, international organizations, and business associations.
With the theme "From Central Resolution 5 to the Action Program of the Private Sector in Vietnam", the session will focus on discussions and dialogue between the government and the private sector in three key national spheres: agriculture, tourism, and the digital economy.
The VPSF is an initiative from the Vietnam Young Entrepreneurs' Association and the Mekong Business Initiative (MBI), funded by the Asian Development Bank (ADB) and the Australian Government.
The forum is a bridge between the government, public authorities, and the private sector for continuous and close consultation on public and private policy, based on the gathering and reflection of voices from enterprises.
The forum this year is expected to see 1,000 delegates in attendance, including those from the government, ministries, departments, international organizations, and business associations, as well as economic experts and numerous CEOs from Vietnamese and foreign enterprises.
VN Economic Times