The ASEAN Economic Community (AEC) can be a major catalyst for national growth, but few Vietnamese businesses have grasped the concept and its importance, officials and experts said at a seminar on Wednesday.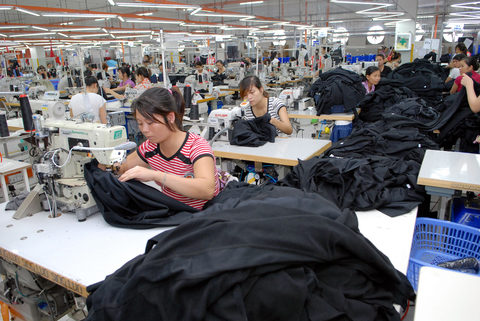 Workers at a garment production line of Star Fashion Company in Phu Nghia Industrial Park, Ha Noi. 
The seminar, titled "50 years of ASEAN: ASEAN Economic Community - Opportunities for Vietnamese enterprises", was jointly organised by the Ministry of Foreign Affairs (MoFA) and the Economic Research Institute for ASEAN and East Asia (ERIA).
Discussions focused on the AEC's role in facilitating the entry of Vietnamese businesses to enter Southeast Asian markets, and businesses' approach to this potential.
Le Luong Minh, ASEAN Secretary General, noted that Viet Nam has been an important factor in the regional bloc's development throughout. The country has actively co-operated with other members to drive the regional economy towards greater participation in the global value chain, he said.
Viet Nam was a regional spearhead for the Trans Pacific Partnership Agreement, the Regional Comprehensive Economic Partnership and free trade agreements with the Eurasian Economic Union and the European Union, he added.
The AEC can maximise the nation's competitiveness alongside the bloc's collective power, boosting bilateral and international trade, Minh said.
Agreeing with Minh, Viet Nam's Deputy Foreign Minister Nguyen Quoc Dung said over the 22 years that it has been an ASEAN member, the country's economic progress has become increasingly entwined with the bloc's growth, more so with the establishment of the AEC in late 2015.
Since Viet Nam became a signatory to the ASEAN Free Trade Agreement, the bloc's members have collectively become the country's second biggest trade partner with an average annual growth rate of 14.5 per cent in the last decade, he said.
Bilateral trade turnover increased from around US$19 billion in 2006 to $41.36 billion in 2016. ASEAN is now Viet Nam's third biggest export market and also the third most prolific supplier of materials for the nation's manufacturing industry, said Dung.
He also confirmed that ASEAN was one of Viet Nam's most important foreign investors, with a total registered capital of $64 billion as of 2016.
The bloc also acts as a link between a multitude of investments by multinational companies and the Vietnamese market. Industrial projects initiated by ASEAN countries in Viet Nam are now centred in the manufacturing, processing and assembling industries, he noted.
He stated that ASEAN was an important factor in Viet Nam being able to maintain and accelerate stable economic growth over past decade. The realisation of AEC is a key objective for all members and their business communities.
Income gap
To boost regional co-operation, it is necessary that the income gap among ASEAN countries and other regions be narrowed.
Dung also pushed for greater economic integration to enhance the region's competitiveness.
He urged Vietnamese entrepreneurs to take the initiative and participate in the AEC by cementing their place in the ASEAN market, help set the rules and anticipate market trends for themselves and the ASEAN community.
He pledged that the Vietnamese Government would continue economic reforms, paying heed to the concerns of the business community.
MOFA's Assisstant Minister Vu Quang Minh said the seminar was a good opportunity for businesses from all ASEAN countries to meet and share their experiences, ideas and methods towards help the community overcome integration challenges.
He said AEC marked a new level of ASEAN co-operation that is people-centred. He asked Vietnamese businesses to broaden their knowledge of the AEC and awareness of its importance. Just 16 per cent of companies in the country seem to have a strong understanding of such concept, he said.
Hidetoshi Nishimura, President of ERIA, also affirmed ASEAN's importance for Viet Nam's growth, saying a common market with a productive basis would bring equal opportunities to all members and their peoples.
True appeal
Prominent economist Vo Tri Thanh of Central Institute for Economic Management (CIEM), said that the AEC needs foster attractive, favourable conditions and political support to truly appeal to businesses from Viet Nam.
Local businesses should also have the urge to connect and the professionalism to cooperate.
Representatives from the Bank for Investment and Development of Viet Nam (BIDV) also said that many Vietnamese firms supplying parts to FDI multinational companies did not have enough funding to expand production and take on larger projects, which might be a reason behind their hesitation in actively joining the AEC.
Two hundreds representatives from Viet Nam and other countries attended the seminar in preparation for the ASEAN's 50th Anniversary Celebration on August 8, 2017. 
VNS