The quick sale last week of Titia Residences in the Empire City project has again borne out the attractiveness of the luxury segment.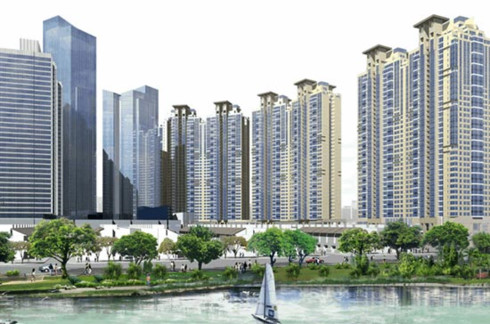 More than 1,000 customers registered to buy an apartment at Titia Residences in the first five booking days, at prices starting from US$4,000 per square meter. Some 80% of this number completed the process to become owners of apartments in this landmark project.
Titia Residences attracted many foreigners – the 30% maximum foreign-owned share in the project ran out in the opening days of sale.
According to a recent report from CBRE Vietnam, the luxury segment's supply is increasing and the segment proves to be attractive to customers.
Dung Duong, director of Research and Consulting at CBRE, predicted that another luxury apartment project in the heart of Ho Chi Minh City's District 1 will be launched very soon, at a price of US$8,000-10,000 per square metre.
"This price will be the highest ever in Vietnam," Duong said. "This level would be equal to luxury apartments in Bangkok (from US$7,000-10,000 per square metre) and half that of Singapore (from US$20,000-25,000 per square metre)."
The supply of luxury apartments has been growing to meet the demand of wealthy buyers, which has also been on the rise.
In the last two years, luxury apartments started to be introduced in the city at prices from US$5,000-8,000 per square metre. Developers are reserving the golden land areas in the heart of the city for luxury projects.
Many of these projects are centred in District 1. The Saigon One, invested by Capella Holding, sold for US$5,500-6,000 per square metre.
Madison, invested by Novaland, sold from US$5,500-7,000 per square metre. Charmington, invested by Sacombank, is slated to be sold at US$5,500 per square metre, while Saigon Tower is estimated to be able to fetch US$7,000 per square metre.
In Hanoi, D'Le Roi Soleil, invested by Tan Hoang Minh, sold from US$4,000-5,000 per square metre, Vinhomes Metropolis, invested by Vingroup, sold from US$4,000 per square metre, and Sun Grand City Thuy Khue Residence of Sun Group sold at US$5,000 per square metre.
According to Le Hoang Chau, chairman of the Ho Chi Minh City Real Estate Association, there are more and more luxury apartment projects appearing, even outside of the central business district. A recent project in Ho Chi Minh City's District 2 is selling at US$5,000 per square metre.
"Luxury apartments are increasingly in demand by wealthy buyers, who are demanding a very high standard, not the brokers or investors," Chau said.
He added that the demand for luxury apartments in Vietnam is now at 0.001% of the population, compared to 1% in the US.
According to CBRE Vietnam, luxury apartments in Vietnam in 2016 rated at US$4,000-9,000 per square metre.
This level was the highest of the last 12 years. However, this price is cheaper than that in other cities like Singapore or Bangkok.
A project considered luxury level must meet many strict criteria, such as an in-demand location, and the reputation of the developers, contractors, designers, and even the operators after they are put into operation.
VIR