Vietnamese government has given the greenlight to the German automobile manufacturer BMW to access and run maintenance services on a batch of 700 BMW cars being held at Vietnamese ports after Euro Auto—BMW's official distributor in Vietnam—was charged with scandalous violations of counterfeit paperwork.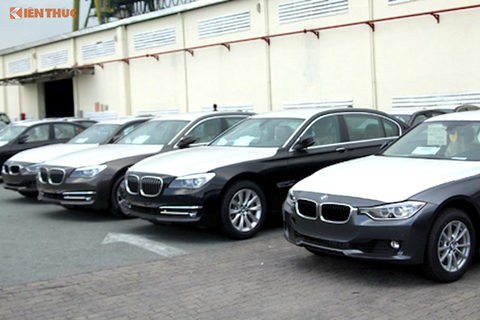 The leader of the government also affirmed that the BMW Group in Germany had no part in these violations, only its dealership in Vietnam. Hence, BMW must change its dealer in Vietnam to help maintain a transparent and attractive business environment, according to newswire vnexpress.
In order to be able to continue its business in Vietnam, the German automaker will have to terminate the rights of its current partner to import and distribute BMW cars in the country, while looking for another distributor.
Dealer replacement is needed
Since 2006, Euro Auto, as the officially authorised distributor of BMW in Vietnam, has helped the company to become one of the most successful luxury car brands in the market after previous failures in manufacturing cars locally, which eventually led to its withdrawal from the Hoa Binh Automobile joint venture.
In fact, Euro Auto is backed by Sime Darby Group (Malaysia). By the end of 2013, Sime Darby Motors—a major affiliate of the Malaysian multidisciplinary group—has acquired a more than 90 per cent stake in Euro Auto Corp. (EAC) by purchasing Europe Automobiles Corp. Holdings (EACH)' and other shareholders' stakes.
Via Euro Auto, Sime Darby has brought several luxury and premium car models to Vietnam, for example the MINI and BMW brands, through a chain of showrooms and stores in Ho Chi Minh City and Hanoi.
Currently, Sime Darby is the world's third largest distributor of BMW. The giant also holds the rights to sell Land Rover, Mini, Rolls-Royce, Jaguar, Lamborghini or Porsche in many neighbouring countries, such as Malaysia, Singapore, Thailand, and China.
In early 2016, Sime Darby established another subsidiary named Performance Motors Vietnam with similar functions to Euro Auto, selling BMW cars, spare parts, and accessories. When this company came into operation, Euro Auto shifted focus onto imports, while Performance Motors was responsible for distribution. Still, there was no clear separation between the firms regarding their functional businesses as they were both reported doing retail activities in Sime Darby's 2016 annual report.
However, after being accused of conducting fraudulent paperwork and declaring low import prices to evade tax, Euro Auto has apparently lost its credibility with other firms.
In December 2016, the BWM dealer was found to have sold a shipment of imported cars while it was still waiting for clearance from the Ho Chi Minh City customs agency, in addition to violating multiple regulations, according to the Ministry of Finance (MoF).
The company was accused of forging documents, including purchase contracts and receipts, while failing to provide certificates of origin for its cars—a sign of fraud and scamming. It also bought BMW vehicles without completing customs clearance or receiving the necessary customs authority permits. In December Vietnamese customs officials were ordered to halt all clearance procedures for BMW cars after MoF reported import violations, a ban that is said to be still in effect.
Afterwards, the Ministry of Public Security announced on April 27 that Nguyen Dang Thao, general director of Euro Auto, and two other individuals involved had been arrested in the course of an investigation of a batch of German luxury cars smuggled into Vietnam. The names of the other two persons have been kept undisclosed.
At the meeting with Prime Minister Nguyen Xuan Phuc, the top executives of BMW also said that the company was seeking to invest in a factory in Vietnam as it would increase the localisation rate of many car components.
According to experts, in order to achieve such a goal, the world's big players usually choose to participate in a joint venture and technology transfer agreement with a local car manufacturer.
There are many firms wanting to become BMW's new distributor, including well-known names of the automobile industry and other multidisciplinary corporations that want to expand their portfolios. Yet for BMW, a joint venture with a local firm appears to be the best fit, to assemble cars in Vietnam.
"Financial capability is not the key factor. Experience and the network infrastructure for distribution are supposed to be the core," said the director of a luxury car company.
This is also the path BMW and Sime Darby are pursuing in Malaysia. The joint venture between these two corporations was established in 2003, with a 51 per cent stake held by BMW and a 49 per cent by Sime Darby.
Shortly after its establishment, the company started manufacturing some of the very first BMW models in Malaysia. To date, the plant has manufactured approximately 20 different commercial vehicle models under the brand names BMW and MINI, including Series 1, Series 3, X1 to X5 or Countryman, among others.
Most recently, in April 2016, BMW Malaysia unveiled a plan to boost the assembly of BMW 3, 5, and 7 series sedans in Malaysia for export to Vietnam and the Philippines via Sime Darby's distribution channels.
Were it not for the Euro Auto incident, according to the company's plan for 2018, Vietnamese customers would have purchased more BMW cars imported from Malaysia, not Germany. Then, BMW would have been granted tax incentives, particularly a zero per cent import tax, for import activities within the region as long as it could meet the requirement of a 40 per cent localisation rate.
If BMW also adopts this model in Vietnam, the best possible way is to find a partner with good financial capabilities, a well-established distribution network across the country, and more importantly, a string of readily available factories and warehouses or bases for expansion. Other things involve agreements signed to regulate capital contributions and technology transfer or to attract investment from car accessory manufacturers and gradually increase the localisation rate.
A long way ahead
In Vietnam, the availability of these conditions is actually very limited. A prediction from industry insiders reckons that Sime Darby will still be in charge of the distribution of BMW cars, but through a different firm, not Euro Auto.
It could be Performance Motors or a different agency. However, whoever will be BMW's new representative, the giant still needs to invest in a joint venture with a large Vietnamese corporation so as to develop the plan to manufacture and assemble cars in Vietnam.
If BMW cars are assembled and imported in Vietnam by a big company, the model used 20 years ago will come back. Around 1994, BMW cars were assembled at the factory of Hoa Binh Automobile Company (VMC), along with Mazda and Kia cars. However, all companies decided to "get out" because of undesirable failures. Mazda and Kia later came back to Truong Hai and started thriving.
If BMW ties the knot with a big company, it will be the starting point of a new era for it to become the second luxury car brand manufactured in Vietnam, after Mercedes. The price may decrease if the proportion of domestic factors increases. The battle in the luxury car segment is also getting tougher with more noticeable opportunities for sales booming.
After all, the luxury car brand of Bavaria is looking for a safe haven in Vietnam. It does not only want an extensive distribution system, services, factories, and warehouses ready for assembly and manufacturing, but also requires a stable policy framework in the long run.
VIR