International brand names are starting to grab the attention of HCM City's fashion-conscious people, clearing the way for more ready-to-wear clothing stores in Viet Nam.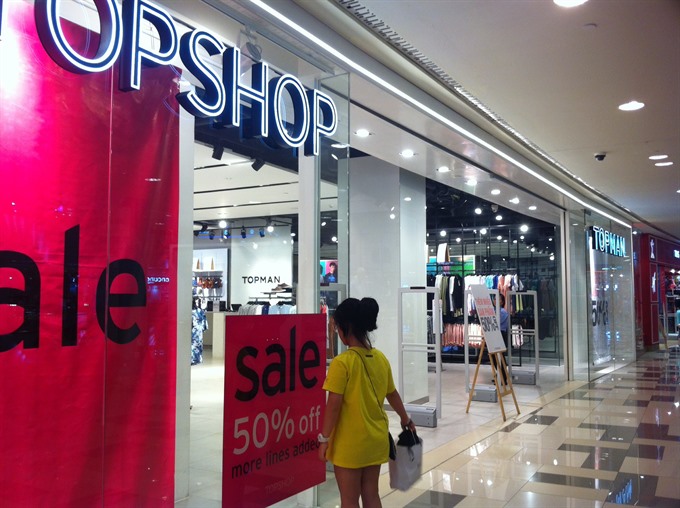 Foreign fashion brands are appreciated for their good customer services and sales promotions.
More than 50 well-known brand names, such as Giordano, Mango, Zara, Topshop, Gap and Old Navy, have opened stores in HCM City.
While Old Navy opened its first store last month, H&M launched its brandname last weekend with a fashion show at a leading shopping centre in the city. 
Other fashion companies, including Pull&Bear, Uniqlo and F21, will also enter the market this year with their own stores scheduled to open in Hà Nội shopping centres.
"Before launching our designs in Viet Nam, we spent time researching the country's economic development, culture and living conditions," said a representative of Zara, who noted that the country would become one of the most important  markets for the popular fashion brand from Spain.
Although their prices are higher than local products, ranging from VNĐ300,000 (US$15) to over $1.5 million ($70) with accessories sell for an average of VNĐ100,000 ($4) per item yet customers, particularly young people, are thrilled they are here.
Customer Tran Thi Anh Nhung of District 3 spent almost VNĐ5 million (US$230) on nine items at Zara after discounts last weekend, saying she was delighted she no longer had to go Singapore or Bangkok for the latest styles.
Nhung, a senior marketing executive for a foreign-owned advertising agency in District 1, said: "Zara and Topshop offer ready-to-wear products in the trendiest styles at reasonable prices. A mini-dress sells for VNĐ500,000 ($22) compared to a Vietnamese one at VNĐ300,000 ($15). Customers aged 18 to 30, who change their clothes every season, are interested in that kind of stores."
Another customer, Vu Chi Hung, 32, said she was a fan of Topshop because their merchandises are both stylish and practical and can be purchased for around $22 a piece.  
"The foreign brands located in shopping centres like Diamond, Vincom and Takashimaya guarantee their services and quality are the best for customers," he added.
Hồ Trần Dạ Thảo, brand name creative director of the Tsafari Fashion Company, said: "The appearance of international fashion houses in Việt Nam and so-called 'fast fashion' or 'casual wear' brandnames is sure to create fierce competition in the country's fashion industry." 
"Vietnamese brands should try to capitalise on the shopping seasons and spend more money on advertising to grab the attention of consumers," she added.  
"Many of our collections cost as little as VNĐ150,000 ($7) for both men and women and offer high quality and modern style pieces. Some designs start at over VNĐ700,000 ($35), but customers with more to spend are thrilled that sophisticated designs can now be made by Vietnamese," she said. 
Thảo said that collections under the brand name Tsafari are offered at shops by young designers, led by a group of trendy creators in Singapore. They offer clothes in the latest fashion trends to attract the interest of young customers.
"With these changes, we hope to popularise and diversify our products in the local market," she said. 
VNS