The supply of E5 bio-fuel is enough to meet the local demand and can fully replace RON 92 petrol beginning next year, the Ministry of Industry and Trade (MoIT) said.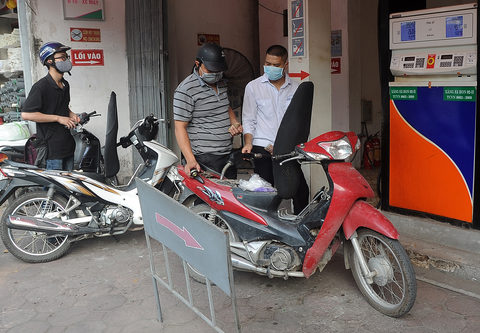 HCM City petrol station. 
The ministry said it had established a team to work with E5 bio-fuel producers and traders, and Binh Son Refinery to accelerate progress, as well as prepare infrastructure for the use of E5 bio-fuel nationwide. This followed the latest decision passed by Deputy Prime Minister Trinh Dinh Dung concerning the bio-fuel development project and the roadmap for shifting to bio-fuel mixed with fossil fuels.
On July 6, MoIT met with 26 petrol wholesalers asking them to strictly trade in E5 while resolving other difficulties on time.
Statistics from the ministry showed that the total petroleum consumption amount in the country last year was around 7.4 million cu.m. Of this, the E5 bio-fuel consumption was 590,000cu.m, accounting for 8 per cent of the total consumption, while that of RON 92 petrol was 92 per cent, equivalent to 6.81 million cu.m.
The ministry said that if the country halted the use of RON 92 petrol from the beginning of next year, the total E5 bio-fuel consumption would be more than 5.3 million cu.m.
The supply of bio-fuel ethanol for E5 petrol, which is a mix of A92 petrol (95 per cent) and bio-fuel Ethanol (5 per cent), has been mainly provided by two biological plants of Tung Lam Joint Stock Company, having a total yearly capacity of 200,000 cu.m to produce 3.9 cu.m of E5 a year.
In 2016, the company sold around 2,000 cu.m of ethanol to the market.
There are two ethanol plants in southern Dung Quat and Binh Phuoc provinces with a capacity of 100,000 cu.m a year. However, the two plants had temporarily halted their operations owing to lack of demand. They have been asked to restart operations by the end of this year to cater to the nationwide demand for E5 bio-fuel, once it replaces RON 92 petrol.
The ministry added that five out of the 26 petrol traders have their own E5 bio-fuel mixing system, including Viet Nam National Petroleum Group (Petrolimex), PetroVietnam Oil Corporation (PV Oil), HCM City Oil and Gas Company (Saigon Petro), Military Petroleum Corporation and Nam Song Hau Trading and Investing Petroleum Joint Stock Company.
Petrolimex has five E5 mixing stations in Ha Noi, Hai Phong, Da Nang, HCM City and Can Tho that uses in-line mixing technology with a total capacity of around 1.05 million cu.m. Petrolimex has planned to increase its number of current mixing stations, as well as invest in those in Ha Noi, Phu Tho, Quang Ninh, Ha Nam, Nghe An, Binh Dinh, Khanh Hoa and Ba Ria-Vung Tau. The total mixing capacity after the investment would reach 3 million cu.m to 3.4 million cu.m a year.
PV Oil has 12 mixing stations in nine cities and provinces with a total yearly capacity of 1.06 million cu.m. In addition to these, it has been investing in five mixing stations in Quang Ninh, Thai Binh, Ha Tinh and Can Tho provinces. It is also upgrading its current stations to bring the total capacity to 1.67 million cu.m a year.
The three remaining companies have total mixing capacity of more than 800,000 cu.m a year.
The PETIMEX and Thanh Le Import-export Corporation, which have E5 bio-fuel mixing stations with a total capacity of 750,000 cu.m to 800,000 cu.m a year, have not been brought into operation.
The total yearly capacity of E5 mixing stations from the seven petroleum traders could reach 6.2 million cu.m to 6.7 million cu.m to meet with the demand for E5 beginning next year. 
VNS