Numerous commercial banks have reported rising profits in the first half of 2017. However, experts have raised concerns over this growth.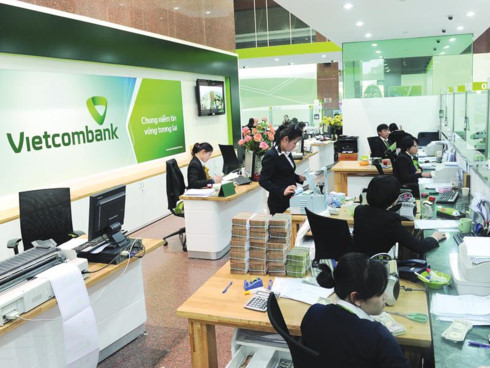 Rising profit due to credit growth
By July 2017, many commercial banks have reported rising profits. Of all the state-owned commercial banks, Joint Stock Commercial Bank for Foreign Trade of Vietnam (Vietcombank) was the first to report profit.
Accordingly, in the fist six months of 2017, its pre-tax profit was VND5.05 trillion ($222.2 million), an increase of 20.5 per cent compared to the same period of 2016. With this positive result, Vietcombank has achieved 53.2 per cent of its 2017 plan and may earn a profit of VND10 trillion ($440 million) for the whole year of 2017.
Many small- and medium-sized banks have already released their rising profits. In particular, during the first half of 2017, Lien Viet Post Joint Stock Commercial Bank (LienVietPostBank) reported a profit of nearly VND900 billion ($39.6 million), nearly double the profit of the corresponding period last year.
Similarly, Saigon-Hanoi Commercial Joint Stock Bank (SHB) reported a profit of VND800 billion ($35.2 million), while Orient Commercial Joint Stock Bank (OCB) and Tien Phong Commercial Joint Stock Bank (TPBank) each reported a profit of nearly VND500 billion ($22 million).
Even Saigon Commercial Bank (Sacombank), which had been deep in loss in recent years, announced a profit (including provisions) of VND490 billion ($21.6 million) and a pre-tax profit of VND428 billion ($18.8 million), a growth of 70.4 per cent compared to the same period of 2016.
Rising profits derive from a credit growth of 7.54 per cent, the highest credit growth rate within the last six months. Customer lending has almost reached the lending growth cap set by the State Bank of Vietnam (SBV) at many banks. These banks are requesting SBV to set a higher credit growth limit.
Although many giants in the Vietnamese banking industry, such as Joint Stock Commercial Bank for Investment and Development of Vietnam (BIDV), Vietnam Joint Stock Commercial Bank for Industry and Trade (Vietinbank), and Military Bank (MB), have yet to publish their financial statement for the first half of 2017, they are also forecasted to have positive business results.
BIDV is predicted to earn a profit of about 50 per cent of its 2017 target, with VND7.75 trillion ($341 million). Meanwhile, Vietinbank's profit is rumoured to sharply increase and it may overtake Vietcombank.
In the upcoming period, there will be more commercial banks to report profits of about VND4-5 trillion ($176-222 million).
However, the amount of profit does not truly reflect the current situation of commercial banks. For example, Vietinbank may be in a leading position in profit, but it is also suffering great pressure to repurchase the amount of bad debts it had sold to Vietnam Asset Management Company (VAMC).
Nguyen Van Thang, chairman of Vietinbank, said that in 2017, the bank will focus on settling bad debts and repurchasing all the bad debts it had sold to VAMC. This means that the part of the huge profit of Vietinbank earned in the first half of 2017 will be used for this purpose.
According to the new survey of SBV's Forecasting and Statistics Department, 90.6 per cent of the surveyed banks expect an increase in their pre-tax profit against 2016, and 64 per cent of the responding banks said that their second quarter was better than the first this year.
Concerns over increasing profit
Many experts warned that commercial banks and their shareholders should not be relaxed about these results.
First, according to Dr Can Van Luc, an economist cum a financial and banking expert, said that millions of dollars of profit may be a huge amount, but compared to the banks' size, these amounts are insignificant. This means that banks' businesses are not as smooth as it seems to be.
According to the statistics of SBV, the return on equity (ROE) ratio of the whole Vietnamese banking system in 2016 was less than 7 per cent, which was equivalent to deposit rates and it was lower than the ROE ratios of many other regional banking systems.
Second, banks' profits are high, but at the same time, they have large amounts of bad debts, towering at about VND600 trillion ($26.4 trillion). To settle bad debts, banks may need to reserve a significant amount of their profits.
Third, the Vietnamese economy has not recovered sustainably.
Fourth, the official application of Basel II and its requirement of 8 per cent for capital adequacy ratio, may affect the profits of the ten commercial banks piloting the system.
Agreeing with these reasons, Dr Nguyen Tri Hieu, a senior financial expert, said that commercial banks should not set high profit growth targets. Instead, they should focus on solving bad debts and tightening risk management.
At present, most commercial banks in Vietnam concentrate on credit risk management, while operational risk management is not given the proper attention.
This oversight is the reason for a wide range of weak banks in recent years. Basel II will fill in this hole, although it shrinks banks' funds for lending. However, this is necessary for banks to enhance their governance and create a foundation for sustainable development.
VIR