The Vietnamese consumer finance market has tremendous potential for development but its rapid growth has raised controversy over how it disadvantages and hurts people unfamiliar with it, experts noted on Wednesday.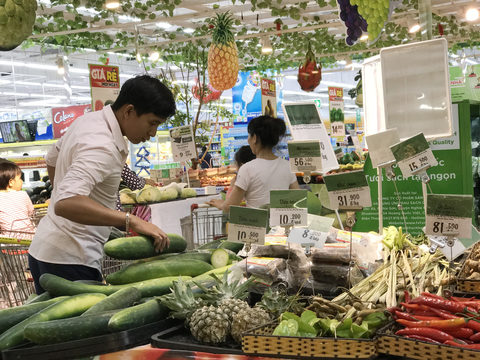 A customer selects vegetables at the AEON Mall Long Bien, Ha Noi. 
At a roundtable conference on "Opportunities to Foster Consumption and Economic Growth" held by the Dau tu (Investment) newspaper, experts discussed the significant growth of consumer finance in Viet Nam, its future potential, obstacles, as well as solutions to enhance consumer finance services.
The editor-in-chief of Dau tu, Le Trong Minh, said in his opening remarks that Viet Nam, with the advantage of a population of 95 million, 70 per cent of whom are aged 15-64, presents an enormous market for consumer financing.
As of 2016, outstanding consumer financing loans stood at VND646 trillion (US$28.3 billion), accounting for 11.7 per cent of total outstanding loans of the economy, according to economist Can Van Luc.
This is set to reach VND1 trillion in 2019, according to the latest forecast by Viet Capital Securities (VCSC), but the however, with the current growth of 20 to 30 per cent per year, this figure may be achieved earlier, the conference heard.
Nguyen Tu Anh, deputy director of the State Bank of Viet Nam's Monetary Department, said the proportion of consumer spending in the Viet Nam's total GDP has continuously increased, jumping from 52.5 per cent in 2005 to 77.7 per cent in 2009 and reaching 78 per cent in 2016, or VND3.8 trillion.
Over the last ten years, a wide range of famous international retailers have entered the Vietnamese market, including Circle K, Shop & Go, FamilyMart, BigC, Fivimart, and Citimart. Domestic retailers are also growing strongly, like Vinmart, Coopmart, and Mobile World, he noted.
"The consumer finance market will strongly develop in Viet Nam. Customers of consumer finance will increase, but farmers as well as other people with little knowledge about laws and finance, may be easily hurt by competition in this field. This requires more strict regulations to protect borrowers and their legal rights and benefits," Tu Anh said.
Since 2016, the SBV has issued two important circulars, (Circular No 39/2016/TT-NHNN and Circular No 43/2016/TT-NHNN) to adjust financing activities, including consumer finance. These regulations not only facilitate consumer finance, but they also protect borrowers from high credit risk by strictly regulating transparent interest rates and detailing loan limits, he said.
Pham Xuan Hoe, deputy director of Banking Strategy Institute of the State Bank of Viet Nam, said that while the interest rate charged by consumer finance companies seems quite high at first glance, it is important to consider the differences between the nature of consumer finance companies and banks.
Consumer finance companies have a vastly different clientele from regular banks, consisting mostly of people who cannot pass a bank's loan risk assessment, and are ranked in the higher risk category, Hoe said.
Unlike commercial banks, without capital from deposits, consumer finance companies have to operate on capital from equity, bond or loans from commercial banks, he added.
Lawyer Truong Thanh Duc of the Viet Nam International Arbitration Centre (VIAC) and Chairman of the Basico Law Firm, said consumer finance has partly reduced black market borrowings.
In Viet Nam, although there are about five or six financial institutions providing consumer finance services, only three or four of them have strong operations worldwide, he said.
He said borrowers should be careful and read their contracts carefully to understand each and every term in the contract that cover interest rates, maturity, conditions and formulas used to calculate interest and other repayments. 
VNS