VietNamNet Bridge - Phone distribution chains are selling many other products together with mobile phones to earn extra money.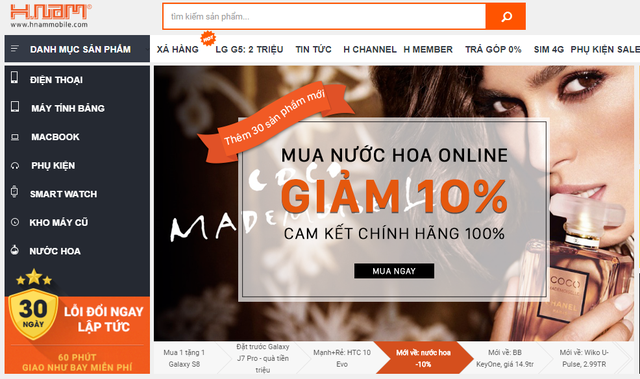 On its website, in addition to mobile phone and laptop models, Hnam Mobile displays 30 perfume products of different brands, priced at between hundreds of thousands of dong and several million of dong per bottle.
Hoang Phu Nam, the founder of Hnam Mobile, confirmed that the mobile phone distribution chain now sells perfume as well.
Nam said the chain's managers, after thorough consideration, have decided to sell perfume to take full advantage of the existing large network, fame and management technology.
However, Hnam Mobile only sells perfume products via internet, while the products are not available at shops. Nam expressed his concern that it may be unreasonable to display perfume next to technology products. 
Phone distribution chains are selling many other products together with mobile phones to earn extra money.
"We hoped to sell 100 bottles in the first three months. However, at present, we sell several bottles a day," he said.

"If everything goes smoothly, we will think of selling liquor and milk," he said.

"Selling perfume is quite different from selling mobile phones," he said. "Though we have high number of outlet, we have to learn things from the very beginning to sell perfume."

The businessman admitted that the mobile phone sales have been decreasing, so it's time to think of expanding business to increase revenue.

Confirming that the mobile phone market has become saturated, Mai Trieu Nguyen, the owner of Mai Nguyen chain, said selling additional products was inevitable for mobile phone distributors.

Mai Nguyen has also been selling non-mobile phone products such as flashlights, multifunction knives, TVs and binoculars.

Nguyen Lac Huy, a representative of CellphoneS, the mobile phone distribution chain with 19 shops in Hanoi and HCMC, said the growth of the mobile phone market has slowed down and mobile phone distribution chains have to diversify products and services.

CellphoneS has tried to do this by opening phone repair shops, called Dien Thoai Vui. In the coming time, one shop in Hanoi and one in HCMC will open. 

The Gioi Di Dong, the largest mobile phone distributor, is now promoting the sale of home appliances with Dien May Xanh brand, while FPT Shop has announced cooperation with Vinamilk to sell dairy products.

A report of GfK showed that 6.2 million smartphones were sold in 2013, and a 40 percent growth rate was reported in 2014. 

However, the growth rate has slowed down in recent years. It is expected that 23.6 million smartphones would be sold this year, an increase of 19 percent over 2016. However, the revenue would increase by 7 percent only, from VND73.3 trillion to VND78.6 trillion.
RELATED NEWS
Tech goods distributors fight over mobile phone market
Mobile phone market getting packed in like sardines
Kim Chi