Viet Nam, the world's No 1 exporter of cashew products, expects to import an aditional 500,000 tonnes of nuts from now until October to meet its annual export target, according to the Viet Nam Cashew Association (Vinacas).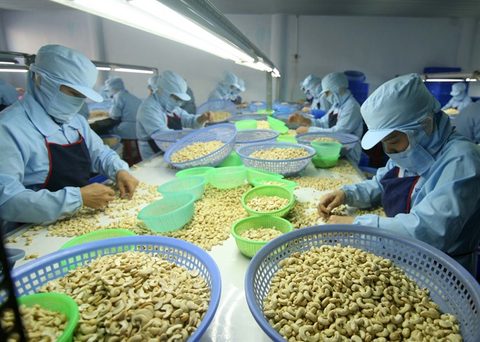 Long Viet Company workers in Phu Yen produce cashews for export. 
Without imports, the industry will not meet its export target of 360,000 tonnes because unseasonal rains have shrunk the 2016-17 crop, which in any case would have been insufficient to meet processing demand, the association said. Currently, nearly two-thirds of the nuts for Viet Nam's cashew industry are imported.
According to the General Department of Viet Nam Customs, 165,000 tonnes of cashew nuts worth about US$1.62 billion were exported in the first six months of 2017, up 2.3 per cent in volume and 27 per cent in value year-on-year.
But Vinacas Chairman Nguyen Duc Thanh said the domestic cashew supply was not sufficient for processing needs in the first half, so the industry had to import 400,000 tonnes of high-quality raw cashew nuts from Africa.
However, processors complained that while imported nuts were expensive, processed product prices remained unchanged, leading to lower profits, Thanh noted.
Viet Nam has been the world's No1 cashew nut exporter for 11 straight years and is set to keep this position for the 12th year as it is forecast to ship abroad 360,000 tonnes of cashew nuts worth $3.3 billion in 2017. Since the six-month shipments were equivalent to just 45 per cent of this year's target, the industry must work harder to realise this goal, according to Vinacas. The year's final harvest in the fall is not expected to make up the shortfall.
Due to the shortage, the price of raw nuts on the domestic market was expected to rise, even for low-quality raw material, especially in the period from October to December 2017. Therefore, many plants have scheduled to reduce their processing capacity and some small plants will have to close.
Nguyen Quang Huyen, General Director of the Hoang Son 1 Co, Ltd, said the shortage of raw cashew is not new. Major enterprises made preparations from the start of the year to ensure normal production activities. Only small firms without adequate storage have to wait for imported materials.
According to Vinacas Chairman Thanh, to ensure bigger crops, new high-yield cashew varieties tolerant to climate change and disease must be planted, and the planting schedule should be adjusted to cope with climate change. 
VNS