Investors in Build-Operate-Transfer (BOT) contracts are delaying installation of electronic toll collection (ETC) equipment at their toll gates on highways, officials say.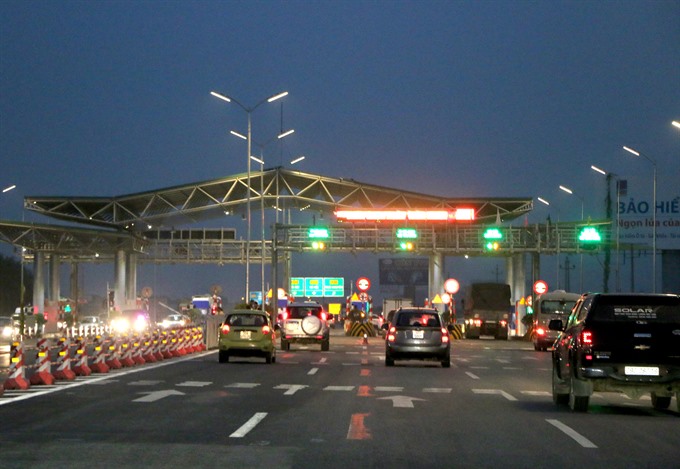 A toll station on the stretch of the National Route 1A from Hanoi to Bac Giang Province. The Prime Minister had approved a national project to have ETC equipment installed at all toll stations nationwide by 2020.
Apparently, they do not welcome the financial transparency that this would promote, the officials add.
The ETC technology collects toll by scanning cards installed in vehicles passing through toll gates, providing exact numbers of vehicles and fees collected while saving a lot of time for drivers.
In March this year, the Prime Minister had approved a national project to have ETC equipment installed at all toll stations nationwide by 2020.
In the first phase of the project, the ETC equipment is to be installed at 28 toll stations on National Highway No 1 and the section that runs through the Central Highlands region of the Hồ Chí Minh Highway by the end of April, 2017.
However, as of early this week, 13 investors on these routes were yet to install the ETC equipment at their toll stations, the Transport Ministry reported.
Nguyen Viet Huy, deputy head of the ministry's Public-Private Partnership Department, said that the ministry had organised several meetings between the investors and the ETC technology providers to speed up the installation.
"During the talks, investors say they agree with the Government on ETC installation and that they would work with ETC technology providers to address problems."
However, the investors were not strictly following their commitments, Huy said.
He said several road investors had also installed toll collecting equipment that were not compatible with Transport Ministry's systems.
Vũ Quang Lâm, general manager of the Viet Nam Electronic Toll Collection (VETC) Company – an investor and operator of ETC systems, said that some BOT road investors were not willing to negotiate.
"They are delaying negotiations and signing of contracts, slowing down the ETC installation plan…," Lâm said.
Nguyen Van Huyen, General director of the Directorate for Roads of Việt Nam said that the investors did not want transparency in toll collection.
"I don't think the toll data that BOT investors provide to the ministry is accurate. This should be detected with unannounced inspections," Huyện said, calling for stronger actions against the investors.
However, Transport Minister Truong Quang Nghia said relevant government bodies lacked oversight responsibility, urging investors to implement their commitments. He also said he would directly oversee and speed up the investors.
Nghia said road users had called for a more transparent toll collecting system and installing ETC technology would help meet this demand.
If investors did not change their mind, they would face opposition from road users.
He asked investors to complete installations and begin using the ETC equipment by the middle of next month. 
VNS