The Vietnam National Administration of Tourism (VNAT) and the Vietnam Tourism Association (VTA) held a ceremony in Hanoi on July 8 to honour leading tourism businesses in 2017.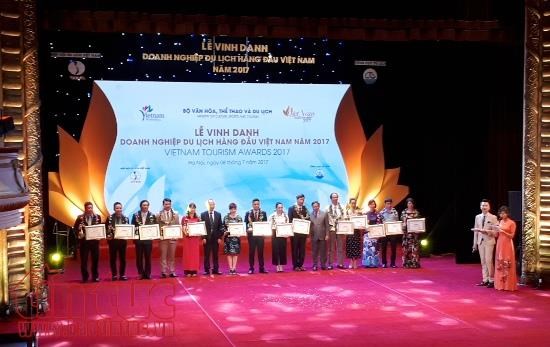 Leading tourism businesses were honoured at the event
The Ministry of Culture, Sports and Tourism granted the Vietnam Tourism Awards to 91 organisations, businesses and individuals who made active contributions to the development of tourism in Vietnam.
The recipients include travel agents, tourism accommodation providers, passenger transport service suppliers, restaurants, and airlines.
Deputy Minister of Culture, Sports and Tourism Huynh Vinh Ai, Chairman of the the VTA said the award was launched in 1999 with a view to increasing the quality and innovation of tourism businesses.
Addressing the event, Deputy Prime Minister Vu Duc Dam urged the tourism sector to work more to reach or surpass the yearly growth target of 15 percent and welcome 11.5 million international tourists in 2017.
The Politburo promulgated Resolution No.8-NQ/TW in January 2017 developing tourism into a spearhead economy.
In June 2017, the National Assembly adopted the revised Law on Tourism, which will come into effect on January 1, 2018, to pave the way for the development of tourism.
Last year, Vietnam set a new record of receiving 10 million visitors, up 26 percent. The total tourism revenue in 2016 was 400 trillion VND (17.6 billion USD), accounting for 6.8 percent of the country's gross domestic product (GDP).
The number of international visitors to Vietnam in the first five months of 2017 was estimated at 5.25 million, a year-on-year surge of 29.6 percent.
The country is expected to see 17-20 million international visitors and 82 million domestic visitors, and tourism is expected to account for 10 percent of the GDP by 2020. The tourism revenue is forecast to touch 35 billion USD by that time.
Vietnam is also striving to become one of Southeast Asia's leading travel destinations by 2030.
VNA