VietNamNet Bridge - Brand new cars are being sold at hundreds of millions of dong lower than initial prices, while used cars remain unsold.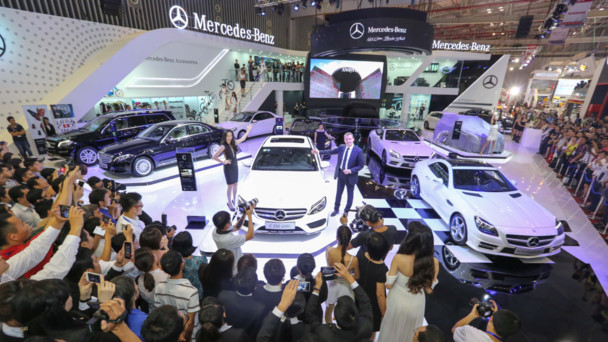 The sales have been occurring six months before big changes in taxes and policies take effect. 
Truong Hai Automobile's slashing of selling prices for Mazada and Kia Peugeot products by up to VND200 million one year ago. This triggered a new price adjustment campaign among large car distributors. 
In mid-May, a representative of Thaco said Mazada price had bottomed out. However, in early June, Thaco once again announced an additional VND30-40 million cut for Mazda CX5 model.
Hyundai Thanh Cong (HTC) has offered the discount rate of VND50-70 million for SantaFe and VND40-50 million for Elantra in June.
Brand new cars are being sold at hundreds of millions of dong lower than initial prices, while used cars remain unsold. 
Mitsubishi Vietnam has eased the selling prices by VND50-106 million for Pajero Sport, VND60 million for Triton, VND50 million for Mirage and VND90 million for Outlander.
European manufacturers also have to slash prices to compete with the ASEAN sourced products. Volkswagen offered a sharp price decrease of up to VND260 million for SUV Touareg.
The anticipated car import tariff cut to zero percent commencing from January 1, 2018 has prompted car buyers to stop their purchase plan to wait for prices to go down. 
This has put pressure on both manufacturers and distributors. As a result, though the tax rate has not been cut, car prices have plunged.
As brand new cars see sharp price decreases, used cars are not selling. In the past, those who had VND400-500 million would look to purchase used cars. But now, with the amount of money, they have many choices among brand new cars.
Many dealers have to sell cars at a loss to get money and shift to a new type of business.
While car buyers believe that prices will drop further after January 1, 2018, when the preferential tariff for ASEAN-sourced cars is cut to zero percent, analysts say the prices may not decrease continuously, because car imports have other kinds of tax and fees.
Pick-ups, for example, may see prices increase after January 1, 2018, if the proposal on registration tax and luxury tax increases is approved.
After the current 'price decrease storm', many small car dealers will have to shut down.  If so, the price decreases would be stopped by the big dealers. 
A senior executive of an auto joint venture said that car prices had nearly bottomed out and it was difficult to predict market performance in 2018.
US$1=VND22,000
RELATED NEWS
How expensive are cars in Vietnam?
Assembled-in-Vietnam cars are twice as expensive as Thailand's
Tran Thuy