Foreign firms are hoping to tap into Vietnam's cosmetics market as consumers are becoming more beauty-conscious.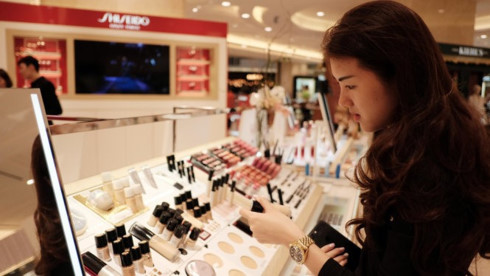 Last week, a delegation of 12 Israeli companies in the cosmetics and toiletries industry paid a working visit to Vietnam. The visit presented a great chance for Israeli entrepreneurs to explore the Vietnamese market, to meet with the local business community, and to analyze the market for potential cooperation opportunities.
Liron Schneider, CEO of Israel-based Lavido Ltd., said that the company began exporting natural face and body products two years ago. Following its success in China, Lavido has begun to operate in the Republic of Korea and Japan, with plans to enter Vietnam in the coming time. The company is seeking local distributors and importers to tap into the growing market.
Meanwhile, Itamar Kummer, sales director of Kamedis APAC, said that now is a good time for international beauty companies to penetrate the Vietnamese market. Vietnamese consumers are becoming familiar with and more aware of international brands. There has also been a lot of progress in business relations and cooperation between Israel and Vietnam in many fields. Thus, a growing presence of Israeli companies in Vietnam is expected in the near future.
Israel is home to a variety of plants, herbs, and natural minerals. The Dead Sea, which is located between Israel and Jordan, is rich with unique minerals, salts, and black mud. The Israeli cosmetics industry has exploited Israel's unique physiographic characteristics to manufacture a wide range of products for skin care, which are being exported to markets around the world, including Europe, North America, and Asia.
Besides the delegation of Israeli beauty brands, more than 600 international cosmetics brands have gathered at the Mekong Beauty Show 2017 in Ho Chi Minh City to make their Vietnamese debut. The three-day event attracted foreign brands from France, the Republic of Korea, Japan, Thailand, China, and Taiwan.
Dominic Oh, general director of Korea International Exhibition Centre, said that Vietnam was ranked number one on the list for Korean beauty companies to present their products and services. Based on the rapid economic growth-with GDP increases greater than 6% per year-and young people wanting to change their appearance, the Vietnamese beauty market will likely see constant upward growth in the years to come.
He elaborated that more than 2,000 South Korean companies are operating in the beauty sector. Many of these beauty companies are looking to diversify beyond the mature cosmetics market in the Republic of Korea.
Vietnam is an attractive investment destination where the Republic of Korea has become the biggest foreign investor, with a combined investment value quadruple the amount of both the US and China.
A representative of Saigon Cosmetics Corporation said that the local cosmetics market will become more vibrant and exciting as Vietnam signs a wider range of free trade agreements. Thus, cosmetics and beauty products can enjoy tariff reductions of up to 5%.
"Vietnamese consumer spending is just 40% of its regional neighbors for beauty products. However, the number of middle-class citizens who spend more on their appearance is predicted to reach 33 million people by 2020. The Vietnamese cosmetics market has posted double-digit growth for years, with an annual turnover that reached US$1.18 billion in 2015," said the representative.
According to market research provider Euromonitor International, color cosmetics registered a growth in value of 13% in 2016. This growth rate was among the strongest in the beauty and personal care category.
In addition to dynamic promotional events, varied brands and product types and the expansion of internet retailing also helped to boost the sales of color cosmetics.
Euromonitor forecasts that international companies are set to continue their dominance in color cosmetics due to huge financial resources and globally-popular brands. Most companies tend to target young generations-especially white-collar workers living in big cities-and will continue to invest in promotional events to attract consumers.
Moreover, both existing and new competitors are expected to develop and launch products with new added functions to address increasingly demanding consumers. Thus, the category is predicted to be more competitive in the future.
VIR