With a massive land fund, Vietnam Rubber Group (VRG) is a name many investors pay close attention to. However, due to its huge capitalisation, VRG has yet to select a strategic investor, although there are only a few days until its initial public offering (IPO).
Too high a bar for potential investors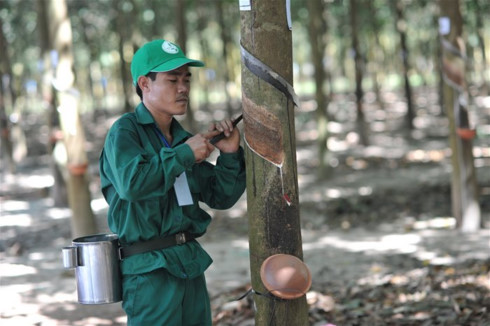 On July 1, VRG will offer a 25% stake during its IPO, expecting to earn approximately VND10 trillion (US$440 million). VRG is also selling 3% of its preferred shares to its employees
According to economists, there are only a few agricultural companies which have available funds with the total worth of VND5-10 trillion. 
Therefore, seeking a strategic investor or a foreign investor in this sector is a challenge for VRG. Although the rubber industry has recovered, the price of rubber latex is still uncertain.
Tran Ngoc Thuan, general director of VRG, said that although there are many interested investors, the company's capitalisation is so big that it is difficult to find strategic investors.
"Every year, VRG publishes information about its activities as well as its development strategy and plans for investors. We have also set the criteria for selecting strategic shareholders, with the most important criterion being that investors must have real financial capacity. However, due to the huge capitalisation, finding a strategic shareholder proved impossible within only one-two years."
According to a source of VIR, VRG submitted its selection of investors to the Ministry of Agriculture and Rural Development (MARD) for approval.
Ha Cong Tuan, Deputy Minister cum head of Business Management Innovation at MARD, said that the ministry was especially concerned with VRG's IPO. MARD even called for support from the government to give advice for this case, especially for selecting strategic investors.
Unexplored treasure
Agricultural stocks are usually not attractive to investors. However, VRG's business results and prospects are quite convincing. Therefore, the company's IPO might be a seen as a good deal by investors.
Tuan shared that the rubber industry had encountered many price drops in the past years, however, VRG remained stable. In 2016, VRG achieved an after tax profit of VND1.5 trillion (US$66 million).
Besides, VRG is managing a huge land fund: 420,000 hectares of rubber, including 300,000ha in Vietnam and 120,000ha in Laos and Cambodia. 
Moreover, rubber prices are recovering, trading at VND50 million (US$2,200) per tonne, nearly double the same period last year. This is extremely advantageous for VRG's IPO.
While profit figures are mouth-watering, what confounds investors is that the brunt of this gain does not come from rubber latex, but mainly from the wood business. 
According to VRG's profit structure, 45% of the profit comes from wood trading, then latex. The third profitable business line was the investment in industrial parks, and finally came the rubber latex processing industry.
Moreover, despite the fact that rubber prices are recovering, the prospects of this commodity are still uncertain. It is forecasted that the average rubber price in 2017 will be around VND40 million (US$1,760) per tonne.
Nevertheless, the biggest advantage is the massive land fund and VRG leaders said that the company has great long-term potential for exploiting this treasure.
Deputy Minister Ha Cong Tuan said that VRG should concentrate on exploiting its special advantages in land. VRG is outlining a development strategy towards high-tech agriculture and if the company can select its strategic shareholders, the land fund might just turn into gold in their hands.
VIR