FLC Group, the owner of Viet Bamboo Airlines Company Limited (Bamboo Airways), told US aircraft manufacturer Boeing on Tuesday that it plans to buy 15 planes ahead of its start of operations in 2018.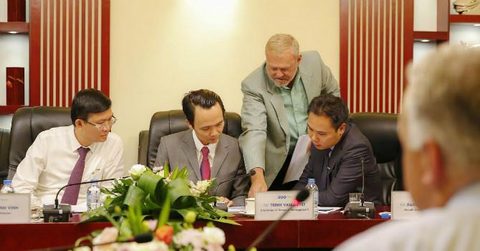 FLC Group has been negotiating with US aircraft manufacturer Boeing to buy 15 airplanes to operate Viet Bamboo Airways in 2018.
FLC plans to buy 10 737 Max 9s and five 777Xs. The 737 MAX 9 has a capacity of 185 passengers while the 777X carries over 300.
The planes are said to be suitable for "hybrid" airlines, allowing operatord to blend low-cost traits with those of traditional, full-service carriers.
If the deal is completed, Bamboo Airways would own 10 737 Max 9s in the 2018-20 period. The remaining five aircraft would be delivered after 2020 to serve its international flights.
Thomas Creighton, Boeing marketing director in the Asia-Pacific region, expressed his hope of co-operating with Bamboo Airways not only in providing it with aircraft but also in commercial development, flight training and management, communications, brand name development and finance.
In May, FLC Group announced its board of management's decision to establish the Viet Bamboo Airways Company with charter capital of VNĐ700 billion (US$31.4 million).
In addition, Bamboo Airways plans to attract experienced experts in the aviation sector to prepare the carrier for operation in 2018. 
VNS