VietNamNet Bridge – Vu Van Tam, Deputy Minister of Agriculture and Rural Development, tells Nong thon Ngay Nay (Countryside Today) newspaper that enterprises should only export processed products instead of live animals.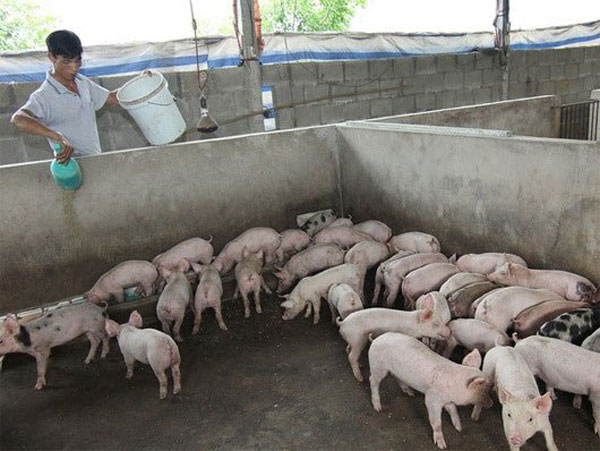 Illustrative image -- File photo
Does the Ministry of Agriculture and Rural Development (MARD) have any plans to promote exports of livestock products?
At present, the livestock sector is in the process of restructuring and we have emphasised the importance of technical requirements – particularly quarantines so that we can ensure that livestock products are safe for domestic consumption and export.
To achieve this, we should apply advanced techniques in livestock rearing so that we can lower product prices – a very important factor in fierce international competition.
I'm pretty sure that if we quarantine well while meeting importers' food safety requirements, we'll be able to increase the volume of our meat exports.
In my opinion, the most important thing for our livestock sector is to re-organise production. The Government should help livestock enterprises build farms free from epidemics and create close links between co-operatives/associations and individual households so that they can share their experience.
How well are diseases controlled among domestic livestock?
Since 2013 up to now, our livestock disease management is on par with other countries. We have been active in taking microbiological samples and creating epidemiological maps to help farmers and enterprises keep their livestock healthy. We have switched from passive epidemic prevention to active epidemic prevention. As a result, in the last few years, no more major epidemics have been reported.
Do you have any suggestions to help Vietnamese enterprises expand their foreign markets?
With our own experience, I suggest that if Vietnamese enterprises want to export meat, there are two major things they have to accomplish.
First, they should diversify livestock breeds. To do this, it is very important to establish close links between farmers, enterprises and government management agencies as well as trading companies so that they can share information.
Secondly, for livestock products, at the moment we should not focus on these products as until now we have not been able to fully control epidemic diseases, particularly some small sporadic diseases. I strongly recommend that we focus on the export of processed livestock products. Even Thailand can't export fresh livestock products – but only processed products.
That's why I strongly recommend that we should not try to export live pigs to China or elsewhere.
I recommend that we focus on exporting frozen meat, including sucking pigs and other products.
Finally, we should focus on building epidemic-free zones. When we have these zones established, we'll then start to export some live animals. As we all know, quarantines for live animal products are very demanding. We need to have a good strategy for meat exports.
Does the Ministry of Agricultural and Rural Development have any ideas that can help livestock enterprises produce products that meet importers' criteria?
We can do that, if the enterprises want it. Our ministry will hold annual conferences to hear opinions/suggestions from enterprises, local authorities, managers and scientists on how they want the MARD to support them.
What we should do right now is help them be able to respond to Technical Barriers to Trade. The MARD has assigned the National Animal Health Department (NAHD) to set up a working group headed by the director general of the Animal Health Department. Of course, members of the department will include representatives from the National Husbandry Department and other concerned agencies.
The NAHD will act as a focal point in helping enterprises export their livestock products. First, the NAHD will negotiate with their foreign counterparts about requirements for livestock products to enter their territories. After completing negotiations, the NAHD will then ask the enterprises to start writing their proposals. From then, the ball is in the enterprises' courts. Of course, the NAHD is willing to support the enterprises if they need it.
The enterprises' main task now is to look for local foreign counterparts in countries that they want to export to.
VNS