VietNamNet Bridge - Vietnamese have to buy some imported fruits at exorbitant prices, but can only export fruit at low prices.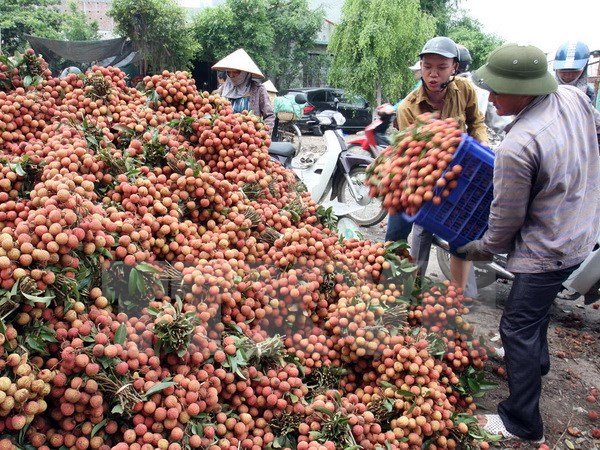 A red mango, for example, sourced from Japan weighing 350-400 grams sells at VND1.7 million in Vietnam. Le Thi Phuong, the owner of an import fruit shop in Hanoi, said that Japanese mangoes are 100 times more expensive than Vietnamese mangoes.
Phuong said other imports were also more expensive than Vietnamese products. Expensive imports are often sold by the number of fruit, or in a box, not in a kilogram.
Vietnamese have to buy some imported fruits at exorbitant prices, but can only export fruit at low prices. 
Phuong said boxes with small peaches from Japan, six in one box, were priced at VND2.3 million. At her shop, grapes are sold in bunches, priced at VND800,000-1.5 million each.

"Japanese fruits are considered high-end farm produce. Their high prices are not a surprise at all," Phuong said

Vietnam's fruits are much cheaper. A kilo of litchi sells for VND40,000 in Hanoi. 

However, while Vietnamese fruits sell cheaply in the domestic market or are exported at low prices, they are relatively expensive in foreign markets.

A Vietnamese student in Japan said a box of 12 Vietnamese litchis sells at 1,980 yen, or VND400,000, at a supermarket in Japan. If counting tax, total price is VND430,000. 

If merchants pay VND30,000 for one kilo of litchi to farmers, the farmers will have to sell 15 kilos of litchis to be able to buy 12 litchis in Japan.

Tran Van Nam, the owner of a Hanoi-based fruit import/export company in Hanoi, said the weakness in post-harvesting preservation and processing technology explains why Vietnam has to sell fruits fresh and accept low selling prices.

Nam said his company collects fruits and preliminarily treats them to make them meet food hygiene standards before shipping abroad. 

Later, in import countries, the fruits are treated once again and packed before they are taken to supermarkets and sold at high prices.

MARD Minister Nguyen Xuan Cuong admitted that post-harvesting preservation and processing are the weakness of Vietnam's farm produce. This is why thev10 biggest export items are exported raw or preliminarily processed.

Hung Yen and Bac Giang provinces have to sell longan and litchi at low prices in high season because of the poor processing technique.

Wood and timber products, rice, coffee, cashew nuts and vegetables and fruits, each with a value of more than US$1 billion, are top export products in the first five months of this year, according to MARD.
RELATED NEWS
Fruit growers in Vietnam over-reliant on Chinese buyers
Vietnamese fruits conquer Japanese market
Kim Chi