Farmers, already hit by record low pork prices, are facing a fresh blow with prices for many other agricultural products in the Mekong Delta province of An Giang dropping.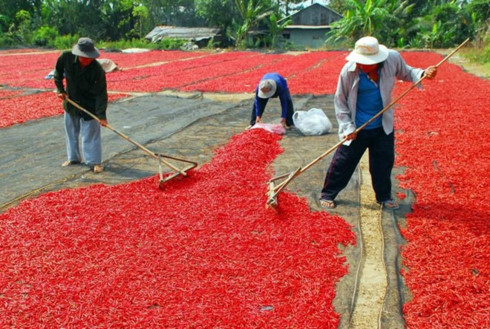 The price of cassava declined from VND10,000 (US$0.44) per kilo last year to VND1,000 per kilo at present.
Farmer Than Hoang Huynh from Phu Huu vommune in An Phu district said it cost him about VND10 million (US$444) to grow 1,000sq.m of cassava.
At current prices of VND1,000 per kg, he could not afford to hire workers to harvest the cassava, he told Nguoi lao dong (Labourer) newspaper.
Guava and chilli prices also fell to VND1,500-3,000 from VND8,000-10,000 and to VND5,000-8,000 from VND40,000 per kilo, respectively, in comparison with the same period in previous years.
A local agricultural officer told the newspaper that the oversupply of farm produce in the province led to the price decline, a problem that reoccurs year after year.  
This year alone, the country has had to scramble to fix agriculture oversupply problems.
In February, banana farmers in several provinces were hit as prices plummeted from VND14,000-17,000 per kilogramme to VND1,000-3,000.
In April, several campaigns were launched to rescue watermelon farmers in some localities, who suffered severe losses after being unable to sell their crops.
Doan Thi Chai, Deputy Director of northern Hung Yen province's Agriculture and Rural Development, said many farmers still grow farm products based on their perception, not on supply-demand rules.
At a question-and-answer session of the National Assembly this week, Minister of Agriculture and Rural Development Nguyen Xuan Cuong said the trend of bumper crops leading to price drops was due to poor organisation of the consumption market.
The agriculture sector had done well in production but processing and marketing were still weak, resulting in oversupply, said the minister.
Vietnam's agriculture sector is small-scale, with low productivity and is vulnerable to climate change and international integration, he admitted.
Many farm products experienced sharply dropping prices. In the latest case, the Ministry of Agriculture and Rural Development launched a campaign nationwide to "save the pig" after pork prices dipped to a record low.
However, experts said that the campaign was just a temporary measure to reduce losses for farmers and it should not be repeated whenever farm produce prices dropped.
Vo Thi Ly, Deputy Head of the Farm Produce Processing and Preservation Office under the ministry's Department of Farm Produce Processing and Market Development, said the oversupply of farm products was due to a failure to follow production plans.
In some localities, agricultural production was still small-scale with low productivity and not based on forecasts about market demand, she told cafef.vn.
A lack of comprehensive market information from central to local levels and limited capacity of market analysis and forecast contributed to the problem, she said.
Deputy Minister of Agriculture and Rural Development Tran Thanh Nam told the newspaper that to deal with bumper crops leading to price drops, localities should closely supervise production planning set by the ministry.
"It is also necessary to boost production chains linking farmers with businesses and co-operatives," he said.
VNA