Vietnam's aquatic sector will likely find it hard to realize the growth target of US$7.4 billion this year given international economic integration, tougher technical barriers by importer nations, and a growing number of competitors.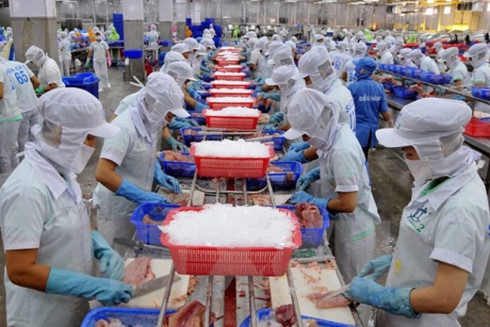 What to do to overcome the hurdles? These are the solutions the sector must put forward and implement in 2017.   
In the first 5 months of this year, Vietnam is expected to earn US$2.8 billion from aquatic exports, up 10.4% from last year.
The US, Japan, China, and the Republic of Korea remain the leading importers of Vietnamese aquatic products.
But the global seafood export market is facing many challenges, including anti-dumping duties imposed on tra fish and shrimp by the US and tighter regulations on food safety imposed by the Republic of Korea, Australia, and members of the EU.
In addition, drought, saline intrusion, and maritime environmental incidents in the central region have continued to shrink material resources. Other challenges are import duties, technical barriers set by importers, and the pressures of competition.
Vietnamese exporters need to quickly overhaul production and trading models to deal with the risks of climate change and changing market demand.
Economist Le Dang Doanh said "Businesses and farmers in the Mekong Delta must break lifetime habits and flexibly respond to market fluctuations and signed contracts. Quality must take precedence over quantity.
Production models must adapt to climate change. For example, if a kilo of shrimp is worth 20 kilos of rice, farmers in areas of brackish water should alternate rice crops with shrimp crops."
Shrimp is one of Vietnam's key export earners but it must prevail against fierce competition and adapt to stricter importer requirements.
Deputy Minister of Agriculture and Rural Development Vu Van Tam said that in order to achieve the target of US$10 billion in shrimp exports by 2025, the sector will focus on increased application of scientific and technological breakthroughs  to seedlings, food production, and epidemic control.
The sector will pay more attention to expanding export markets and responding to the current trend of market protectionism.
Tam noted that this year the aquatic sector intends to complete an action plan for developing Vietnam's shrimp industry until 2025.
"We should increase science and technology application to productivity in the areas of intensive farming and shrimp raising using industrial methods. The current brackish shrimp farming area of 140,000 ha can be expanded in a short period of time, and the current average productivity of 4 tons per ha can rise to 6 or 8 tons. We need to restructure the 600,000 ha shrimp farming area, design policies to attract businesses, organize production households into cooperatives or associations linked with enterprises, and apply advanced science and technology", said Mr Tam.
In 2017, in addition to producing and exporting traditional products like tra fish and shrimp, the industry intends to promote other seafood products in which Vietnam has advantages to ensure even development among localities.   
VOV5