Vietnam has not taken full advantage of foreign direct investment (FDI) while its private enterprises have failed to connect with the global production chain, heard the Midterm Vietnam Business Forum (VBF) 2017 held in Hanoi on June 16.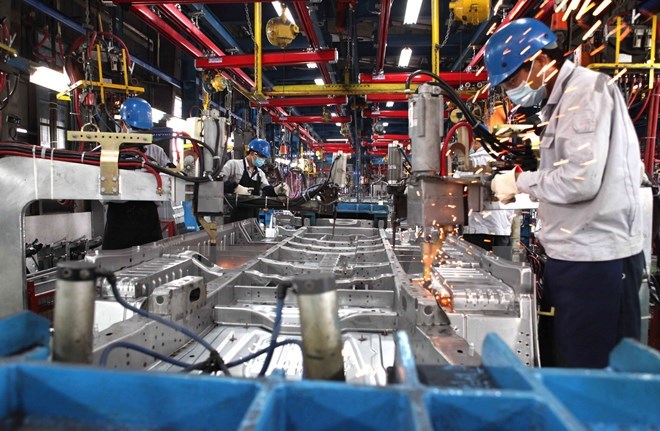 Inside an automobile production plant in Vietnam
Chairman of the Vietnam Chamber of Commerce and Industry (VCCI) Vu Tien Loc, who is also Co-chairman of the VBF Consortium's Management Board, said that there has been a poor linkage between foreign and domestic investors while the knock-on effect in terms of technology and labour productivity from foreign firms on Vietnamese firms remains limited.
According to a survey conducted by VCCI, the proportion of domestic businesses supplying commodities and services for FDI enterprises is pretty low. The Provincial Competitiveness Index (PCI) report in 2016 showed that only 14 percent of private businesses have customers that are FDI enterprises operating in Vietnam.
Less than 27 percent of FDI firms' input materials were purchased from Vietnamese partners while a substantial amount was bought from other FDI companies. High-tech FDI enterprises tend to import input materials from their homeland.
The real situation was attributed to puny marketing policies, inefficient industry support programmes and domestic firms' failure to provide supplies that meet standards in production management and quality of from FDI enterprises.
Loc said that improving the qualifications of human resources is the key to promoting FDI businesses' effects on domestic enterprises. 
Vietnam needs to mobilise all resources to better competitive capacity of private enterprises and the Government should realise policies to bolster the supporting industry, Loc recommended. 
Tomaso Andreatta, Vice Chairman of the European Chamber of Commerce in Vietnam (EuroCham) and member of the VBF Consortium's Management Board, expected further improvements in Vietnam's business climate which help bring more practical effects to the business community. This will contribute to building mutual trust and support among private and FDI enterprises, he added.
Meanwhile, Jonathan Moreno, Chairman of the US Business Community in Vietnam, affirmed that reducing operating costs and simplifying business procedures will benefit Vietnamese firms, most of them are small- and medium-sized enterprises, thus enhancing the Vietnamese economy's competitiveness edge.
VNA