China was Vietnam's largest trade partner in the first five months of this year, with turnover of $32.76 billion, up 23.6 per cent year-on-year, according to General Department of Vietnam Customs.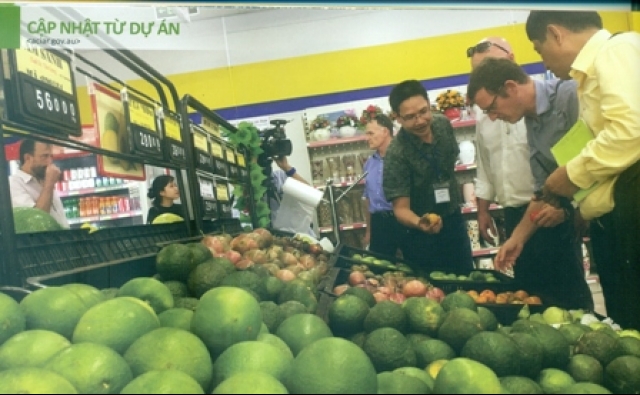 It has increased its imports of fruit and vegetables and seafood from Vietnam. As at the end of May, it had imported fruit and vegetables worth $1.06 billion this year, a 51 per cent increase and accounting for 75 per cent of Vietnam's exported fruit and vegetables.
Export turnover of fruit and vegetables to other markets such as the US, Japan, and South Korea reached $44 million, $43 million, and $40 million, respectively.
China also imported more seafood from Vietnam, worth $338 million and up 38 per cent.
Though Vietnam exports large quantities of fruit and vegetables to China, export value is low because three-quarters is exported via unofficial channels.
Earlier this month, Deputy of Minister Agricultural and Rural Development Tran Thanh Nam asked the Plant Protection Department to complete documents requesting China to only allow Vietnamese exports of these goods via official channels.the US, Japan and South Korea with $44 million, $43 million, and $40 million. In a joint statement from Vietnam and China during President Tran Dai Quang's visit to the northern neighbor, the two countries agreed to accelerate all legal procedures for the export of Vietnamese fruit and vegetables. Once completed, such exports are expected to grow rapidly.
Other Vietnamese exports to China increased rapidly in the first five months. Computers, electronic products and components, and phones and accessories totaled $2.69 billion, an increase of 85.8 per cent, while footwear totaled $418 million, up 29.1 per cent, and machinery and equipment $672 million, up 84.5 per cent.
Total export turnover to China in the first five months was $10.629 billion, a 42 per cent increase year-on-year.
While growth has been strong, Vietnam still records a major trade deficit with China, of $11.5 billion in the first five months.
South Korea and the US were the second and third-largest trading partners in the first five months, with $23.94 billion, a 45.2 per cent increase, and $19.96 billion, up 12.9 per cent up, respectively.
Of its ten largest trading partners, Vietnam only recorded a trade surplus with the US, of $12.07 billion, the EU $10.03 billion, and Japan $152 million. 
VN Economic Times