A survey of Vietnamese fruit growers has found that most depend too much on Chinese buyers for their livelihood.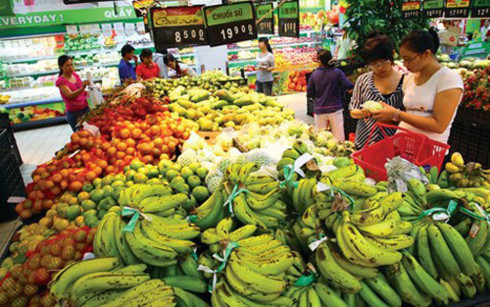 The report by Fine Fruit Asia showed that 91% of all foreign shipments of the segment from the Southeast Asian country were to China. In addition, it disclosed that 82% of the exports consisted of dragon fruit.
The survey was designed to establish the risk to the segment from overly depending on one crop and buyers in one specific country that could prove potentially devastating, said Nigel Smith, CEO of Fine Fruit Asia.
Speaking at a workshop, Mr Smith said most Chinese distributors are fly by night operators who lack credibility and trustworthiness They set up a company, do roaring business for a fleeting period, and then suddenly disappear.
It has been commonplace for Vietnamese governmental ministries having to step in and bail out farmers and producers left high and dry by a Chinese merchant who promised to purchase product but never followed through on the deal.
Additionally, Mr Smith noted the domestic market lacks a coordinated and coherent organization. It is particularly deficient when it comes to distribution channels, which often results in farmers getting hammered on their selling prices.
Vietnamese fruit growers and processors are in a dynamic where they always come up on the short end of the stick – having to sell their products at rock bottom bargain basement prices – while paying dearly on imports from China.
Most notably, said Mr Smith, the segment has too many smallholders, and given its disorganization, this results in an inability of fruit growers and processors to compete in the major profitable markets around the globe.
The segment has never matured and reached a point where it is competitive in markets such as the US, Japan and Europe because the smallholders don't understand food safety requirements of these markets let alone their importance.
Nor do they comprehend how to go about acquiring the knowledge and technology to access these preferential markets, said Mr Smith, citing the performance of leadership in the segment as dismal at best.
Nguyen Son of the Ministry of Industry and Trade, in turn pointed out that for the fruit segment to get itself out of the cellar and on par with competitors around the globe, farmers and producers must start complying with GlobalGAP and VietGAP standards.
The smallholders in the segment must learn that safe food standards are not technical barriers to trade, said Mr Son. They are fundamental requirements of commerce that consumers in Vietnam and foreign markets demand.
Any company that grows, processes, transports or stores food must comply with appropriate food safety standards as dictated by the Vietnam government if their products are to be allowed to enter commerce, noted Mr Son.
Unfortunately, that is a point that far too many Vietnamese just don't get.
Food safety standards are not optional and until the segment understands the importance of meeting with consumers demand of producing safe food in compliance with such standards they will always remain at the bottom of the ladder.
Deputy Minister Tran Quoc Khanh of the Ministry of Industry and Trade agreed with Mr Son. Food safety standards are not barriers but are prerequisites to global trade in the food sector and the fruit segment of that sector.
The Vietnamese fruit segment needs to get its act together and realize that consumers who demand clean food and documentary evidence that the food is safe for consumption are not being 'choosy'.
Safe food is not a fad, but a reality in the world today and fruit growers and processors need to bring themselves into compliance with GlobalGAP and VietGAP standards— or else they will always remain over-reliant on China for their livelihoods.
VOV