Thanks to their freshness and succulent tastes, Vietnamese dragon fruits, bananas and mangos are being sought-after at Japanese large supermarkets like Don Quijote, Daiei and Aeon.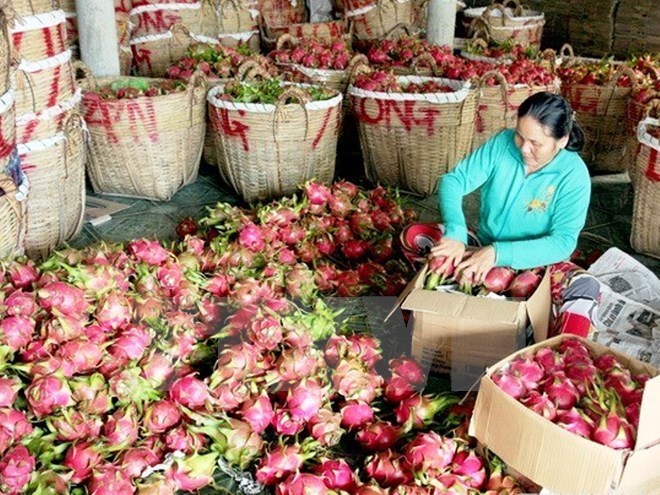 Before bananas, white-flesh dragon fruits and mangos were constantly shipped to the Japanese market. Meanwhile, red-flesh dragon fruits reached Japanese consumers in March shortly after they were licensed for export to the East Asian country.
Hidekatsu Ishikawa, President of Vient Co. Ltd, a Japanese importer, said Vietnamese bananas suit Japanese people's taste and they are sold at competitive prices.
To date, besides such key exports as garments, footwear and aquatic products, Vietnamese dragon fruits, mangos, frozen litchis and bananas have been present in Japan. Fresh litchis and star apples also see great potential in this fastidious market.
According to Tran Thanh Hai, Deputy Director of the​ Agency for Foreign Trade under the Ministry of Industry and Trade, the Vietnam-Japan Economic Partnership Agreement (VJEPA) is entering a new phase, opening opportunities for Vietnamese exports.
Vietnamese products, especially farm produce and aquatic products, will enjoy preferential tax rates in the Japanese market. Regarding aquaculture, tax will be cut down to 1.31 percent in 2019 from 5.4 percent in 2008. Thus, domestic enterprises should take full advantage to gain benefits, Hai stressed.
He also recommended that exporters must ensure utmost quality for their products as Japan has put in place numerous technical barriers on agricultural imports.
Meanwhile, a representative from the Japan External Trade Organisation (JETRO) also noted that packing and transportation should be paid special attention, ensuring that origin of agricultural products can be traced easily.
VNA