Vietnam's rice export growth has regained momentum this year after a year of slowdown, according to a report by the Vietnam Food Association (VFA).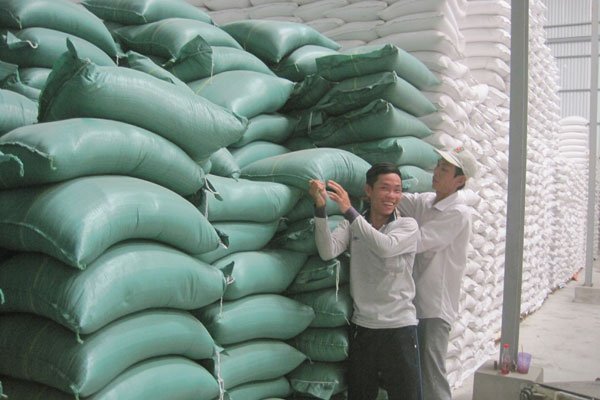 Stevedores at work at a rice storehouse in the Mekong Delta. Vietnamese rice export has regained growth momentum this year after a year of plunge
Vietnam exported 2.3 million tons of rice worth US$1 billion in the first five months of the year, up 1.6% in volume and 1.2% in value year-on-year.
China remained Vietnam's largest rice importer, accounting for 47.5% of the nation's total rice exports. More than 815,000 tons of rice costing over US$376 million went to the northern neighbor in January-April, up 16.1% and 16.2% against the same period last year respectively.
Vietnam shipped 4.89 million tons of rice valued at US$2.1 billion in all of 2016, a respective decrease of 25.54%  and 20.57% against 2015.
China was still Vietnam's biggest importer of the food staple last year despite a 19.79% decline. It purchased more than 1.8 million tons of rice from Vietnam last year, 36.97% of Vietnam's total rice shipments.
The domestic rice price has improved by VND200-300 a kilo, supported by the recent signing of a memorandum of understanding to export one million of rice a year to Bangladesh until 2022. The South Asian country will import 300,000 tons at first.
In addition, the National Food Authority (NFA) of the Philippines has announced to buy 250,000 tons of rice from Vietnam in June.
Nguyen Thanh Tho, a rice trader at Ba Dac wholesale market in Tien Giang Province, told the Daily that IR 50404 rice is sold at VND4,350-4,400 a kilo, an increase of VND200-300, helped by the Bangladesh rice deal.
Besides, IR 50404 material rice is purchased at VND6,350-6,450 a kilo in the Mekong Delta, up VND200.
Major importing markets, especially Bangladesh and the Philippines, have helped buoy the price. The Free On Board (FOB) price of 5%-broken white rice from Vietnam is US$370-380 a ton, up US$5-10 compared to a week ago.
SGT