Green buildings are expected to become a new trend in the low- and medium-priced housing segments.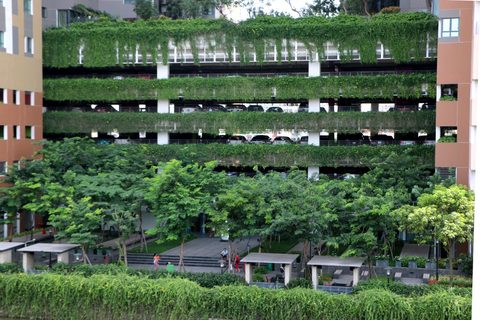 Mulberry Lane in Mo Lao, Tu Liem District, Ha Noi. 
It has been a priority for years in many developed countries around the world. It is described as a step in the right direction to help countries save energy, protect the environment, and provide a healthy living environment for people. Green buildings clearly bring value to users. They also make good business sense. If planned well, green buildings cause little or no increase in the cost of construction, and actually save significant amounts of money in the long run.
However, it has not got the awareness or attention it deserves in Viet Nam.
Nguyen Thu Nhan, IFC's director of Green Buildings in Viet Nam, said in the past decade the average growth rate of buildings in Viet Nam reached 12 per cent while the urbanisation rate was 3.4 per cent per year. The energy consumption in the period was also higher than the GDP growth rate, reaching 14 per cent a year.
Buildings account for around 36 per cent of the country's total energy consumption and 25 per cent of emissions, including a third of carbon dioxide emissions – the main cause of global climate change.
"With the value of construction anticipated to reach US$14 billion in 2021, Viet Nam's eco-system will suffer damages if it does not have solutions to promote buildings using energies efficiently," Nhàn said.
The definition of green buildings was introduced for the first time in the country in 2007. Ten years later Viet Nam only has 61 constructions with sustainable green certificates. The number is considered too modest in a country where new urban areas are booming.
Statistics from the Viet Nam Green Building Council (VGBC) show that 36 out of the 61 received Leadership in Energy and Environmental Design (LEED) certification from the US Green Building Council, 13 others received LOTUS Green Buildings Rating and Classification System from VGBC while the remaining 12 were certified as BCA Green Mark by Singapore.
The number of green buildings in Singapore with the Green Mark certificate is more than 2,100, while in Australia 750 have it.
Nguyen Tran Nam, chairman of the Viet Nam Real Estate Association, told Viet Nam News that green buildings are still new in the country due to the lack of attention from the community.
"The development of green buildings will bring huge benefits to the economy, society and environment. In the property market in particular, the development will deliver much added value to investors who embrace green building designs. This will create sustainable growth for the construction sector and estate market."
Looking at the experience of the US, Europe, and Singapore, it is clear that the higher upfront costs of green buildings are offset by the higher sales prices and higher sales ratios than other buildings.
As the country shifts from a rural-agrarian society to an urban-industrial, services-based economy, Viet Nam is seeing a significant increase in urbanisation, which stands at approximately 30 per cent today and is expected to increase to 45 per cent by 2020.
Nam said that while Viet Nam's built environment expands apace with urbanisation, the country faces the inconvenient reality of looming environmental concerns.
Though the demand for environmentally efficient buildings is beginning to resonate, there are still wrong opinions on its definition, he added.
Trinh Tung Bach, manager of green buildings at Capital House Group, one of the real estate developers focusing on green buildings in Viet Nam, said at a seminar held in Hà Nội last week that most developers, home buyers and property transactions floors have a wrong understanding of the issue.
Many believe that green buildings simply have a large number of trees, he said.
"Trees are one of the factors contributing to make constructions green. Trees bring shade and fresh air, and are extremely effective in air conditioning. However, 'green' is not so simple."
In addition, there is a wrong perception that green construction is expensive and only meant for high-end buildings, he said. Most developers believe that green construction could add 10-30 per cent to costs, but in reality the application of technology in Capital House's buildings helps its occupants save 30 per cent on electricity and water bills.
"This has been a big barrier to the development of green buildings in Viet Nam."
He cited a figure from the USAID Viet Nam Clean Energy Programme showing that green buildings could save up to 50 per cent of energy without entailing additional costs. The clearest benefit of such buildings is to reduce operation costs that often account for more than 80 per cent of investment, he said.
"The saving could increase the value of the asset and make the return on investment higher, thus attracting home buyers."
Barriers ahead
The Government and developers are starting to pay attention to green buildings to achieve the goals of energy efficiency, protecting the environment and helping prevent climate change.
The Government established the Energy Conservation Centre (ECC) to provide support and consultancy for energy saving in buildings. The Ministry of Construction also promulgated building standards stipulating energy efficiency and emission reduction.
The Ministry of Natural Resources and Environment and relevant agencies announced national standards for green growth by 2020 with a vision to 2050 which a focus on renewable energies.
"However, Viet Nam does not have specific policies to encourage investment in green buildings. The authorities have not completed technical standards for green buildings that match the country's situation," Bach from the Capital House Group said.
He said the Government should have support programmes for at least 20 years to promote green construction in the low- and middle-priced segments with credit, land and other preferential policies.
Nguyen Thai Hung, deputy secretary of the Viet Nam Automation Association, said real estate inventories had surged to VNĐ105 trillion as of the end of April.
Most of the houses were in the high-end segment, which often brings high profits to developers, while green building projects have been popular, he said.
"In the context of high property inventories, developers should stand out to survive and develop."
He added that cheap green buildings would be a smart choice. 
VNREA launches programme to develop green housing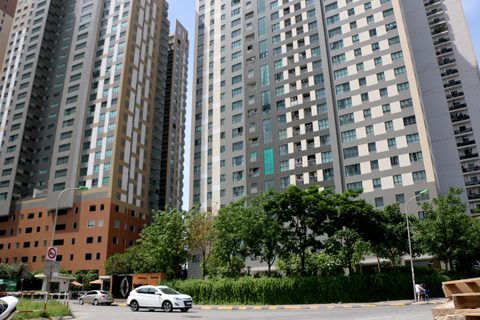 Apartment buildings at Mulberry Lane in Mo Lao, Tu Liem District, Ha Noi. 
The Viet Nam Real Estate Association signed a memorandum of understanding with property developers on May 26 to build green buildings in the 2017-22 period.
Under the programme, the developers are committed to developing green properties. The programme will focus on three main tasks: completing a legal framework for green buildings, training in green buildings for real estate companies and increasing public awareness of the issue, thus enhancing the popularity of green housing products.
Capital House was the first developer to support the programme with a contribution of US$1 million. The company will also focus on researching and designing solutions to save energy and using environment-friendly building materials. Three out of its five projects, including some low-priced housing, have received green building certification EDGE created for emerging markets by IFC, a member of the World Bank Group.
Other property developers such as FLC Group, Viglacera, CEO Group, Alphanam, Phuc Khang and West Lake International Tower Company have also joined the programme.
VNS