Several companies have announced plans to set up new airlines in Vietnam.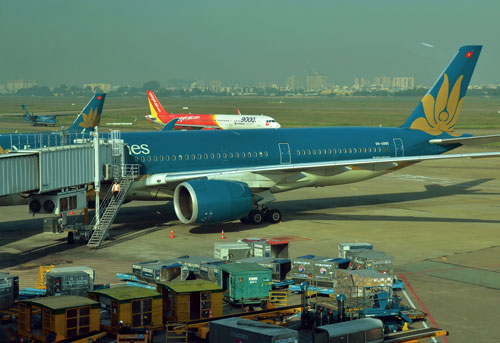 Vietnam Airlines and Viejet Air hold most of the market share in Vietnam
On May 31, the FLC Group announced that they will set up Viet Bamboo Airlines with VND700bn (USD31m) in charter capital. Viet Bamboo Airlines will also invest in the real estate and other sectors. The capital is just enough to allow FLC Group to join both local and international transportation markets with 10 planes. The money will be frozen to prove the investor's financial capacity.
As of now, three firms have announced their plans to establish and expand new airlines are Viet Bamboo Airlines, Vietstar Airlines and a joint-venture carrier by Malaysian AirAsia Group and Hai Au Aviation JSC.
Vo Huy Cuong, Deputy Director of the Vietnam Civil Aviation Administration, said he hadn't received registration documents from FLC Group or Hai Au Aviation JSC and AirAsia Group. Vietstar Airlines' registration has been halted while the government tries to deal with overloading at Ho Chi Minh City's Tan Son Nhat Airport.
Cuong said they would receive and check the documents before submitting to the Ministry of Transport. However, if the airlines will also operate at Tan Son Nhat Airport, the investors are warned that they won't be given permit before the new airport planning is completed.  
Hai Au Aviation JSC first started their seaplane services in Ha Long Bay in 2014. The company's representative said they were completing legal procedures in order to establish an airline. They will submit the documents in the next two months for 2018's operations.
"Our plan is related to Tan Son Nhat Airport's expansion so it won't be affected, unlike other projects," he said.
According to Hai Au Aviation JSC, they will open completely new routes. In the first phase, they will invest in routes from Hanoi and Danang to other Asian countries.
Meanwhile, Vietstar Airlines has decided to cut half of its fleet from 23 to 10 planes to suit Tan Son Nhat Airport's capacity so that they can begin operations in 2018.
Many private firms asked to set up new airlines between 2005-2010. But due to lack of financial capacity, they suffered losses and went bankrupt such as the Indochine Airlines and Air Mekong. Vietjet Air was given a permit in 2007 but had to wait until 2011 before officially entering operation.
The situation is different now as the average growth of the South East Asian aviation market is over 16%. The growth of the local market could reach 30%. Vietnam has a prime position and can allow narrow-body aircraft to go to most major cities in North Asia, South East Asia and India within five hours.
The number of passengers in Vietnam is low, yet the demand is still higher than the supply. Vietnam has seven licensed airlines but only four have public transport services. Vietnam Airlines and Vietjet Air top the list with over 40% of market share.
Dtinews