Despite continuous losses for many years, Northern Shipping Joint Stock Company (Nosco, ticker NOS on UPCoM) attracts many investors due to its abundant land reserves.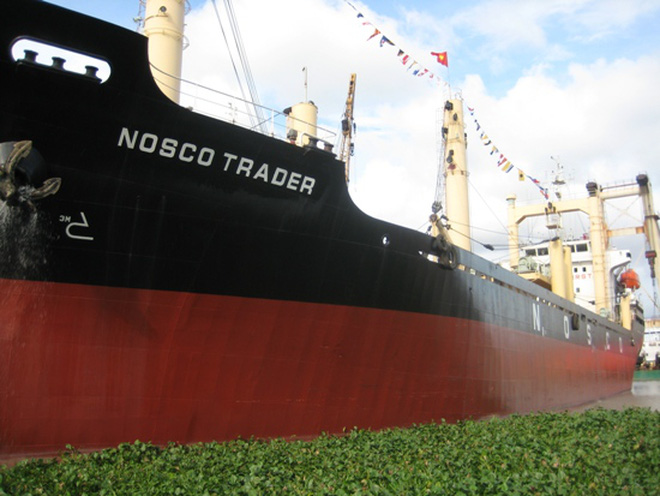 Piling up losses
In 2016, Nosco earned a revenue of nearly VND131 billion ($5.76 million), which accounted for 92.4 per cent of its initial plan. However, it still suffered a loss of VND340 billion ($14.96 million).
The technical analysis of Nosco revealed that the main reason for this loss is the VND117 billion ($5.15 million) depreciation of fixed assets and interest expenses of VND170.7 billion ($7.5 million). Besides, the company had to spend handsomely on provisions, exchange rate differences, and accounting for the costs incurred.
According to Trinh Huu Luong, chairman cum general director of Nosco, said that the loss did not derive from business activities but from a huge investment in purchasing ships. As a result, these ships' depreciation are putting a burden on Nosco.
For example, previously, Nosco Victory ship was purchased at VND1.2 trillion ($52.8 million) but is only worth VND50 billion now. Similarly, Nosco Glory was purchased for VND1.8 trillion ($79.2 million) and is now worth about VND30 billion ($1.32 million). "If such an investment were made at present, Nosco could earn profit," Luong said.
According to the 2017 plan, Nosco expects to generate a revenue of VND87.5 billion ($3.85 million), an equivalent of 56 per cent of the 2016 revenue. One of the reasons for its declining revenue is that in 2017 the company cut down three ships compared to 2016. Now Nosco operates four ships, however, since the beginning of 2017 two of them that had to be repaired.
Attractive land bank
Despite its business situation, gloomy future, and negative owners' equity, Nosco attracts numerous investors. Three investors contacted the company asking to purchase it. Nevertheless, Luong said that they are real estate investors, therefore, what they really want to buy is Nosco's land bank.
Some of Nosco's lands include its headquarter at 278 Ton Duc Thang Street, Hanoi (1,637 square metres), the shipbuilding and repair factory in Lien Mac ward, North Tu Liem District, Hanoi (2,087sq.m), the office at 102 Ly Thuong Kiet Street, Haiphong (91sq.m), and the office at 92 Le Thanh Tong Street, Halong city, Quang Ninh province (36sq.m).
Meanwhile, according to the Nosco leadership, despite current difficulties, the company's future is not completely gloomy. Nosco's losses have been decreasing gradually, so the firm expects to reach the breakeven point soon.
In 2015, Nosco suffered a loss of VND578 billion ($25.4 million), and in 2016 its loss was VND340 billion ($14.96 million) only. In 2017, Nosco expects to lose a bit over VND200 billion ($8.8 million).
As of the first quarter of 2017, although Nosco suffered losses, its business prospects are getting brighter. Its loss in this quarter was about VND57 billion ($2.5 million), a significant decrease compared to the VND94.7 billion ($4.17 million) in the same period of 2016.
Also, in this period, its net cash flow from operating activities was nearly VND3.5 billion ($154,000). If Nosco can maintain these results, it could be feasible for the company to reach the target of reducing losses to VND200 billion ($8.8 million) in 2017.
VIR