Vietnamese tech giant the VNG Corporation plans to conduct an initial public offering (IPO) on the US's largest stock market, NASDAQ.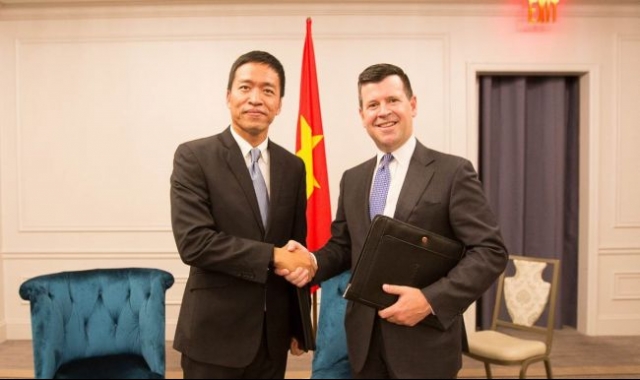 Tech corporation signs agreement with NASDAQ on May 29 to move IPO process forward.
The two parties signed an agreement on accelerating the IPO process on May 29 in New York. If successful, it would be the first Vietnamese company to conduct an IPO in the US.
Mr. Robert H. McCooey, Jr., Vice President of NASDAQ, said that he was extremely impressed by the growth of VNG and this was one of the reasons NASDAQ decided to sign a deal.
"VNG can be a symbol of Vietnam's economy," he said, adding he is pleased to support the corporation in accessing capital markets in the US. Apple, Microsoft, Google, Facebook, Ebay, and many other technology companies are listed on NASDAQ.
Mr. Le Hong Minh, CEO of VNG, who is accompanying Prime Minister Nguyen Xuan Phuc on his visit to the US, said an IPO in the country is a major challenge but the corporation hopes it will be a turning point in thinking and organization, so it can move more quickly into global markets and be ready for the fourth industrial revolution.
In his meeting with Mr. McCooey in New York on May 29, Prime Minister Phuc said the Vietnamese Government hopes the cooperation between NASDAQ and VNG will be a success and contribute to the enhancement of Vietnam-US economic and trade relations in the time ahead.
VNG is the No.1 games provider and publisher in Vietnam and was established in 2004. Its charter capital stands at VND324 billion ($14.4 million) and total assets VND2.7 trillion ($120 million).
It mainly imports games from China and South Korea, but in recent years has invested in the research and production of games under its own brand. It also manages the aggregated news site Zing.vn.
The development of social networking and free games, however, has presented problems for many games providers and publishers. VNG is now promoting online entertainment on the digital platform.
Mr. Minh was previously entangled in a scandal relating to corporate debt. He borrowed VND251 billion ($11.2 million) from VNG at an interest rate of 4.2 per cent per annum. His interest payments totaled VND20 billion ($900,000) by the end of 2015.
VN Economic Times