The real estate market is busy with mergers and acquisitions (M&A), which are forecast to touch a record high this year, driven by the sector's steady recovery.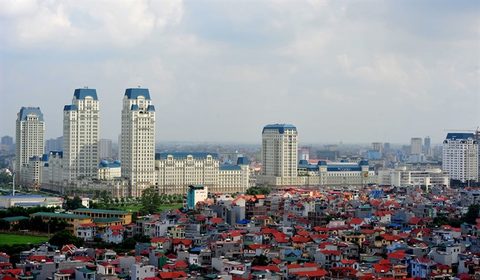 The real estate market is expected to see more M&A deals this year. 
M&A have become popular among developers who have the financial capacity as it is a quick way to acquire clean land funds for property development and catch the opportunities on time in a fast-recovering market.
Fresh capital inflows from M&A have helped revive a number of long-delayed projects, reducing inventories and bad debts in the sector, said property expert Dang Hung Vo.
One of the major M&A deals this year was developer Quoc Cuong Gia Lai selling the Phuoc Kien project in HCM City's Nha Be District to Sunny Island Investment for an undisclosed amount. However, Quoc Cuong Gia Lai is known to have received US$50 million, which went into paying off a VND1.35 trillion ($59 million) debt to the Bank for Investment and Development of Viet Nam (BIDV).
Recently, Phat Dat Real Estate Development Corporation announced that it has found a partner to transfer a part of EverRich 3 project in HCM City, into which the developer had poured in VND1.58 trillion in 2016 and planned to spend another VND642 billion in 2017. Phat Dat is expected to sell off the entire project for VND2.5 to VND3 trillion, which will be used to repay debts.
In March, An Gia Real Estate Development and Investment Company saw investment from Japan's Creed Group and acquired seven blocks of the Lacasa project in HCM City's District No 7 from Van Phat Hung. Previously, An Gia had bought several stagnant projects; it expects more M&A deals in the future.
M&A has become a strategy for real estate companies such as Hung Thinh Real Estate, which has acquired some 20 long-delayed projects. It has resumed construction in 10 of these projects and sales have begun, such as Moonlight Park View, Tan Huong Tower, Sky Centre and Mekody Residences.
Other realty firms such as Novaland, Greenland, Thu Duc House have also hopped onto the M&A bandwagon.
Le Hoang Chau, president of HCM City Real Estate Association, said M&A deals have become the buzz word in the property sector during the past two years as investors see significant opportunities in the recovering market. It is also the fastest way to acquire clean land with the legal work done, as available land dries up in major cities such as Ha Noi, HCM City and Da Nang.
According to Chau, there is scope for more M&A deals in the southern city, which has around 500 delayed projects. Investors are cooperating with each other and seeking partners with funds to implement projects as credit policies for property development get tougher.
There is a growing interest in the Vietnamese property market among foreign investors from Hong Kong, Korea and Singapore, JLL Viet Nam said. Stephen Wyatt, general director of JLL Viet Nam, was quoted by cafef.vn as saying that several foreign investment funds are looking to expand their presence in Viet Nam through M&A deals.
Previously, Wyatt had forecast a record year for M&A deals in the real estate sector, driven by an improved economy.
Property services firm Savills Viet Nam also expects a rise in property M&A deals this year.
Nguyen Van Dong, M&A consultancy director of Rong Viet Securities Company, has also said that M&A deals in the realty market would dominate this year, in an interview with Dau Tu Chung Khoan (Securities Investment). 
VNS