To achieve sustainable development, Viet Nam's agriculture sector needs to improve productivity and quality as well as define the market structure for each farming product, experts said at the Viet Nam agricultural outlook conference in Ha Noi on Wednesday.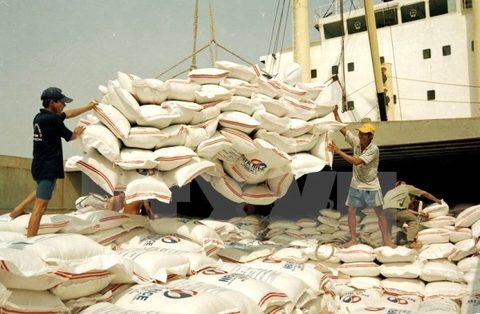 Viet Nam's agriculture sector has good supply capacity so it can meet changing demand on local and global markets.
At the conference, held by the Economic Department of the National Assembly Office and the Ipsard, the experts provided updated forecasts on Viet Nam's agriculture sector for this year and the next two to three years, and discussed feasible solutions to develop major farming products such as rice, seafood, vegetables and fruits.
Nguyen Do Anh Tuan, director of the Institute of Policy and Strategy for Agriculture and Rural Development (Ipsard) under the Ministry of Agriculture and Rural Development (MARD), said Viet Nam's agriculture sector has good supply capacity so it can meet changing demand on local and global markets.
The sector has also restructured itself as well as faming products, opened more export markets and re-organised products to meet demand on the markets, he said.
This year, the local agriculture sector has faced many challenges, but vegetable and fruit exports have grown strongly over the past few years. In the first four months of this year, the local agricultural sector achieved year-on-year growth of 32.6 per cent, to a record of US$1 billion from vegetable and fruit exports. Local exporters have opened four more export markets for Vietnamese vegetables and fruits.
Le Van Binh, deputy head of the Economic Department at the National Assembly Office, said export value of vegetables and fruit in 2016 reached $2.46 billion, a year-on-year surge of 33.6 per cent. This farming product is showing strong growth in exports and significant success in expanding its export markets.
Strong investment by the private sector, especially in high-tech, has helped the vegetable and fruit industry compete against other farming products, he said.
However, Viet Nam's vegetable and fruit industry has faced increases in technical and commercial barriers on export markets and the short usage time of raw vegetables and fruits, Binh said.
Other major farming products like rice and seafood have faced strict competition and challenges in the short and long term. Those products need to redefine markets and improve management ability for creating value chains and building brands, he said.
According to Ipsard's forecasts, in 2017, Viet Nam's agriculture sector will still face restrictive trade barriers and fierce competition with other countries that have promoted production and exports of farming products on the global market. The export prices of farming products will not recover in the short term.
In terms of supply, extreme weather conditions due to climate change and marine environmental pollution are predicted to impact agricultural production. At the same time, surplus production capacity of some commodities such as livestock will make these industries struggle in the export market.
Ipsard also said Vietnamese rice has competed fiercely with other large rice exporters such as Thailand and India and new rice exporters like Cambodia and Myanmar. Meanwhile, the traditional export markets for Vietnamese rice have also limited imports of rice.
Regarding price trends, the actual price of rice is expected to decrease in the medium term, the institute said.
To develop the rice industry in the direction of improving quality, value and increasing sustainable development, Ipsard said that the local agricultural sector needs to redefine the market structure, specialised areas, and the structure of varieties and crop; and to study the development of processing and diversification of rice products.
For the fisheries sector, global protection policies and climate change will be challenges for the sector in the short and long terms. The fisheries sector needs to focus on added value in processing and brand building.
Nguyen Dinh Thien, director of the Viet Nam Economic Institute, said many enterprises have paid attention to investment in the agriculture sector instead of the State and farmers as before. Therefore, the State should promote the relationship between enterprises and farmers.
It is necessary to change the development for Viet Nam's agricultural and rural area, including farming products, to focus on increasing output and agricultural production based on co-operation between the State and farmers, Thien said.
The state should have solutions to attract investment to agriculture, including solutions on land use licences and land accumulation, he said. 
VNS