Minister of Industry and Trade Tran Tuan Anh has admitted that the local car industry has failed to achieve the set localisation rate.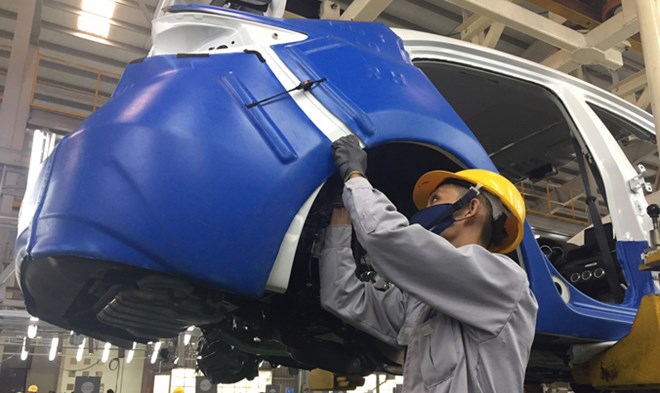 By the end of 2016, Vietnam had 173 car makers and assemblers.
In a recent report on the development of the local car industry and key engineering products, Minister of Industry and Trade Tran Tuan Anh said that over the past years, the local car industry had seen a quite fast development. In 2015 for the first time, the number of vehicles produced and locally assembled reached 200,000 units per year, up 51% against 2014. The figure increased to 283,300 in 2016 with some models exported to Laos, Cambodia, Myanmar and Central America.  
By the end of 2016, Vietnam had 173 car makers and assemblers. However, most of them were small and medium-sized.
Meanwhile, car prices in Vietnam are still high compared to the regional average. To purchase a passenger vehicle in Vietnam, customers must pay three types of taxes and five different fees. 
The quality of locally-made and assembled cars has seen an improvement, but remained inferior to imported models, Anh added.
The localisation rate for cars of below nine seats also failed to be met. A localisation rate of 40% was set for 2005 and 60% in 2010, however, currently the rate is only 7-10%. Most locally-produced components are simple parts, electric wiring, seats, batteries and plastic products. Meanwhile, Vietnam spends up to USD2-3.5 billion on importing auto parts.
At present, the average car manufacturing localisation rate of South-east Asian countries is around 65-70%. The rate is up to 80% for Thailand.
With many bilateral and free trade agreements coming into force over the next couple of years, import taxes on auto vehicles and parts will fall, translating into opportunities for more price competitiveness in the market. 
dtinews