Dr. Frank Rijsberman, director general of the Global Green Growth Institute - a Seoul-based international organisation - talks about the potential of renewable energy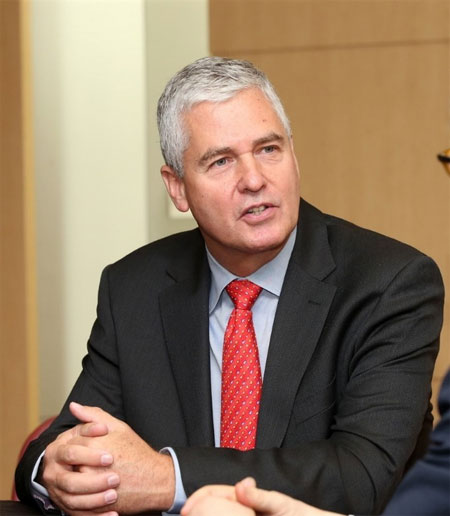 Director General of the Global Green Growth Institute Frank Rijsberman
What is your forecast of the future power demand of the Asian region in general and of Viet Nam in particular? What does renewable energy mean to countries' economic development?
Asia is moving to the centre of the global energy arena, and whether the Paris Agreement will be a success or not will be determined by how rapidly Asia can move away from coal and adopt clean and renewable energy.
According to the Asian Development Bank, electricity demand in Asia and the Pacific is projected to more than double between 2010 and 2035. 
Viet Nam's power demand is rising rapidly in line with robust economic expansion. It has grown nearly four times in the last decade and the trend is set to continue.
Unfortunately, under the Business as Usual scenario, Viet Nam is shifting to coal fired power generation, creating significant green growth challenges. Currently, coal fired plants' capacity nationwide accounts for 36 per cent of total power productivity but is set to increase to 56 per cent.
Viet Nam, like other countries in the region, needs to move away from coal and towards renewable energy, which would help mitigate climate change, reduce air pollution, create green jobs, increase energy security through reduced reliance on energy imports, provide savings through fossil fuel subsidies removal, and take advantage of private capital to provide financing for energy production, thereby supporting the reduction in public debt. 
Why does Viet Nam still lag behind other regional countries in developing renewable energy projects? In which countries are the kinds of energy used the most efficiently? What can Viet Nam learn from them?
Unfavourable policy environment has stalled renewable energy development in Viet Nam. Currently renewable energy accounts for 6 per cent of the energy mix, with large scale hydro accounting for 98 per cent. 
The Feed-in-Tariffs (FITs) [payments to ordinary energy users for the renewable electricity they generate] for wind and solar have been too low for investors. The power purchase agreements are below international standard. Electricity of Viet Nam (EVN) is the sole off-taker and has poor credit rating, resulting in dampened private capital investment.
However, we also need to recognise the Government's willingness to turn to renewable energy. The conditions for biomass energy are economically viable, and through the recent launch of the solar FIT in April 2017, there is going to be a new net metering scheme.
Further, provinces are turning away from coal. For example, Bac Lieu's request to cancel a coal fired power station due to environmental concerns was accepted by the Prime Minister and the province will instead develop wind energy. 
The Government has shown a willingness to look into alternative policy arrangements, such as improved direct power purchase agreements, but these are still in the inception phase. 
Right now the renewable energy revolution is led by China and India, where the construction of renewable energy projects is speeding up very rapidly. Smaller countries in the region are on the cusp – they are close, but have not yet seen a big flood of commercial projects. Countries such as Thailand, Philippines, Indonesia and Viet Nam can be next if they get their policies right, attract the right mix of capital and develop good bankable projects.
Why are hydropower projects still part of GGGI works while they are opposed by people due to their consequences like flooding and deforestation? Should Viet Nam continue developing them?
We do not count large hydropower dams as renewable energy, but believe there are still good opportunities for small scale hydro and micro hydro plants that have less or manageable environmental impact. 
Viet Nam can continue to develop hydropower plants if it does so responsibly, mitigating environmental and social impacts appropriately, and looking for smaller scale. 
Existing (and new) hydropower projects can combine well with other renewables like solar and wind to provide stability to the grid, until battery storage becomes commercially viable.
ADB and other multilateral development banks jointly committed to support developing countries' transition to green growth in Rio+20 in 2012. Since then, how has the commitment been realised? What is the role of GGGI during the progress? 
The Paris agreement was the strongest ever reached by both rich and poor countries as more than 190 countries submitted their national plans for reducing greenhouse gas emissions. There are no countries left that will only take climate action if they are paid to do so. 
A significant number of developing countries, ranging from Thailand and Fiji to India, are committed to taking initiatives to combat the issue of climate change and move towards a green and climate resilient future.
A key challenge is, first, to make climate funding available, and second, to develop a strong pipeline of bankable projects to deliver on the climate commitments.
The Multilateral Development Banks (MDBs) have committed to significantly increasing their share of climate financing. We have seen new commitments at the ADB meeting in Yokohama – such as the new Japanese fund worth $40 million -- to focus on clean energy and sustainable infrastructure. 
What's critical now is to build capacity in developing countries to submit solid project proposals to attract investment. We need to help countries understand how they can access an array of finance and blend it and develop a conducive environment for investors.
Therefore, a top priority for GGGI is to assist countries to develop pipelines of projects that are investment-ready. 
GGGI is attempting to change the direction of investment towards climate smart and green growth investments by building capacity of governments in designing bankable projects, initiating and pilot testing de-risking instruments and blended financing and helping governments to access international climate finance.
Could you share with our readers GGGI's operations in Viet Nam as well as GGGI's work with the ADB in Viet Nam? Do you have any plans to further work with the ADB and other MDBs?
GGGI is working with several ministries of Viet Nam on renewable energy issue. We are providing the Ministry of Planning and Investment strategic policy advice to increase green growth financing through ensuring green growth is integrated into the Government's investment appraisal process. We are also supporting Viet Nam's SME Development Fund to integrate green growth into their lending operations.
We help the Ministry of Industry and Trade to develop provincial action plans for biomass waste-to-energy and bankable projects for implementation. This year, GGGI will complete two pre-feasibility studies for sugar companies to generate electricity from their waste biogases. In 2018, GGGI will develop more bankable projects on the back of the provincial action plans.
GGGI partnered with the ADB in Viet Nam in 2016 to develop a feasibility study for a wastewater treatment facility in Ben Tre City, enabling the city to access an ADB loan of up to US$30 million.
ADB is moving away from concessional loans to Viet Nam and towards ordinary capital lending with market-based rates (as is the case with the World Bank's shift from International Development Assistance to International Bank for Reconstruction and Development), imposing greater financial pressure on Viet Nam to meet the financing requirements for green infrastructure. 
GGGI will continue to partner with ADB and other MDBs, as well as the Green Climate Fund, to combine their financial resources with those of national governments, and the private sector, to fund renewable energy projects, set up energy efficiency programmes and national green funding mechanisms. 
VNS