Da Nang determined to revoke stagnant coastal projects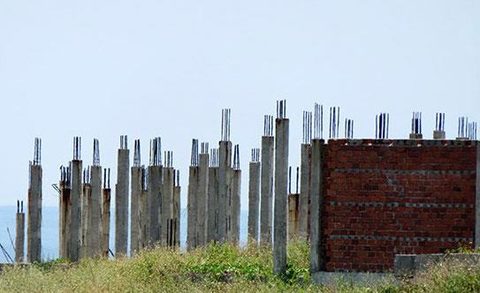 Central Đà Nẵng City will revoke stagnant coastal projects if developers fail to resume construction as committed.
Municipal People's Committee chairman Nguyễn Xuân Anh said the project would be revoked if the developer failed to implement or resume construction after 24 months from the date the developers signed the commitment.
Statistics of the People's Committee show there are 50 coastal projects in the city, 13 of which are foreign-invested.
Among them, eight projects are stagnant and 16 have not been implemented yet.
Developers of several stagnant projects signed commitments to resume construction within 24 months.
Nguyễn Nho Trung, deputy chairman of the municipal People's Committee, said slow land clearance was among the reasons for slow progress.
Imported DAP fetiliser products under investigation
The Ministry of Industry and Trade issued Decision No 1682A/QĐ-BCT on safeguard measures against DAP fetiliser products imported into Việt Nam on May 12.
The decision was issued after the Việt Nam Competition Authority under the ministry received a request from Company Limited DAP - Vinachem and DAP No 2 -Vinachem Joint Stock Company to apply global safeguard measures on the products, alleging that the increase of imported goods has damaged the domestic industry.
The authority said that organisations and individuals can access public information about the case by submitting applications for registration as related parties to the investigation agency by June 14 at the latest.
The agency recommended that all organisations and individuals that import, distribute, trade and use the goods under investigation register as related parties to ensure their views are heard. 
Chemical firm to issue bonds and shares for MA     
Duc Giang-Lao Cai Chemicals JSC plans to issue convertible bonds and shares worth VND833.8 billion (US$37 million) in 2017 to merge with Lao Cai Chemical Fertilisers JSC and Bao Thang Chemicals.
The deal is expected to help Duc Giang Chemicals and Detergent Powder JSC, the parent company of the three chemical firms, move closer to the acquisition of the three firms.
This year, Duc Giang-Lao Cai Chemicals will offer three million convertible bonds to current shareholders of the three companies. The bonds have a par value of VND100,000, an annual yield rate of 2 per cent and a maturity rate of two years.
Shareholders will be able to convert those bonds into shares of Duc Giang-Lao Cai Chemicals at a ratio of 1:10 (each bond is equal to 10 shares) when the bonds come to maturity.
On the maturity date, bond interest will be paid in cash and the deposit will be transformed into shares for shareholders.
If the conversion takes place after Duc Giang-Lao Cai is merged with Duc Giang Chemicals and Detergent Powder, the original bonds will be transformed into shares of the later firm at the converting rate between the two companies.
Total money raised from bond issuance will be used as a part of investment in a VND2 trillion, 100Mw thermal power plant project.
In addition, Duc Giang-Lao Cai Chemicals will offer 53.3 million shares, worth VND533.8 billion, to convert shares of Lao Cai Chemical Fertilisers and Bao Thang Chemicals into its shares.
68.3 per cent of the shares will be issued for shareholders of Lao Cai Chemical Fertilisers to convert their shares into Duc Giang-Lao Cai Chemicals at a rate of 1:1, and the rest will be issued for shareholders to Bao Thang Chemicals at a conversion rate of 1:0.8.
After the bond and share issuance, new Duc Giang-Lao Cai Chemicals will be merged with Duc Giang Chemicals and Detergent Powder in the form of share conversion.
The M&A deal was approved by shareholders of Duc Giang Chemicals and Detergent Powder JSC at its annual shareholder meeting in April. The deal is expected to double the company's chartered capital to VND1 trillion. 
Vietinbank becomes settlement unit in derivatives market     
The Viet Nam Joint Stock Commercial Bank for Industry and Trade (Vietinbank) has been made the exclusive financial institution to carry out settlements for derivatives trading transactions.
At the co-operation agreement signing ceremony between the bank and Viet Nam Securities Depository on Monday, Vu Bang, chairman of the State Securities Commission, said selecting Vietinbank as the settlement unit for the derivatives market was the right move.
Vietinbank is a large financial institution in Viet Nam, known for a broad trading network, high ratio of financial security, positive creditability and high quality of IT human resources and facilities, Bang said.
Vietinbank's subsidiaries such as Vietinbank Securities Company (VietinbankSc) and Vietinbank Fund Management Co Ltd will integrate deeper with the derivatives market as trading and clearing members, depending on the development progress of the market.
To further implement the strategic development plan for Viet Nam's securities market in the 2011-20 period, the finance ministry asked the State Securities Commission, Viet Nam Securities Depository and Ha Noi Stock Exchange to develop and conduct the development plan for Viet Nam's derivatives market.
The new market and products are expected to help Viet Nam's securities market develop firmly, increase the scale and quality of the market, diversify products and services and gain access to international practices and standards.
Hai Phong told to revise port fees     
Deputy Prime Minister Vuong Dinh Hue has asked Hai Phong City to revise fees for using infrastructure, service facilities and public utilities at ports in the city.
Adjustments in fees are needed to ensure they are reasonable and comply with the law and create favourable conditions for import and export firms, as per Government resolutions on improving the business climate.
In December, the municipal People's Committee issued a resolution which took effect from the beginning of this year regulating fees for construction, infrastructure, service buildings and public utilities at ports.
Under the resolution, individuals and organisations that have shipments stored at bonded warehouses must pay from VND2.2million (US$97) to VND4.8million ($220) per container, an increase of nearly 70 per cent from the previous fee.
While municipal authorities said that the fees were applied as per regulations, firms said that they were unreasonably high and undermined their competitiveness.
Hue said that the Hai Phong People's Committee must listen to firms and revise its fees at its next meeting.
Hue also asked the finance ministry to inspect the issuance of fees by local authorities to ensure compliance with laws and regulations.
Hai Phong Port is the second largest port in Viet Nam with one third of total cargo running through it.
In 2017, Hai Phong planned to collect VND1.5 trillion from seaport fees but it was estimated that the northern city has collected at least VND2.3 trillion already from the beginning of this year. 
Commune launches fish sauce project     
The central Tam Thanh commune in Quang Nam Province has debuted its first fish sauce co-operative, aiming to make traditional crafts marketable and profitable.
Le Ngoc Ty, Vice chairman of the communal people's committee, told Viet Nam News that it is the province's first fish sauce co-operative.
The co-operative aims to boost fish sauce production and seafood processing in a safe and sustainable way and offer eco-tour services.
As planned, the commune will produce 150,000 litres of fish sauce and 100 tonnes of dried and fresh seafood each year with an estimated revenue of VND5 billion (US$221,000).
The commune, 10km east of the provincial capital Tam Ky City, is home to about 6,000 people in seven villages standing along a 6km stretch of unspoilt beach.
It is the first commune in Viet Nam to have colourful murals painted on its moss-covered walls by artists from Korea.
The murals village attracts 500 tourists each day, and 2,000 young off-road travellers and back-packers visit the site each weekend.
Tourism has boosted income for villagers from an average income of VND24 million to VND42 million a year.
Last year, the Da Nang-based Dong A College and the commune inked an agreement on transferring of organic fish sauce and seafood production among community for export and the first food safety brand in central Viet Nam.
Earlier this year, Tam Ky City and Tam Thanh Commune launched a community-based art space as part of a tourism development pilot project. 
Vietnam seeks ways to attract more Swiss tourists
The National Administration of Tourism has launched a meeting program for Vietnam and Switzerland travel operators with the purpose of attracting more visitors from the European country.
A delegation comprising representatives from 30 Swiss travel agents made a week-long trip to Vietnam to seek opportunities for investment cooperation.
On May 17, they began touring 10 tourism destinations in Vietnam, namely Sapa, Ha Giang, Ha Long, Hue, Danang, Hoi An, Quy Nhon, Nha Trang, HCM City and the Mekong Delta region.
Head of the Tourism Market Department Dinh Ngoc Duc highlighted the EU is a highly lucrative market for the Vietnam tourism sector as European travelers often have longer duration of stay and higher expenditure than those from other regions.
However, there are still some difficulties in attracting Swiss visitors to Vietnam such as insufficient trans-regional package tours, no direct air routes and cumbersome visa procedures.
Vietnam received 31,475 people from Switzerland last year and nearly 14,000 during the first four months of this year. The figure is expected to hit 35,000 for the whole year.
To attract more visitors from Europe, including the Switzerland, the tourism administration has closely coordinated with major groups, airlines and service providers to boost tourism.
President bestows Ho Chi Minh Awards of Science and Technology
President Tran Dai Quang on May 17 attended a ceremony in Hanoi to confer the Ho Chi Minh Awards of Science and Technology on 5 special sets of projects in military and defense.
Awardees included a project on the Truong Sa archipelago co-created by 33 people, and another project on applying scientific and technological advances in treatment of primary liver cancer and digestive diseases. 
Prof. Dr. Mai Hong Bang and 18 others are co-authors of that project.
The Ho Chi Minh Awards of Science and Technology is an honorable distinction the Party and State bestow onto excellent, influential projects that contribute greatly to national construction and defense. 
Vietnamese, German businesses seek partnerships through digitalisation
Digitalisation would be an effective solution to connect Vietnamese and German businesses together, heard a workshop in Berlin on May 16.
Taking place within the framework of the ongoing Asia-Pacific Week, the event brought together representatives from 70 Vietnamese and German enterprises. 
Delegates at the workshop held that digitalisation is the main trend of the 21st century which generates both opportunities and challenges for economies in the era of the fourth industrial revolution. 
Addressing the event, Vietnamese Ambassador Doan Xuan Hung lauded the comprehensive cooperation between the two countries over the past time.
Vietnam and Germany are facing both challenges and opportunities after they established the strategic partnership for future six years ago, he said. 
However, the ambassador said, bilateral economic, investment and trade collaboration has still remained moderate and yet to match the two countries' potential. 
The Asia-Pacific Week took place from May 15-28 under the theme of "Asia-Europe Dialogue on Digitalisation."
Private sector crucial in financing green growth
Channelling investments from the private sector into green projects – as the government's budget is overstretched – is what it will take for Vietnam's development to be greener and more socially, economically, and environmentally sustainable.
In a bid to redirect Vietnam's economic growth onto a more sustainable path – moving away from carbon-intensive and environmentally harmful expansion – the country needs roughly $30.7 billion by 2020, and possibly some $21.2 billion for the following 10 years to support its nationally determined contribution, according to German Technical Cooperation GIZ.
To fund green growth, around 30% of the capital would need to come from central and provincial coffers, and official development assistance (ODA). The remaining 70% needs to come from the private sector, according to Pham Hoang Mai, director general of the Department of Science, Education, Natural Resources and Environment, under the Ministry of Planning and Investment (MPI).
"Up until now, in most countries there has been no clear figure on anticipated private investment into green growth," said Michael Krakowski, programme director and chief technical advisor for the Macroeconomic Reforms and Green Growth Programme at GIZ.
To draw private investment to green growth ventures, green investment will first need to be defined, to unify varying opinions and bring together the appropriate sectors, Krakowski said.
"Our aim is to create a consensus from the policy side on what is considered a green investment. We can then work to create beneficial policies that conform to this consensus, taking into account the needs of society," he told VIR.
According to Krakowski, the trade-offs between green investment and economic development are often misunderstood, especially in emerging economies. Appropriate economic policies can help balance these trade-offs.
Regarding Vietnam in particular, Krakowski said, "the governmental decisions have made it clear that there should not be a trade-off between economic development and green growth, and the country is quite convinced that there is no way to further increase development without clarifying its environmental plans for sustainable growth.
"In this respect, Vietnam faces a situation where economic policy is redirected towards a more sustainable path, and this pivot is not always easy to make."
In order to pave the way for private investments into green projects, Krakowski says a good policy framework, with incentives like feed-in tariffs, is the main driver for sustainable growth. "Take Germany as an example. We have grown our renewable energy sector with a policy framework that provides incentives for this [kind of] investment. Without any change in the incentives, there would be no private investment." 
According to Krakowski, green growth investments are, by nature, large-scale and long-term investments, putting them in the same league as other long-term investments. "It's not specifically green investment, but rather long-term investment. 
And yes, the long-term risk is of course something that is quite important; you do not know what the policy framework is going to be in 20 years, and you do not know what the exchange rate is going to be in 20 years.`151545641. These, to name a few, are extremely important factors for international private investment here in Vietnam.
"What we would suggest the policy-makers do is to develop measures to mitigate these risks, by creating a risk sharing scheme, or by taking over some of the risk faced by the private sector," Krakowski told VIR, on the sidelines of a conference aimed at promoting private sector investment in green growth last week.
"The role of commercial banks and credit institutions is thus vital. And critically, the central bank plays an important part in building the legal framework to assist commercial lenders in mobilising and lending funds to green projects," said Mai of the MPI.
Echoing Mai's view, the State Bank of Vietnam (SBV) Deputy Governor, Nguyen Thi Hong said that "the two most important issues are resource mobilisation and the development of credit programmes, with appropriate targets in line with the criteria of green and environmentally friendly projects."
As part of an attempt to streamline investment and lending – through the banking system – aimed at a greener and more sustainable economy, SBV Circular No. 39/2016/TT-NHNN regulating the lending operations at credit institutions and foreign bank branches – which took effect March 15, 2017 – stressed that project finance is to be conducted on the basis of negotiations between credit institutions and their clients, in accordance with lending provisions and current rules and regulations on environmental protection.
The SBV had already issued Directive 03 and Decision 1552 – to promote green credit growth and socio-environmental risk management in project finance – back in 2015.
Canada Minister of International Trade to visit Vietnam
Minister of International Trade François-Philippe Champagne will travel to East and Southeast Asia from May 20 to 26, 2017.
On May 20 and 21, Minister Champagne will take part in the Asia-Pacific Economic Cooperation (APEC) Ministers Responsible for Trade Meeting in Hanoi, Vietnam, to promote Canada's progressive trade approach and advance engagement with Asia Pacific.
While in Vietnam, Minister Champagne will meet with senior government and business leaders to discuss ways to expand Canada's trade, including in Canadian forest products, with Vietnam.
On May 22 in Singapore, the Minister will meet with representatives of key ministries, to advance trade and investment relations. He will meet with leaders of Singapore's construction industry to promote innovative Canadian building systems and wood exports. He will speak at Canada's B2B Networking Marketplace @ CommunicAsia/BroadcastAsia 2017, an event hosted by Canada's High Commission in Singapore to showcase Canadian information and communication technology companies, and he will meet with members of the Canada-ASEAN Business Council and the Canadian Chamber of Commerce in Singapore.
The Minister will be in Seoul, Republic of Korea, on May 24, to advance trade and investment relations and promote Canada's wood and wood products. He will meet with government officials as well as representatives of businesses operating in the ROK. He will also join a round table to discuss education and business with participants from Sookmyung Women's University.  
Minister Champagne will also visit Tokyo, Japan, where, on May 25 and 26, he will be joined by Canadian associations to promote Canada's wood and forest sectors and seek new growth opportunities for Canadian businesses in the Japanese market, Canada's second-largest export market in Asia for forestry products.
Minister Champagne's itinerary will include remarks at the AG/Sum Agritech summit and meetings with business leaders, including businesswomen. He will also meet with senior Japanese officials, including the Minister of Economy, Trade and Industry and the Minister of Foreign Affairs.
Vietnam actual FDI up 3.2% in first 4 months of 2017
Transnational companies invested US$4.8 billion of foreign direct investment in Vietnam businesses for the four months leading up to May 2017, up 3.2% from a year ago, reports the Foreign Investment Agency.
FDI in Vietnam is defined as the ownership by a foreign investor of 10% or more of a Vietnamese business and it is a measure of the funds that the foreign parent provided to their Vietnam affiliate.
Statistics on new foreign direct investment in Vietnam of the FIA provide information on the acquisition, establishment, and expansion of Vietnam business enterprises by foreign direct investors.
The statistics include items such as the expenditures by foreign direct investors to acquire, establish, or expand Vietnamese business, as well as financial statement items and employment of the newly acquired, established, or expanded Vietnam business enterprises, and are published by country and industry.
The statistics are printed by the FIA in a manner that allows greenfield investment to be separately identified. A green field investment is a form of FDI where a parent company builds its operations in Vietnam from the ground up.
FDI reached a high of US$15.8 billion last year (up 9% from 2015), primarily based on expectations that the US backed Trans Pacific Partnership would materialize, said Le Xuan Sang, deputy director of the Vietnam Institute of Economics.
When the US withdrew its support for the TPP trade pact, FDI in Vietnam was adversely affected and tapered off sharply, he noted. He added that there are other factors that also contributed to the decline.
Nguyen Mai, chair of the Vietnam Association of Foreign-Invested Enterprises, points out that the Vietnam government has been justifiably clamping down on the environmental safety of manufacturing and this has slowed FDI inflows.
Still other economists make the somewhat ridiculous argument that the decision of the US Federal Reserve to hike interest rates last March made it more expensive for companies to invest in Vietnam and thus contributed to the slowdown.
The FIA has taken issue with the economists who make the latter argument saying that it is a somewhat odd rationalization and it isn't clear why anyone would take such a far-out position.
Transnational companies, said Do Nhat Hoang, director of the FIA, don't base their investment decisions on some minor adjustment to interest rates and it is silly to even suggest the US Federal Reserve move had or will have any impact.
Mr Hoang, noted that he believes the current lull in FDI will rebound based on the fact that Vietnam has political stability relative to other countries in ASEAN and because this is one of the key factors transnationals evaluate in making their decision to invest.
Still other investors are cautious about investing in Vietnam due to the spaghetti bowl of free and bilateral trade agreements.  Transnational companies from Germany attending a recent investment seminar said they are hesitant to invest because the country's trade agreements are just too complicated.
Most prudent business executives, they said, don't enter into any agreement unless they can reasonably predict the outcome. The number and complexity of the trade deals Vietnam is involved in is just too overwhelming.
Vietnam supports Russia's investors in oil, gas sector
Vietnam will continue encouraging Russian oil and gas enterprises to expand investment in the country, said Deputy Prime Minister Trinh Dinh Dung.
The country has been supporting the partnership between Vietnamese and Russian oil and gas companies to enable them to seek cooperation opportunities in Vietnam, Russia and a third country, Dung stated at his reception for Russian Deputy Minister of Energy Sentyurin Yuri in Hanoi on May 18.
Both host and guest agreed that collaboration in energy, especially oil and gas, has been received special attention of the governments as it is one of the main and effective cooperative sectors in bilateral relations, which has generated huge revenue for their countries.
Dung asked Russia to continue creating favourable conditions for Rusvietpetro and Gazpromviet joint ventures to effectively implement oil and gas production projects in Russia.
They also exchanged views on several shortcomings during the implementation process of the projects and discussed measures to further boost bilateral cooperation in this field.
Thai Nguyen spends 840 billion VND on agricultural restructuring

The northern province of Thai Nguyen plans to splash out 840 billion VND (37 million USD) to restructure its agriculture, over 700 billion VND (30.8 million USD) of which comes from the state budget and the remainder is mobilised from other legal financial resources.
The province is striving to plant new tea seedlings in 80 percent of its total cultivation land by 2020 under a project to shake up agriculture towards increasing added value and sustainable development in the 2017-2020 period.
As a local staple, tea farming land will be expanded to 22,000 hectares, 5,000 hectares of which will be zoned off for organic tea cultivation. The province expects to have at least 300 hectares of tea meeting VietGAP standards.
The restructuring will shift the focus onto plants with high economic efficiency and aquaculture. A large scale production zone will be set up in an area of around 5,000 hectares.
Regarding husbandry, the province will restructure pig herds, develop cross-bred cow, branch out farms applying high technology and build 6-8 standard slaughterhouses. Production chain in agriculture should be paid due attention, ensuring that 70 percent of farms have consumption contracts by 2020.
The provincial agriculture sector will plant 10,000 hectares of large wood trees and 15,000 hectares of intensive small timber while converting 4,300 hectares of poor natural woodland into production forest. Wood production plants will be also constructed in the locality.
The province targets to stabilise forest coverage at 50 percent as well as enhance forest plantation productivity and quality.
Meanwhile, aquaculture will be cultivated following intensive and semi-intensive farming models. The agriculture sector expects to receive over 690 billion VND (30.4 million USD) from aquaculture production value and earn 100 million VND (4,400 USD) per hectare per year.
According to Ngo Xuan Hai, Director of the provincial Department of Agriculture and Rural Development, the province has set up five safe fruit production zones in a total land of more than 390 hectares and eight fresh vegetable plantation zones with total areas of 82 hectares. Some 700 hectares of safe tea were granted with VietGap certification.
Key husbandry areas were thrown up in the locality, including chicken farming in Phu Binh, Dinh Hoa and Vo Nhai districts, and pig raising farms in Phu Binh and Pho Yen districts. 
The province has inked a line-up of agreements on organic agriculture investment and consumption for the 2017-2021 period. Accordingly, the locality will plant 250 hectares of rice, 5,000 hectares of tea and 500 hectares of vegetable in concentrating production zones.
Latest evaluation from the provincial People's Committee showed that small scale production coupled with low rate of industrial processing in agricultural products have hampered local agriculture.
The agriculture restructuring scheme is a key drive to promote agricultural growth, improve livelihood in rural areas and make contribution to realising the national target programme on sustainable poverty reduction and building new style rural areas.
Central coastal provinces eye sustainable shrimp farming
A conference was held in the central province of Ha Tinh on May 16 to seek ways to sustainably develop sand-based shrimp farming, for which the central coastal region holds huge potential.
Minister of Agriculture and Rural Development Nguyen Xuan Cuong elaborated that these provinces own favourable conditions such as clean saltwater sources. Meanwhile, they are also tourism destinations which are a good market for shrimp consumption.
The region ranks second, behind the Mekong Delta, in terms of shrimp farming. Notably, the north central provinces own great potential for rearing white-leg shrimps, he noted.
The region has a large area of sand, between 12,000 – 14,600ha, on which shrimp farming will make use of infertile soil here.
The Government has issued development directions for the shrimp sector, targeting export revenue of 8-10 billion USD by 2025.
However, the central coastal provinces are also vulnerable to natural disasters like storms and flood which have affected local infrastructure, Cuong added.
There are currently nearly 696,000ha of brackish water shrimp farming in Vietnam, with a total output of more than 657,000 tonnes. Shrimp products have been exported to 90 foreign markets, bringing home more than 3 billion USD each year.
Fourteen central coastal provinces are farming shrimps in a total areas of more than 3,730ha, a strong increase from about 2,380ha in 2010, producing nearly 42,000 tonnes of shrimps. High productivity is recorded in Quang Nam, Quang Ngai, Binh Thuan and Ninh Thuan.
However, sand-based shrimp farming in the central coastal region is carried out spontaneously. Local irrigation systems haven't been built specifically for aquaculture, leading to the prevalence of shrimp diseases, according to the Directorate of Water Resources.
Minister Cuong asked the provinces to survey land that can be used for farming shrimps while ensuring environmental protection and the farming of other animals or crops.
Meanwhile, businesses should connect with each another and with farmers to develop shrimp breeding and farming technology, share experience and boost sales. Relevant ministries and sectors need to have planning for shrimp farming areas and work out development solutions for this industry, he added.
Vietnam International Motor Show to introduce new car models
The Vietnam International Motor Show (VIMS 2017) will be held at the Saigon Exhibition Convention Centre in Ho Chi Minh City from October 25-29.
Speaking at a press conference on May 17, Laurent Ganet, General Director of Audi Vietnam, said car importers in Vietnam hope to build connections with customers through the event.
According to the organisers, seven carmakers, including Audi, Jaguar, Land Rover, Maserati, Mercedes-Benz, Subaru and Volkswagen, have registered to participate in VIMS 2017.
A highlight of the event will be introductions of new car models such as Audi A5 Sportback, Jaguar F-FACE, Evoque (Land Rover), Quattroporte (Maserati), GLC 300 Coupe (Mercedes-Benz), Subaru WRX STI and Volkswagen Sharan.
Besides, there will be several booths displaying components, car accessories and financing-banking-insurance services, among others.
VIMS 2016 welcomed nearly 128,000 visitors and saw almost 2 million interactions on its official Fanpage, making it one of the top ten events of the month on the social network.
APEC senior officials review financial cooperation priorities
The APEC Senior Finance Officials' Meeting (SFOM) officially opened in the northern province of Ninh Binh on May 18.
This is an important mid-term meeting that reviews the progress of cooperation activities and proposes deliverables to the Finance Ministers Meeting in October, Vu Nhu Thang, Director of the International Cooperation Department under the Ministry of Finance, who is also SFOM Chair 2017, said in his opening remarks.
On the first day of the meeting, officials are reviewing the global and regional economic and financial outlooks, discussing upside and downside risks that the Asia-Pacific region is facing, and forecasting regional prospects in coming time. They are also reviewing the implementation progress of the Cebu Action Plan.
During the two-day meeting, APEC senior financial officials are scheduled to continue discussing and assessing the progress of realising cooperation priorities initiated by Vietnam and approved at the APEC Finance and Central Bank Deputies Meeting in Khanh Hoa province's Nha Trang city in February. 
The four prioritised subjects include long-term investment in infrastructure, base erosion and profit shifting, disaster risk financing and insurance, and cooperation in the comprehensive financial field. 
2017 is the first year the regional economies implement the APEC Strategy for Modernisation of Finance Ministers Process adopted at the Finance Ministers' Meeting in Peru last year. The realisation of four financial cooperation priorities during the year not only attaches to the national priorities but also contributes to effectively implementing the strategy, towards practical benefits for the whole region.
Customs sector moves to shorten clearance time
The General Department of Customs has said that the sector will continue reducing customs clearance time for exports and imports and simplifying administrative procedures, thus saving costs in this field.
The move is part of the sector's efforts to implement Resolution No. 19-2017/NQ-CP on main tasks and measures to improve the country's business environment and enhance the national competitiveness edge in 2017 and with orientations towards 2020.
The sector aims to cut customs clearance time for exports and imports to below 70 hours and 90 hours, respectively, by the end of this year.
By 2020, these durations will be shortened to below 60 hours and 80 hours, respectively.
To realise the targets, the General Department of Customs will offer 100 percent online public services at level 3 (Applicant can fill in and submit the forms online), and 70 percent of the sector's key public services at level 4 (Service payments can be settled online. Transaction results are available either online or by post, upon request).
The sector also aims to complete the Vietnam Automated Cargo and Port Consolidated System and Vietnam Customs Information System (VNACCS/VCIS) and implement the second phase of the VNACCS/VCIS project once it is approved.
It will submit to the Government for approval of the national and ASEAN one-stop mechanisms.
The sector will also work with ministries and sectors to mobilise different resources for inspection of exported goods to reduce clearance time.
G-bond auction raises 5.2 trillion VND for State Treasury
The Hanoi Stock Exchange raised 5.2 trillion VND (more than 229.2 million USD) by selling Government bonds issued by the State Treasury of Vietnam at an auction on May 17.
Government bonds with terms of five, seven, 10 and 15 years were up for grabs.
While five-year bonds have an annual interest rate of 5.16 percent, seven-year bonds were auctioned at an interest rate of 5.44 percent per annum.
The annual interest rates for 10- and 15-year bonds were 5.97 percent and 6.7 percent, respectively.
Meanwhile, another 300 billion VND (13.2 million USD) was raised from a secondary auction of bonds in each term.
The State Treasury has raised about 91.64 trillion VND (4 billion USD) in Government bonds through auctions at the Hanoi Stock Exchange so far this year.-
Vietnamese, German businesses seek partnerships through digitalisation
Digitalisation would be an effective solution to connect Vietnamese and German businesses together, heard a workshop in Berlin on May 16. 
Taking place within the framework of the ongoing Asia-Pacific Week, the event brought together representatives from 70 Vietnamese and German enterprises. 
Delegates at the workshop held that digitalisation is the main trend of the 21st century which generates both opportunities and challenges for economies in the era of the fourth industrial revolution. 
Addressing the event, Vietnamese Ambassador Doan Xuan Hung lauded the comprehensive cooperation between the two countries over the past time.
Vietnam and Germany are facing both challenges and opportunities after they established the strategic partnership for future six years ago, he said. 
However, the ambassador said, bilateral economic, investment and trade collaboration has still remained moderate and yet to match the two countries' potential. 
The Asia-Pacific Week took place from May 15-28 under the theme of "Asia-Europe Dialogue on Digitalisation."
Superior rides

A local electrical motorcycle manufacturer, PEGA, has announced it poured billions of Vietnam dong into its new product launch in late April. Like Vietnamese shoemaker sShoe, the local brand has invested significantly in all of its product value chains since its establishment. Previously known as HKbike, PEGA is the new brand the company has made efforts to familiarize among local customers. With the launch of four new products, it expects to create an image of quality in the minds of local customers in the context of low-price and low-quality electrical motorcycles becoming popular. 
CEO Le Hoang Long said that the former name was inconsistent with the company's new goal of reaching the global market, so it was changed to PEGA, short for Pegasus, a white horse in Greek mythology, and expresses its mission of "producing the most beautiful products consistent with the demand of customers and applying modern technology." In talking about the rebranding, Mr. Hoang Tung, founder and Manager of Pizza Home, said that an enterprise only changes its brand when it's trying to create a turning point in its business strategy or when its ownership changes. In the case of PEGA, a rebranding was necessary. 
To realize its mission, the brand researched customers and researched and developed products, design, production, distribution, and marketing. The four new products launched in April were the result of a four-year research and development effort at the company. In 2017, PEGA also invested hundreds of billions of Vietnam dong in building a 15,000 sq m assembly plant in Yen Dung district, northern Bac Giang province. The plant has a capacity of 1 million products a year, while the local market produced 500,000 in 2016. Mr. Long believes they can meet demand in the domestic market within three years. 
However, PEGA faces rivals from China that focus on low-priced products. Imported electric motorcycles account for 80-90 per cent of all sales while PEGA holds just 10 per cent. Its goal is to account for 30 per cent this year. "It will be a challenge for the brand to reach this goal," according to CEO of the Masso Group, Mr. Nguyen Trung Thang. "The brand must compete with rivals from China in terms of price." With such high prices, of at least VND9 million ($430), the brand needs do more, not only produce high-quality products. 
Mr. Long remains confident of securing a 30 per cent market share. Its rivals only care about cheap products and not on quality or after-sales services. "We don't follow any price strategy," he said. "We invested in gaining product quality and top services. We also focused on design, and we will compete with our rivals." 
The brand recently announced it will create a revolution in electric motorcycles in quality and technology with a high localization ratio in production. All new products are to apply modern technology, such as sturdy motors that can cover 80-100 km per charge and ride comfortably in floods without having water enter the exhaust. "We will connect with leading technology manufacturers like Bosch, Panasonic, and Samsung," Mr. Long said. "We will also connect with foreign-invested enterprises from Japan and Thailand in Vietnam to produce components. The localization ratio of our vehicles will be 35 per cent in components and 85 per cent in value." 
A 30 per cent market share would make PEGA the leading brand in the market but making Vietnamese customers more aware of its products is a challenge for the brand, as the preference for foreign products remains strong. "The brand needs to win the trust of customers," said Mr. Thang. "In particular, it needs to create excellent viral marketing campaigns in the first year of this new launch." 
It seems the brand has seized an opportunity in using images of Vietnamese rising star Son Tung M-TP for the launch of its four new products. He is considered to have some influence among young people, who are PEGA's target market. 
The electrical motorcycle maker has 250 showrooms and 500 retail stores at the moment and will have 700 showrooms around the country within three years. "We expect to account for a 50-70 market share in Vietnam in 2017-2018, as the market is predicted to grow in the years to come," Mr. Long said. "We will then head to regional countries such as Indonesia, Laos, the Philippines, and Myanmar, and perhaps even Europe."
Standard Chartered supports enterprises' ASEAN expansion
Standard Chartered Bank expressed its strong commitment to supporting ASEAN companies to expand regionally and internationally at an investors meeting entitled "Bridging ASEAN" held on May 16 in Ho Chi Minh City.
Exclusively sponsored by Standard Chartered Bank, the meeting attracted some 120 business leaders from Malaysia, Singapore, Thailand, Indonesia, and Vietnam.
Experts including Mr. Saket Sarda, Head of Trade, ASEAN & South Asia (ASA), Mr. Edward Lee, Head of ASEAN Economic Research of Standard Chartered, and Mr. Theng Bee Han, President of the Malaysia Business Chamber Vietnam, shared insights of the latest global, regional, and local developments and how having a strong partner such as Standard Chartered can help fulfill the growth aspirations of businesses across ASEAN.
The Malaysia Business Chamber Vietnam was the main host of the meeting while the Singapore Business Group, the Thai Business Association, and the Indonesian Chamber of Commerce Vietnam were co-hosts.
"In our 150 years in ASEAN, we have developed deep local insights into each market and grown our network to be the only international bank operating in all ten ASEAN markets," said Mr. Nirukt Sapru, CEO of Standard Chartered. "With our vast experience, extensive network and in-depth knowledge, we had the privilege of supporting and growing with the region, while constantly striving to have a socioeconomic impact with our footprint." 
"I am very confident that with our advanced capabilities, we are well positioned to help more ASEAN investors fulfill their internationalization plans by providing seamless cross-border solutions for payments, trade, investment and wealth," he added.
"I am seeing increasing interest from Malaysian and other ASEAN investors in expanding their trade links and investment with Vietnam and across the region," said Mr. Han. "The Malaysia Business Chamber functions as a gateway for many of our fellow Malaysian investors. We greatly appreciate the opportunity to work with Standard Chartered Bank to host this content-rich meeting to provide value to our members. We believe that financial institutions can play a big role in facilitating trade and development in ASEAN."
Standard Chartered Bank opened its first office in Vietnam in 1904 and has been present in Singapore for 158 years, Indonesia for 154 years, Malaysia for 142 years, and Thailand for 123 years. It is currently the only international bank present in all ten ASEAN markets.
The bank has been leading the way in providing sophisticated and customized services and solutions for its clients in the ASEAN region, ranging from Leveraged Finance, Structured Trade Finance, M&A Advisory, Debt Capital Markets, and Syndicated Loans to Project & Export Finance, and Shipping Finance & Lease Product Offerings.
BUV and Maritime Bank partner up to offer wider access to British education
British University Vietnam, the first and only university in Vietnam to offer bachelor's degrees directly from the United Kingdom, and Vietnam Maritime Commercial Joint Stock Bank signed an agreement to bring an authentic UK education opportunity for students.
BUV and Maritime Bank partner up to offer wider access to British education
Under the agreement, Maritime Bank will assess applicants for zero per cent interest rate loans to students' parents to cover the tuition fee at the university (BUV) on the receipt of a written confirmation of admission from BUV. The loaned amount will be in line with the financial status and payback ability of the student's family and will not exceed 80 per cent of the total tuition fee of BUV.
The university also agrees and commits to cover the lending interest rate of the disbursed amount, according to the schedule and principal repayment of the tuition fee loan, not including overdue interest (if any) or other charges by Maritime Bank.
This loan is available and offered to all students wishing to study at British University Vietnam. The goal of this programme is to bring the dream of an authentic United Kingdom bachelor's degree to aspiring students all over Vietnam.
 "We are very proud of this cooperation. We hope that Vietnamese students will gain the opportunity to access authentic British education, equipping them with the right tools that they need to succeed in the future," said Chris Jeffery, dean of BUV.
Maritime Bank is currently one of five biggest commercial joint stock banks in Vietnam, with a vision of becoming the best in the nation. Both parties look forward to contributing to the improvement of human resources quality as well as the development of education in Vietnam in the future.
"We believe that this cooperation is a vital step forward towards long-term development, opening up great opportunities for Vietnamese students," said Dang Tuyet Dung, general director of Maritime Bank's Retail Sector.
BUV is the first and only university in Vietnam to offer bachelor's degrees directly from the United Kingdom. BUV students will receive their degrees from one of three reputable universities: University of London, Staffordshire University, and British University Vietnam.
BUV will open its new campus in the northern province of Hung Yen in 2018.
Depositors to hit jackpot with BAC A BANK
Depositors are sure to bang their heads against the wall if they miss BAC A BANK's new customer programme.
In order to attract more depositors, the bank has launched a promotion programme which will run from May 15 to August 12, 2017. Under the programme, depositors will be given many types of gifts upon making a deposit at the bank. The total value of the prizes will be VND5 billion ($227,272).
Besides, in addition to receiving the gifts at the time of transaction, depositors are also given codes for a lottery programme to win trips to exotic foreign destinations.
Specifically, the programme includes two special prizes, a trip to Europe and to the US, for two five-member families. The two special prizes are worth a total VND500 million ($22,750).
There are also five first prizes of five two-person trips to Australia, each worth VND100 million ($4,550).
The programme also includes two second prizes of two two-person trips to Dubai and Abu Dhabi, each worth VND60 million ($2,730). There are 10 third prizes of 10 two-people trips to the Disneyland in Hong Kong, each worth VND30 million ($1,365), and 30 fourth prizes of trips within Vietnam's Vinpearl resort chain, each worth VND10 million ($455). BAC A BANK will also distribute 200 consolation prizes of VND1 million ($45.5) credit cards.
Over the past two decades, the bank has effectively increased its chartered capital by 13 times, with a view to strengthening its financial health, improving its competitiveness, and expanding its mobilisation of capital, loans, investment, and network development. At present, the bank's total chartered capital has hit VND3 trillion ($136.4 million).
VEF/VNA/VNS/VOV/SGT/SGGP/Dantri/VET/VIR