The Vietnam E-Commerce Association agrees with what most governmental bodies have been saying for some time—that small to medium size local companies really aren't doing much online business-wise.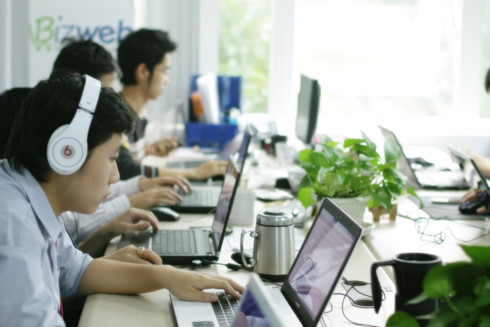 New data from a survey performed by the Association suggests that there may only be about 300 smallholders in the country set up for e-commerce or that even use their website in any way to conduct sales, said Nguyen Thanh Hung, chair of the Vietnam E-Commerce Association.
Considering the strong push by the government for small businesses to create an ecommerce and/or mobile site to connect with customers, this paltry number is a bit surprising, he noted.
Technology is massively disrupting almost every segment of the retail, wholesale, manufacturing and service sectors of the economy, all of which need e-commerce to grow sales and earnings.
Vietnamese businesses are investing practically nothing in information and communications technologies, which is obviously the reason that retail sales online are totally inconsequential.
That's bad because, e-commerce could be used to nurture international sales beyond the borders of Vietnam as well as domestic sales, said Mr Hung.
Also, the effective use of technology and networks could help a business reduce costs, better manage investment in inventory, improve efficiency, all of which ultimately lead to all around increased productivity and higher earnings.
Mr Hung said the reason small business are lagging so badly is due to the familiar refrain of lack of access to capital. With Vietnam being such a poor country, there are not many sources of funds to pay for the cost of acquiring the technologies needed to drive e-commerce.
As Vietnam is predominantly a country of small and medium-sized companies, it's also costlier for them to invest in technological upgrades than it is for big businesses or foreign multinationals.
In addition, it's much more difficult for them to find tech-savvy people who want to work for small companies. Most of the highly talented youth would rather work for big local or multinational corporations where their prospects for higher salaries and employment related benefits are greater.
Another significant impediment to the development of e-commerce is the high aversion to the use of credit cards by Vietnamese consumers. Consequently, owners say that e-commerce is not that important to their business and why they don't utilize this sales platform.
Of course, he said there are other issues such as security, transport and postage costs being too high, but these are not major obstacles. 
Mr Hung suggests the government should continue to serve as an example to businesses and adopt e-commerce itself wherever possible, it should move to modernize payment systems, cut red tape, encourage digital literacy and boost security among other things.
However, there is an old saying in English that 'one can lead a horse to water, but you can't make it drink' that fits this situation. The government can only do so much and the rest must be left up to the private sector.
He explains, that the younger generations have been faster to adopt e-commerce than their parents. Young professionals grew up using smartphones and shopping online, so e-commerce is a natural extension in their personal lives.
E-commerce will explode in Vietnam over the next decade, Mr Hung asserts, and if Vietnamese small and medium sized businesses are not online offering this sales platform to their customers, they'll find a competitor that is.
VOV