The Economic Committee of the National Assembly said careful consideration must be given to increasing crude oil output to boost economic growth.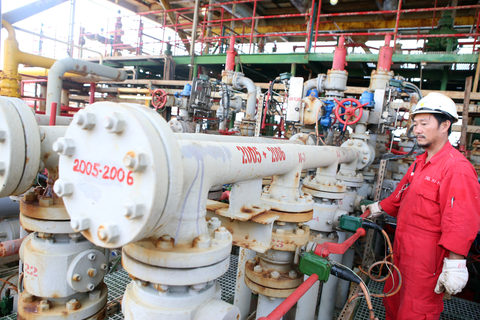 Oil and gas exploitation on a Vietsovpetro rig at Bach Ho oil field. 
The proposal was raised by the Ministry of Planning and Investment in its report about the socio-economic development as a short-term solution to fulfill the Government's target of 6.7 per cent economic growth in 2017. The report was prepared for the third meeting of the National Assembly next week.
During discussing at the 10th meeting of the National Assembly Standing Committee on Monday, Vu Hong Thanh, Chairman of the Economic Committee, said that Viet Nam's economic growth has not been truly sustainable.
Thanh said GDP growth in the first quarter of this year reached only 5.1 per cent. To achieve the 6.7 per cent GDP annual growth target, 7 per cent growth must be achieved in the coming quarters on average, which might be beyond reach given the budget restraints and debt payment pressure.
Growth of 6.3-6.5 per cent this year was more realistic, he said, adding that a number of measures must be adopted, including flexible monetary policy, improved credit asset at appropriate interest rates, increased capital efficiency and a breakthrough in investment disbursement.
Regarding the proposed solution of increasing crude oil production, Thanh said careful consideration was required. Thanh said more attention should be paid to macro-economic stability and quality-driven and sustainable growth, rather than high growth rates.
"Should Viet Nam increase crude oil production to balance its budget when it contributes just 3.3 per cent to the budget revenue?" Deputy Chairman of the National Assembly Phung Quoc Hien asked.
According to Dinh Ngoc Thinh from the Academy of Finance, increasing crude oil output could drive up budget revenue when the price was at more than US$50 per barrel. However, it was critical to ensure low exploitation costs. "Increasing crude oil production might sound unreasonable but clearly, Viet Nam will need this solution in a short while," Thinh said.
Oil steadied around the $52 per barrel level yesterday in the global market.
In the long term, Viet Nam must renovate its growth model from natural resource-based growth towards science and knowledge-based growth to maximise added values.
The Economic Committee also proposed that the Government revise economic indicators because in 2016, most were fulfilled or even exceeded the targets but GDP growth was disappointing at 6.21 per cent, below the targeted 6.7 per cent.
It was also critical to improve macro-economic forecasts, the committee said. 
VNS