VietNamNet Bridge - Vietnam's coffee productivity is three times higher than the average level globally, but the profit that coffee growers pocket is low because of poor competitiveness and unstable output.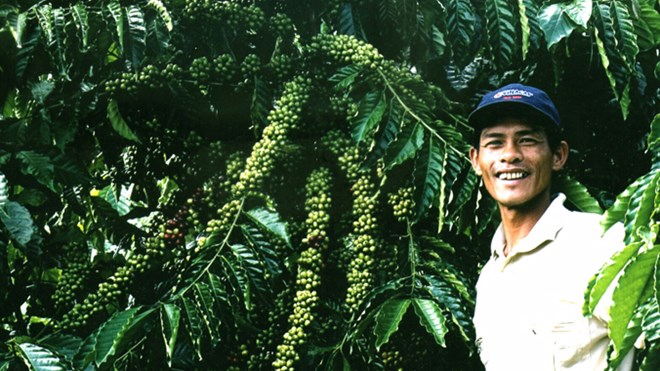 With export volume of 1.8 million tons and export turnover of $3.35 billion, coffee was the biggest farm export item in 2016. 
However, experts have pointed out that Vietnam's coffee industry is facing big challenges which make development unsustainable. 
There are 645,380 hectares of coffee growing area, which is 7.57 percent higher than the area planned for 2020. 
In the Central Highlands alone, there are 581,000 hectares. While the coffee growing area has been increasing rapidly, the quality remains questionable.
With export volume of 1.8 million tons and export turnover of $3.35 billion, coffee was the biggest farm export item in 2016. 
The Ministry of Agriculture & Rural Development (MARD) said it is necessary to find solutions to keep the coffee cultivation area stable at 600,000 hectares. What Vietnam needs to do now is not to expand the cultivation area, but to improve quality. 

The area of old coffee plants which bring low yield has reached 140,000-160,000 hectares, accounting for 21.7-24.8 percent. 

While Robusta accounts for 92.9 percent of coffee growing area, Arabica only accounts for several percent. 

The area for growing new varieties of coffee just accounts for 20 percent, while the other 80 percent is for old varieties with low yield and low quality. 

Mentioning solutions, Hoang Thanh Tiem, deputy director of the National Center for Agricultural Expansion Encouragement (CAEE), said it is necessary to implement plans on intensive farming, re-cultivation and shifting to new selective varieties. 

He also urged to stop using fertilizer unreasonably, abusing plant protection chemicals and harvesting ripe and unripe coffee beans at the same time. 

The problems lead to low coffee quality, thus weakening Vietnam product competitiveness in the world market.

According to MARD, Vietnam's coffee industry will strive to apply sustainable production process on 80 percent of growing area, to obtain yield of 2.7 tons per hectare, output of 1.6 million tons a year and export turnover of $3.8-4.2 billion a year.

The coffee production in Vietnam is on a small scale, with household-run coffee production accounting for 84.8-89.7 percent. Since households use many different varieties and different cultivation processes, the quality is unstable.

In recent years, Vietnamese coffee growers have suffered from unfavorable weather conditions. The prolonged drought and the decrease in underground water level caused drought in many coffee production areas in the Central Highlands. 

Over 116,000 hectares of coffee were affected in 2016, of which 6,854 hectares were lost.

Tran Van Khoi from CAEE believes that only when cooperation among scientists, the state, businesses and producers can be strengthened will problems be settled.
RELATED NEWS
Vietnam's export value of coffee remains low
New race begins in coffee market
Thanh Mai