With growing innovation in the sector, experts and investors note that wind power projects in Vietnam will be feasible with an 8-9 US cent per kWh feed-in-tariff.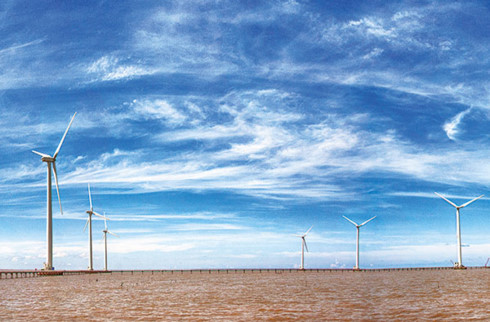 Vu Chi Mai, senior project officer at Geman Technical Cooperation (GIZ), highlighted at a wind power forum hosted by the Asia Wind Energy Association last week that experts are now more optimistic regarding the foreseeable cost reductions in the industry.
The newfound optimism, Mai noted, may be coming as a result of technological advancements that have yet to be implemented. 
The forthcoming advances suggest that wind energy is not as mature a technology as was previously thought, Mai added.
"Wind power technology and its advancing development is cutting costs and time for developers," Mai said, highlighting that developers see a 9 US cent feed-in-tariff (FiT) as bankable.
Late last year, GIZ sent a proposal to the government stating that the best way to make projects feasible is to offer a FiT of 10.4 US cents.
Mai explained that per request from the Ministry of Industry and Trade (MoIT) to get the real cost of wind production in Vietnam, GIZ has conducted a study which has been based on the operational costs of the three existing wind farms in Vietnam (the first wind farm has been operational since 2011). 
A bankable FIT of 10.4 US cents per kWh has been then suggested so that the government target of 800 megawatts by 2020 could be reached.
William Gaillard, regional sales director at Gamesa Siemens – the exclusive supplier for the 40MW Dam Nai  project in the central province of Ninh Thuan, said that "Now you can have profitable wind projects that few years before was not possible, thanks to larger rotor size and bigger generator, but also larger volumes and economies of scale from our side. 
Also other suppliers need to make some efforts. Balance of plant like civil and electrical works also need to drive cost down." Gaillard added that even current of 7.8 cents can make projects bankable.
He pointed out that in Vietnam there is very little experience and so risks are high and contractors expect high margins. But the key issues is to get a bankable power purchase agreement (PPA), according to international standards.
Olivier Duguet, CEO of The Blue Circle – developer of the Dam Nai project, and the first foreign-backed wind power project in Vietnam – told VIR that "the current FiT is perfectly suitable for 2,000MW wind projects in Vietnam."
Duguet said focusing on the FiT is the wrong approach. Investors should instead be focusing on conditions that attract long-term debt financing for projects in Vietnam, as this is the only way to develop wind power within the country. Only the very best projects in terms of wind resources and installation costs will be financially viable in the current environment, he added.
A representative of NRG Systems GmbH noted the wind power industry in Asia is experiencing strong growth, and emerging economies in the region continue to invest heavily in it.
According to MoIT, Vietnam's power industry has been facing many challenges around the shortage of energy sources.
The Vietnamese government has approved several programmes to encourage the development of renewable energy in the country, including the Renewable Energy Development Strategy to 2030, with a vision to 2050. 
The strategy aims to increase the production of electricity from wind sources to 2.5 billion kilowatts by 2020, 16 billion kilowatts by 2030.
VIR