VietNamNet Bridge - Many commercial banks, which have reported profits for Q1 2017, have begun following higher standards in debt classification and provisioning against risks, while Moody's has upgraded the credit ratings for eight Vietnamese banks.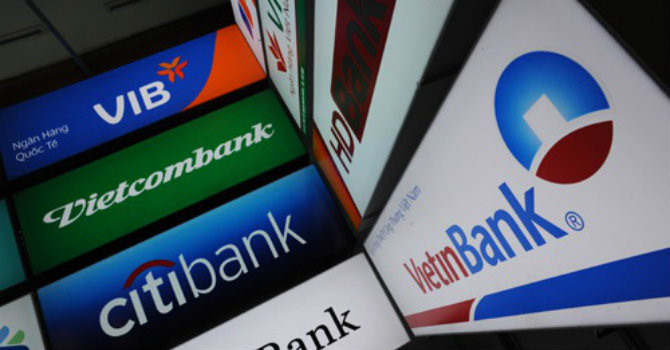 Vietcombank's Q1 finance report showed that the bank's pre-tax profit reached VND2.736 trillion and post-tax profit VND2.209 trillion, an increase of 20 percent compared with the same period last year. 
BIDV has reported VND2.277 trillion in pre-tax profit, an increase of 9.6 percent over the last year in the same period, and post-tax profit of VND1.848 trillion.
ACB and Military Bank, the two big joint stock banks, have reported satisfactory business results for Q1. 
BIDV has reported VND2.277 trillion in pre-tax profit, an increase of 9.6 percent over the last year in the same period, and post-tax profit of VND1.848 trillion.
The former's pre-tax and post-tax profit was VND595 billion and VND478 billion, respectively, up by 54 percent over the same period last year. The figures were VND1.111 trillion and VND889 billion, respectively.

The sharp increase in banks' profit was explained by high credit growth.

Thoi Bao Kinh Te Viet Nam commented that the figures showed commercial banks' heyday has come back. 2011 was the year when banks reached their peak in profit. 

However, in that year, banks' weak points were exposed. An official report released in September 2012 showed that the non-performing loan ratio (NPL) of the Vietnamese banking system reached 17.21 percent. Prior to that, the NPL ratio reported by banks was at a one-digit level.

This means that banks were in their 'golden days', but their profit were insubstantial because of the high NPL ratio.

Meanwhile, analysts believe that the banks' prospects for the time to come is bright with sustainable development, because they will apply international standards in debt classification and corporate governance.

Moody's Investor Service on May 3 announced the upgrading in credit ratings of eight Vietnamese commercial banks.

The eight banks include Vietcombank, VietinBank, BIDV, An Binh Bank, Asia Commercial Bank (ACB), Military Bank, VIB and Techcombank.

Explaining its decision, Moody's said the ratings of commercial banks are supported by the agency's better assessment about Vietnam economic performance.

Prior to that, according to Thanh Nien, Moody's upgraded the Vietnam economic prospect from B1 stable to B1 positive, which shows the government's higher potential in supporting commercial banks.

Le Duc Tho, CEO of VietinBank, said the upgraded credit ratings for Vietnam and commercial banks showed the policies on macroeconomic reform and business environment improvement had brought encouraging results, while the State Bank's monetary policies are flexible, which match with other policies, creating a transparent business environment for banks and other firms.

The upgraded credit ratings have caused banks to feel optimistic about capital mobilization. Military Bank's Deputy CEO Nguyen Minh Chau said the higher credit ratings will allow banks to seek capital at lower costs, especially in the international market.
US$1=VND22,000
RELATED NEWS
Commercial banks finalising senior personnel line-up
More banks to repurchase bad debts from VAMC
M. Ha