The Internet of Things (IoT) is perhaps the most obvious impact of Industry 4.0 on agriculture.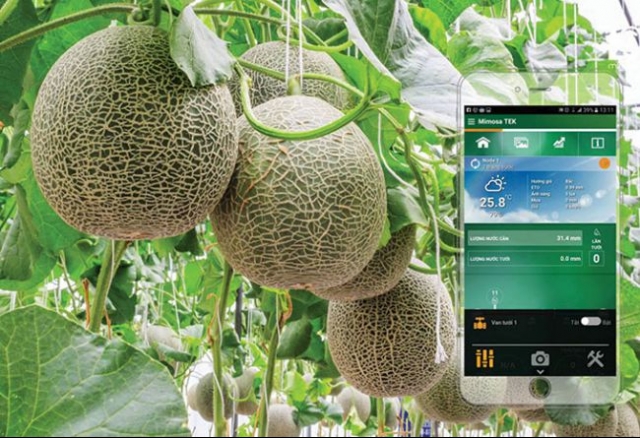 Cau Dat Farm Da Lat, famed in the central highlands town of Da Lat since 1927, has applied IoT to its crops since mid-2016. 
Though occupying a large land area, productivity at the farm has been quite low under traditional farming methods and an unpredictable climate. 
It is, however, one of the first farms in Vietnam to apply IoT in its farming.
Mr. Pham Ngoc Anh Tung, former Director of Cau Dat Farm and founder of the startup Demeter, which introduced an IoT system at Cau Dat Farm, said that the reason why he decided to apply IoT at the farm is because it's become common internationally. 
It also provides various benefits to farmers, in management, productivity, and product quality. 
Nine months after introducing IoT, the farm began to see positive signs, with flowers, green tea, and fruit and vegetables reaching productivity targets and being of high quality. 
One outstanding benefit was automation replacing almost all human tasks. 
Initial applications
The IoT system Demeter introduced at Cau Dat Farm includes three main parts. The first one is called Connected Edge - hardware that controls tasks like pumps, irrigation systems, micro-climate control systems, drones, weather stations, camera systems, and sensor systems. 
Data is connected and pre-handled through gateways before moving to the cloud. 
The second part is storage, with the processing and analysis of data or turning data into insight on the cloud. 
All data is arranged and analyzed in a secure environment. In the third part, all agriculture tasks are identified based on analyzed information and data. 
Therefore, users can fully understand what their production status is. 
Depending on the equipment, the system can provide information, actionable information, or even automated control and operations.
Another provider of IoT solutions in agriculture is MimosaTEK. It was the first to build and develop high technology watering systems. 
Its solution has two key parts: sensor equipment to measure parameters and a smartphone app, with the latter showing water levels and providing advice to farmers on planting. 
The solution is supported for managing large farms. MimosaTEK's equipment communicates with each other through radio frequency waves.
The system can be applied in both an outdoor and glasshouse environment, but is applied more in glasshouses because enterprises usually invest in building automated watering systems outdoors. 
MimosaTEK was established in October 2014 and its first product focusing on watering was launched in June 2015. Ms. Le Lan Anh, Chief Operations Officer (COO) at MimosaTEK, told VET that the level of water and the time for watering is key to agricultural productivity but many farmers don't focus enough on either. 
"Our target is to supply solutions that effectively use water sources, protect the environment, and bolster profit," she said. Crops where MimosaTEK's solutions have been used include vegetables in glasshouses, melons, corn, sugar cane, and pepper, while it's been piloted with coffee. 
The agriculture startup Hachi, meanwhile, launched a solution last year that eases the planting of vegetables via a smartphone and seen remarkable results. 
CEO Dang Xuan Truong used IoT to build the crop app, which is suitable for customers living in the city. 
"The application of IoT reduces risks in the planting process, such as drought and a lack of soil nutrition," he said. "Productivity increases from 30 to 50 per cent compared to traditional planting methods." 
IoT can also be applied in growing rice, according to Mr. Tran Xuan Dinh, Deputy Director General of the Department of Crop Production under the Ministry of Agriculture and Rural Development. 
Farmers enter data relating to the status of their rice through a smartphone app, which is then sent to a processing unit. 
Based on information about soil, climate and plant growth, a quick summary with advice is then given to farmers. 
Tackling barriers
Vietnam's agriculture sector must cope with a range of serious challenges. The most pressing, according to Mr. Tung, is that most agriculture models are in a period of transformation, with small land plots and backward technology, making it difficult to apply IoT to large-scale agriculture. 
Agreeing, Mr. Dinh said that Vietnam's agriculture sector is at a low level and inferior in both IT application and production compared to other countries regionally and internationally. 
"Vietnam has focused only on quantity for a long time, to the detriment of knowledge and crop methods," he believes.
Vietnam also lacks high quality human resources to manage and operate modern equipment. 
Training staff through new programs and practical lessons in high-tech agriculture is therefore vital. 
The application of IoT also requires significant investment capital while capital recovery is slow. 
As a developing country, it's difficult to provide and support all the requirements for IoT applications nationwide. The internet is also problematic in country areas. 
"Rugged terrain in mountain areas presents a problem in applying IoT because internet networks can't cover such areas, so building a good internet network throughout Vietnam is necessary," said Ms. Lan Anh.
Despite the challenges, it can't be denied that IoT can have a positive effect on Vietnam's agriculture sector. Mr. Dinh firmly believes that Industry 4.0 will provide breakthrough changes, but the problem is how to best apply IoT in agriculture. 
He also said that connecting to information technology applications will allow for forecasting and controlling the negative effects of environmental conditions on crops and livestock. 
"It will also help people calculate water needs and nutritional balance, and automatically connect to the command department to pump in more water and nutrients when required," he said.
With changes to high-tech agriculture being a global trend, Industry 4.0 will create a breakthrough in farming methods through actively controlling conditions and input factors to maximize potential yields and boost quality. 
Smart agriculture platforms have outstanding features, saving on inputs and cost while ensuring productivity and quality. 
IoT systems not only bring advantages to farmers but also support customers. Transparent production information is made available through IoT systems, allowing customers to research product origin.
Given that Industry 4.0 and IoT are novel concepts for most Vietnamese, and especially farmers, it may take some time before such systems are adopted broadly, according to Mr. Dinh. 
Based on existing circumstances, he said, the best approach is slow and gradual application.                         
VN Economic Times