The ratio of non-performing loans (NPLs) at banks in the first quarter of this year is was varied, according to a daily report by Bao Viet Securities Corp (BVSC).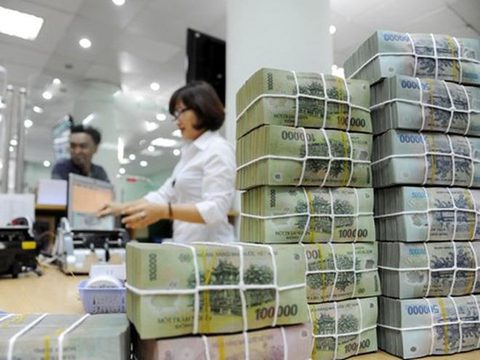 A nonperforming loan (NPL) is the sum of borrowed money upon which the debtor has not made his scheduled payments for at least 30 days.

Statistics from 10 banks -- Vietcombank, Vietinbank, BIDV and MB Bank, as well as VIB, Sacombank, Eximbank and Techcombank, along with Kienlongbank and BacABank, until the end of Q1, showed NPLs worth a total amount of VND50.7 trillion (US$2.2 billion), up six per cent from late 2016.

Of the estimate, loans that could not be paid back between 30 days and 180 days, grew by 13 per cent to 18 per cent, respectively, to VND15.7 trillion and VNĐ7.9 trillion. Bad debts dipped 0.1 per cent but still accounted for the largest proportion of total NPLs (53 per cent) with VND27 trillion.

Sacombank had the highest NPL ratio among listed banks with 4.89 per cent, followed by Eximbank with three per cent. Among the top three banks, BIDV was the only large bank with a high NPL ratio of 2.14 per cent, up from 1.99 per cent in late 2016. Vietcombank, VIB and Kienlongbank recorded a decline in NPL ratio.

According to BVSC, Vietcombank still had the best asset quality in the system, with an NPL ratio of 1.48 per cent as at the end of Q1, down from 1.51 per cent in late 2016.

On the other hand, NPL ratio of Techcombank rose from 1.58 per cent to 1.89 per cent. Total non-performing loans of the bank escalated by nearly 16 per cent to more than VND2.6 trillion, while bad debt amount was VND1.5 trillion, up 10 per cent from late 2016. In addition, the NPL ratio of MBB was 1.35 per cent until 31 March 2017, up from late 2016.

BVSC said the opposite movements of NPL ratios reflected a divergence in the process of writing off bad debts as well as the capacity of managing asset quality among different banks.

This is also one of the major criteria SBV would use while considering the credit growth ceiling for each bank.

SBV should not neglect the security of the system to pursue "overheating" credit growth, especially when bad debt remains a burden for numerous banks, BVSC said.
 
VNS