Viet Nam's tourism industry recorded a successful year with VND400 trillion (US$17.6 billion) of total revenue in 2016. However, the travel companies' profits are not commensurate with their revenue, vneconomy.vn reports.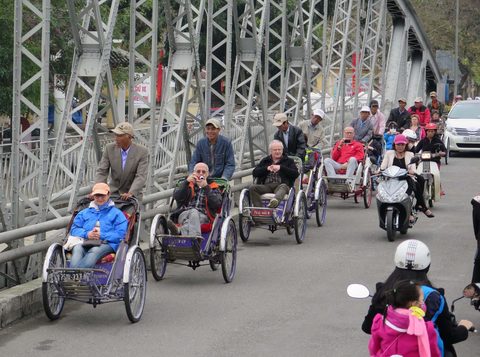 Tourists take cyclos across Trang Tien Bridge in Hue City.
Viet Nam Travel and Marketing Transport JSC (Vietravel), for example, one of the largest enterprises in the tourism sector, achieved VND5.3 trillion of revenue last year, an increase of 16.3 per cent against 2015. However, the company earned only VND42 billion in profit. Therefore, for each VND125 of revenue, Vietravel earned VND1 of profit, equivalent to 0.8 per cent profit margin.
The reason for the firm's low profit is that the company provides travel services related to tour operations only, which yield a tiny profit margin in the tourism industry.
However, the business results of Vietravel are still positive. From a loss of VND3 billion in 2013, the company earned VND22 billion in 2015 and VND42 billion in 2016.
Compared to the size of equity and chartered capital at the end of 2016, VND118 billion and VND66 billion, respectively, Vietravel's profitability ratios are still good. The company's current rate of return on equity is 35.6 per cent.
With a modest capital size in the industry, Vietravel's investment and expansion opportunities in other services are limited, leading to low-profit margins and Vietravel is still a small business.
Meanwhile, net profits of Saigontourist Travel Service Company reflect the opposite, with profits of over VND1 trillion every year. Just in the first six months of 2016, Saigontourist's revenue reached nearly VND2.9 trillion, with after-tax profits of VND558 billion, 13 times higher than the profit of Vietravel for the whole year.
The significant profit was attributed to the fact that Saigontourist invested in other tourism services, such as hotels, restaurants, real estate, taxis and petrol.
Many travel businesses also have higher profit and profit margins than Vietravel thanks to their investment in other tourism services, for example, owning or holding shares in some large hotels, organising events and investing in real estate.
Ha Noi Tourist Service Joint Stock Company (Hanoi Toserco) and Phu Tho Tourist Service Company Limited recorded 2016 profits of over VND72 billion and VND94 billion, respectively, although their revenues were not as high as Vietravel's.
Last year was considered one of the best years for Viet Nam's tourism, with a total revenue of VND400 trillion, a year on year increase of 18.6 per cent.
The country welcomed 10 million international visitors, up 25 per cent compared to the previous year, and served 62 million domestic visitors.
Viet Nam News contacted Vietravel and Saigontourist, but the companies declined to comment. 
VNS